Greg will be portrayed as a CG tiger in the RFN Cinematic Universe.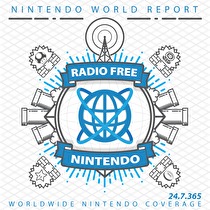 Subscribe via iTunes (Please rate and review, too!)
After last week's abbreviated New Business, it should come as no surprise that this week we've got a veritable New Business Bonanza! Greg starts the show off with Nintendo's newest Squid/Kid simulator, Splatoon 2. While he was the only one who had the game as of our recording, Gui and James both spent time with the free Splatfest demo Nintendo ran last weekend. Who won the Cake v. Cake Splatfest? It doesn't matter; Pearl did nothing wrong. James is up next with a new addition to his home: an Xbox One S and its bundled games. He joins Jon and Greg on Team XBONE, discussing his adjustment to the system and offering thoughts on Anime Racing Simulator DX (a.k.a. Forza Motorsport 6). Meanwhile, Guillaume borrowed a physical copy of I Am Setsuna and discovered a better title might have been I Am Recycled Plot Ideas. He does turn the game's rather lackluster writing into a brief dramatic reading, so there's always that brightness in our lives. Jon wraps up New Business with his return to Eorzea with Final Fantasy XIV: Stormblood. I always thought of him as a ranged DPS, and now he can be everyone's favorite Red Mage.
After the break we finally pay off our long-overdue RetroActive debt! We're pleased to announce that Super Mario Sunshine (GC) is the next entry in our long-suffering feature. Greg is already expressing reservations about the pachinko stages, and we're not even planning to do the RetroActive until mid-to-late August. That emotion you're already feeling is called resignation. Look for the comments thread to pop up in the NWR forums in the next couple of days.
We conclude the show with a serving of Listener Mail. Topics this week are: The Legend of Zelda: A Link to the Past for a new generation, the next "great" video game adaption, and the future of Punch-Out!! You can send us more depressing news about Mega Man via our inbox.
This episode was edited by James Jones. The "Men of Leisure" theme song was produced exclusively for Radio Free Nintendo by Perry Burkum. Hear more at Perry's SoundCloud. The Radio Free Nintendo logo was produced by Connor Strickland. See more of his work at his website.
This episode's ending music is Sky & Sea from Super Mario Sunshine. It was selected by Greg. All rights reserved by Nintendo Co. Ltd.