Due entirely to professional obligation, we delve into our annual sequence of blind guesses resulting in predictable failure.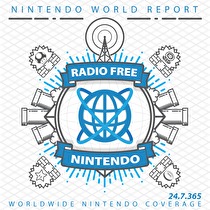 Subscribe via iTunes (Please rate and review, too!)
We're days away from the start of E3 2017, and that means it's time for everyone's favorite Anti-Cassandras to, by popular demand, foretell a future that is guaranteed to not come true. Nintendo - being Nintendo - dropped news of their online service hours prior to recording. This caused all sorts of last-minute adjustments that ultimately signify nothing, because we wouldn't have been accurate anyway. Is 2017 the year Retro is finally ready to reveal their latest creation: Jerry West & Nitus: Texas Brisket Challenge? Are we going to see Animal Crossing Switch + Mobile ecosystem - heralds of the "Darkest Business?" Does Guillaume resort to running his predictions through Bingee? Yes. Yes. And surprisingly, no.
We transplant New Business to the post-break segment. Everybody got time with the ARMS Testpunch, but James and Greg lead the conversation. Jon got to spend some time with former-host Dr. Jonathan Metts, and talks about his time spent with cooperative voyeurism-simulator Star Fox Guard, and Switch indie game TumbleSeed. James wraps up New Business with a quick double-shot of Fire Emblem. First, he notes Intelligent Systems' brilliant play to take the sting out of the "Waifu Wars" pejorative, by producing an ACTUAL "Bridal Festival" event in Fire Emblem Heroes. He then offers very early impressions of Fire Emblem Echoes: Shadows of Valentia.
We'll be talking about our E3 plans in the next couple of days, so keep an eye out for those. In the meantime, you can send us emails via the inbox.
This episode was edited by Guillaume Veillette. The "Men of Leisure" theme song was produced exclusively for Radio Free Nintendo by Perry Burkum. Hear more at Bluffs Custom Music's SoundCloud. The Radio Free Nintendo logo was produced by Connor Strickland. See more of his work at his website.
This episode's ending music is Prisma Splash! from Paper Mario: Color Splash. It was requested by Alex. All rights reserved by Nintendo Co. Ltd.