Your home for coverage of all the hottest anime games for FM Towns.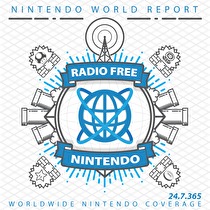 Subscribe via iTunes (Please rate and review, too!)
It's a very multiplayer kind of week for Radio Free Nintendo. With the launch of Mario Kart 8 Deluxe the crew manages to touch on a whole bunch of multiplayer experiences, now available on Switch. Jon and James kick-off New Business with a recap of their stream with frequent co-conspirator Syrenne McNulty. First up is Puyo Puyo Tetris, the Puyo/Tetris anime hybrid in which Syrenne absolutely wrecked them both. They then move over to Jackbox Party Pack 3, a game that has the host using their Switch while the rest of the players draw on their phones. Unsurprisingly, it turns hauntingly phallic. Speaking of which, Miis are back in Mario Kart 8 Deluxe, and Greg joins Jon and James to talk about even more multiplayer fun. The team also touches on new features such as Steering Assist (and how playing 200cc Super Mushrooms Only is virtually impossible without it), and the chaos of the improved battle modes. Guillaume closes out New Business with a recap of the Game Boy series Super Mario Land. It turns out these games are really strange. He also looks at the PC port of N64 "classic" Star Wars: Shadows of the Empire.
After a break we answer Listener Mail. This week we look at the fate of Download Play, project the influence of Breath of the Wild on future Xenoblade games, and dubiously encourage conspicuous consumption of the New Nintendo 2DS XL. Treat. Yo. Self. You can Treat Yo Self to an answer by sending us an email.
This episode was edited by Guillaume Veillette. The "Men of Leisure" theme song was produced exclusively for Radio Free Nintendo by Perry Burkum. Hear more at Bluffs Custom Music's SoundCloud. The Radio Free Nintendo logo was produced by Connor Strickland. See more of his work at his website.
This episode's ending music is Rith Essa from Jet Force Gemini. It was requested by MASB. All rights reserved by Microsoft Corporation