You probably can't say that in the Miiverse.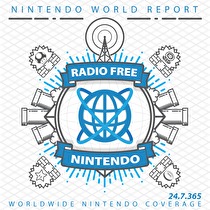 Subscribe via iTunes (Please rate and review, too!)
It's basically February, so now's the time to review 2016! We kick the show off with our personal Top-5 lists. Greg, Gui, and James pick out the wheat from the chaff of 2016. Jon does something else entirely. I wont spoil our winners here, but fan-favorite Epic Dumpster Bear just missed the cut.

Following the break, we have the return of New Business! Guillaume kicks it off with a look at Pirate Pop Plus, the Game Boy inspired bubble popper, available (with Cross-Buy) on Wii U and 3DS. Gui was a fan of 13AM Games' Runbow, and he enjoys their newest entry as well. He doubles down on second entries from Wii U indie creators with Wii U/3DS title Severed, from the makers of Guacamelee. Greg has final thoughts on Fire Emblem Fates: Revelations, where you can indeed save everyone before offering some thoughts on Poochy & Yoshi's Woolly World demo. Two weeks ago, listeners got to listen live as Jon and James pre-order their Switches, this week Jon provides an update. James cleans the segment up with quick thoughts on Pocket Card Jockey. His praise is less effusive than Gui's, finding the whims to which the game often subjects you...lame.
It's time for our next RetroActvie, and Guillaume has been given the powers of a tyrant. He has selected Princess Tomato in the Salad Kingdom, which is available on the Wii Virtual Console - except in Europe. Why is it unavailable in Europe? Unknown, the regional whims of the Virtual Console have bedeviled this show for a decade. But, I'm sure you can figure out how to play along. Official thread and dates of the RetroActive will be available shortly. As always, you can send us your questions via the mailbag
This episode was edited by Guillaume Veillette. The "Men of Leisure" theme song was produced exclusively for Radio Free Nintendo by Perry Burkum. Hear more at Bluffs Custom Music's SoundCloud. The Radio Free Nintendo logo was produced by Connor Strickland. See more of his work at his website.
This episode's ending music is Ending Theme/Airboarder from Rhythm Paradise (German). It was selected by Elias. All rights reserved by Nintendo Co., Ltd. and Tsunku