James does it right and leaves the country before the heir to his throne screws everything up.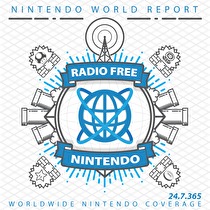 Subscribe via iTunes (Please rate and review, too!)
James has left for Japan, leaving a potentially deadly power vacuum at the top of the RFN food chain in his absence, along with an opportunity for an off-brand podcast. Jon emerges from the wilderness to claim the hosting throne, the prodigal son returning after having last hosted on the immensely successful RFN Episode 105. The beginning of his reign is marked by his reading of a prepared statement, meant to foster unity in these troubled times. Speaking of troubled times, Dr. Jonny Metts takes a seat in the vacant guest chair to salve our wounds, with Greg and Gui along for the bumpy ride as always. This week's New Business covers the end of Wii U production, Gui comparing platformers with Sonic CD and Freedom Planet, Greg dealing with a buggy F-Zero X on Virtual Console, and Jonny diving deeper into Dragon Quest VII with a little Rhythm Thief thrown in for good measure.
After the break it's Listener Mail. Our resident pre-order expert Jonny Metts advises us on whether or not we should pre-order Switch, and we also analyze potential Switch launch SKUs, prices, and games. We then discuss the small marketing window leading up to Switch launch, and whether or not there will be a successor to the Nintendo 3DS. You can get inside our small marketing window by sending your inquiries to our inbox.
Don't forget that we're still looking for RFN Episode RetroActives for use during the voyage of self-discovery that will be Episode 500. Find one of your favorite RFN episodes (we recommend anything without "103" in the title) and send us your thoughts, RetroActive style. And by "RetroActive style" we mean "dumpster fire". Get writing!
This podcast was edited by Guillaume "Hrrm" Veillette. Music for this episode is used with permission from Jason Ricci & New Blood. You can find out more about their music and purchase their albums at Jason Ricci's website.
This episode's ending music is Soaring Through Azure Sadness from Gurumin: A Monstrous Adventure. It was composed by Falcom Sound Team JDK (Hayato Sonoda, Wataru Ishibashi and/or Takahide Murayama) and requested by K-S-O. All rights reserved by Falcom.