If RFN came in a box, this is the box quote we'll have earned.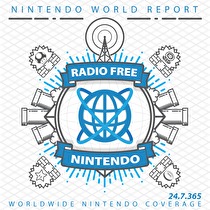 Subscribe via iTunes (Please rate and review, too!)
We're back! The additional week of rest gave Team RFN a chance to recharge, and prepare for this week's show. So, of course, one of us couldn't make it. Jon had to tag out, and in his stead we brought in Neal Ronaghan, Director of Nintendo World Report.
It's been a very long time since we've had Neal on the show, so of course we had him lead off New Business with an investigative report on Sonic Boom: Fire & Ice. After the last Sonic Boom Debacle, is it possible for Fire & Ice to rise to new levels of quality for this long-suffering franchise? Indeed, it seems to be passable. Continuing his report from the Sega 3DS catalog, he then offers thoughts on Shin Megami Tensei 4: Apocalypse, contrasting it with its predecessor. James has a trio of 3DS titles. Phoenix Wright: Ace Attorney - Spirit of Justice is complete, and he offers closing thoughts on it as well as the game's DLC. He also goes back into the Level-5 Hole with Yo-Kai Watch 2: Fleshy Souls, which would be better titled Yo-Kai Watch 2: More Yo-Kai Watch. He also apparently forgot his travails with Picross 3D, but Greg sure didn't, so it turns out that he's best positioned to forecast James' impressions of Picross 3D Round 2. Guillaume finds saving the world to be a rewarding experience in Dragon Quest VII, the latest tempest in the 3DS RPG storm. Lastly, Greg wraps up his thoughts on Metroid Prime: Federation Force, before taking down giants in Zangeki no Regenleiv.
After the break, it's time for Listener Mail! Topics this week include: New 3DS exclusives/3DS ports, Rusty's Real Deal Baseball for mobile, the future of Camelot Software Planning, Zelda as the harbinger of a console's demise, what the hell is Miitopia, and the soothing sounds of the Kirby Cafe. You can be soothed by our dulcet tones at the cost of only an email.
Two reminders. First, the NWR Telethon in Support of Child's Play is Saturday, October 15. The official schedule and donations will be posted Monday. If we hit our donation targets, we'll be live for over 12 hours. I hope you can join us. Secondly, Our next RetroActive is for LEGO City Undercover. We'll be doing it sometime in October, following the telethon. You can post your thoughts in the official thread, and we may use them on the show, against our lawyer's wishes.
This episode was edited by Guillaume "Charmed, I'm Sure" Veillette. The "Men of Leisure" theme song was produced exclusively for Radio Free Nintendo by Perry Burkum. Hear more at Bluffs Custom Music's SoundCloud. The new Radio Free Nintendo logo was produced by Connor Strickland. See more of his work at his website.
This episode's ending music is Brimful Butter Building, from the Kirby Cafe. It was requested by Michael. Sorry, no YouTube link. All rights reserved by Nintendo, probably.