Funk Taxonomy is more than just my music crew.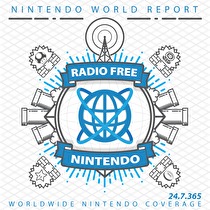 Subscribe via iTunes (Please rate and review, too!)
Radio Free Nintendo has its full complement of players this week; if only we all had cool things to talk about. Greg, a long-time fan of the Mario & Luigi series, doubles-back to Mario & Luigi: Paper Jam Bros. For whatever reason, outside of Europe, the game is simply called "Mario & Luigi: Paper Jam." In a strange sense, it's unclear which region has the bad name; there's only one paper character (making the "Bros." moniker ill-fitting), but the lack of "Bros." may indicate that Nintendo of America hates fraternity. Greg likes the game, but that's significantly less important information. Guillaume remains unable to escape the tendrils of Pocket Card Jockey, presumably still giving his horses terribly offensive names that shame us all. He does manage to find time to re-play Star Wars: Rogue Squadron 3D, the PC version of the N64 classic. Listen as his precious memories are shattered by the realization that as a younger man he was more willing to forgive a game its sins. Jon is selling himself on eBay, but he also found time to promote his unloading of his Complete in Box GBA collection. If you ever wanted to hear people dissect eBay listings, then we have finally produced your ideal segment. James concludes New Business with a look at Radiohammer, a Korean-developed mobile rhythm game ported to 3DS. An otherwise good game is harmed by a series of mistakes that seem totally unthinkable.
Listener Mail quickly descends into madness. Topics include: game developers making their games for podcasters, licensed nonsense, and forced retirement of Nintendo characters. Corey is definitely in the House this week, and you can send a question to our house via the inbox.
We are going to delay our RetroActive for Castlevania: Rondo of Blood by a week. We just won't be ready next week, so now you have some more time to get involved. Post your thoughts in the talkback thread. We will be doing our segment on Episode 479.
This episode was edited by Guillaume Veillette. The "Men of Leisure" theme song was produced exclusively for Radio Free Nintendo by Perry Burkum. Hear more at Bluffs Custom Music's SoundCloud. The new Radio Free Nintendo logo was produced by Connor Strickland. See more of his work at his website
This episode's ending music is Raphael the Raven's Theme from Paper Mario. It was requested by Ben. All rights reserved by Nintendo.