It does a good job of keeping the emotions bottled up; but that's really not healthy.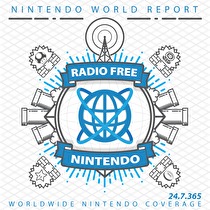 Subscribe via iTunes (Please rate and review, too!)
It's a return to normalcy after over a month of weeks off, telethons, and annual wrap-ups. Radio Free Nintendo finally has an episode that falls back into the normal format of New Business and Listener Mail, with the exception that Jon Lindemann is out. Thankfully, we're joined by friend of the show, and host of Radio Trivia, Michael "TYP" Cole.
As the guest, Mike leads off New Business with a look at NES "Do-it-all" The Adventures of Bayou Billy, now available of the North American Wii U Virtual Console. He and Greg have tag-team impressions of Shantae and the Pirate's Curse and Super Mario Maker. It's almost as if they planned to play the same games, but if they did the rest of us were not informed, and such a withholding is not appreciated. Guillaume has impressions of Steam Link, a device which broadcasts your PC's video to an TV in your home. The conversation quickly shifts to the viability of an "Internet of Things" NX device, as defined in recently unearthed patents. Lastly, James has some thoughts on why FAST Racing NEO is actually less forgiving than infamous sadist F-Zero GX, followed by a report on gloriously silly and stridently Japanese Johnny's Payday Panic, a weird part time job simulator from the makers of Cooking Mama.
After last week's depressing Now Playing, James couldn't be moved to offer yet another solo performance, so a short musical interlude is followed by the return of Listener Mail. Topics covered include: giving Wii U games new life on NX, the naming conventions of self-professed faeries, cross-pollination of 2D platformers, the end of the instruction booklet, and surprises/disappointments of 2015. You can let us know how much of a disappointment we were last year, this year, and all times into the future, via our mailbag.
We're gearing up for our next RetroActive, and while we intend to decide by executive fiat, we're open to suggestions. Given the absolute glut of upcoming RPGs and our collective post-Xenoblade hangovers, we're looking for your "anti-RPG" suggestions. Send us your least RPG-like games via our mailbag.
Special thanks to Mike for joining us this week. If you don't already, you should be listening to Radio Trivia; it's a whole lot of fun. The RFN crew are regular guests, but a wide collection of the NWR staff have made the rounds. If you want to see more of his Mario Maker levels you can check them out here.
Also available, for your playing pleasure, are Team RFN's profiles: Greg, Gui, James, and Jon
This episode was edited by Guillaume Veillette. The "Men of Leisure" theme song was produced exclusively for Radio Free Nintendo by Perry Burkum. Hear more at Bluffs Custom Music.
This episode's ending music is Mermaid Waterfall Theme for the yet unreleased Shantae: Half-Genie Hero, requested by ClexYoshi. All rights reserved by Nintendo.