This isn't a rhetorical question; I need to know.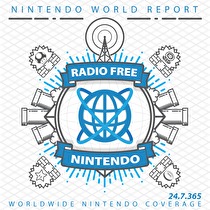 Subscribe via iTunes (Please rate and review, too!)
The show comes down from its Mario Maker high with a nearly Mario Maker-free New Business. Spurred by the delay of Star Fox Zero, James kicks it off with a report on his first time playing Star Fox Command. He finds the control options for DS games on the Wii U Virtual Console lacking, but nothing compares to the horror that is Slippy's fiance or the canonization of Krystal. Greg has a report from Mario Maker! No, the declaration of Mario Maker-free New Business wasn't a lie; he's playing the latest DLC for Super Smash Bros. for Wii U: The Mario Maker stage. He's also been forced by the blackened heart of Roger Goodell to buy an Xbox One, so he starts off Rare Replay with only the finest of the legendary company's output: Jet Force Gemini. Free from Jonny's constant "comments," Jon is liberated to report on Destiny: The Taken King without looking over his shoulder. It raises the questions, why would you just want to hunt loot all the time and do the same content over and over? Lastly, Guillaume is in a bit of a Mario Funk, can Konami's (RIP) early Wii title Elebits charm him back into gaming? Can he explain why Konami Europe (RIP) felt the need to rename the game Eledees just to make an LED pun? No, and no.
After the weekly trampling of sedate tones of Japanese music by the well-meaning but disastrous attempt to cross-promote NWR, it's time for Listener Mail! Topics covered include importing games to the UK, Nintendo merchandise collecting, Nintendo merchandise rejection, making new IPs, marketing new IPs, and James' life-altering advice on Visual Novels. Most people promise to alter your life in exchange for money but we will alter your life forever for just the price of sending us an email!
It's time for our RetroActive Jr. on Mario Tennis: Power Tour and we hope you'll play along with us. We will be talking about it on episode 449 so hurry and post your thoughts, questions, and observation in the forum thread.
This episode was edited by Guillaume Veillette. The "Men of Leisure" theme song was produced exclusively for Radio Free Nintendo by Perry Burkum. Hear more at Bluffs Custom Music.
This episode's ending music is called Sophia from the game Gimmick. All rights reserved by Sunsoft. It was suggested by Jonson via the mailbag.