Please don't send me Leif the Sloth.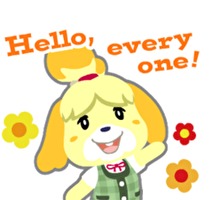 Nintendo and LINE have released a set of Animal Crossing-themed stickers. The popular messaging app allows user to send these stickers, or giant emojis, to each other along with text, pictures, and videos. Isabelle and friends join a huge list of original and licensed characters from across the globe, including Peanuts characters and the cast of Dragon Ball Z. The Animal Crossing sticker set is priced at $1.99 in the US, €1.99 in Europe, and ¥240 in Japan.
LINE is Japan's biggest social media platform, boasting over 600 million users worldwide. This is Nintendo's first set of stickers through LINE. No plans have been announced for any future sets.