The sun may set in the west, but the hover tank rises in the east.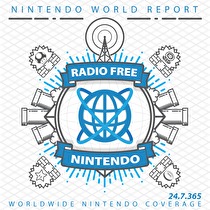 Subscribe via iTunes (Please rate and review, too!)
Last week, Jonny announced his plan to retire from Radio Free Nintendo after over seven years as the show's producer and host. While certainly it weighs on the show, the crew pulls together to put out one last show for the road, including the Retroactive Jr. for Blaster Master.
As its his last episode as host, Jonny kicks off a history-focused New Business. He starts with impressions of the recently released for download Kirby's Return to Dreamland. He follows up with the retro collection, Rare Replay, now available on Xbox One. Guillaume roots through his the property of his girlfriend's parents to find their copy of Mario Kart: Double Dash. He then puts his new thiefing skills to use in the retro RPG Dragon Fantasy. James continues the hits during the Nintendo of America: Too Hot for Summer Tour 2015 with import impressions of banana-giant god game Doshin the Giant (you can see more of that here). Lastly, not to be left out of this exploration of gaming's past, Jon has impressions of Journey, recently re-released on PS4.
After the break its time for the first ever Retroactive Jr. Nintendo may have selected Blaster Master but the crew has a lot to say about this tank platforming, isometric on-foot shooting, frog rescuing NES game. Highlights include: discussion of gameplay mechanics, the weird localized plot, your posts and emails, comments on Blaster Master from Nathan Fouts of Mommy's Best Games, and a dramatic reading. Thanks to all those that participated and played along with us.
After one final break comes the moment the entire show is building towards: the Doctor gives his "15 minute" farewell address to the RFN community. In true RFN form, it takes 45 minutes. If you needed a reminder, we're always going to be RFN. And, we'll always owe Jonny a huge debt of gratitude for his role in making RFN what it is.
We'll be back next week with a new host, a new old friend in chair 4 (and climbing, unless Jon gets his act together), and the same RFN that we thank you for listening to every week. Send us your emails with any questions or comments you have, and we may use them in the show! And as always, thanks for listening. Its our listeners that have made it possible for us to do this for the better part of the decade.
This episode was edited by Guillaume Veillette. The "Men of Leisure" theme song was produced exclusively for Radio Free Nintendo by Perry Burkum. Hear more at Bluffs Custom Music.