RFN gets really real on the decline of Konami, Goldeneye 007 on Wii, and Geometry Wars. Plus: return of the Thunder Round!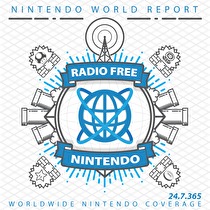 Subscribe via iTunes (Please rate and review, too!)
This week's New Business starts off more like business news, as Jon leads us through reactions to Konami's continued retreat from their roots as a video game legend. Gui provides a tonal upturn with his impressions of Amiibo Tap, Heart Beaten, and the obscure Gargoyle's Quest 2. He also looks back at the solo campaign of Eurocom's Goldeneye 007 for Wii, focusing on the other half of a game that we used in RetroActive as a send-off to Nintendo WiFi Connection. James tells us how Wild Arms kept the age of Super Nintendo RPGs going right into the PlayStation era. Jonny bats clean-up with effusive praise for the Mario Kart 8 downloadable content, Geometry Wars 3, and the almost-complete NWR Smash Bros. Tournament.
After the break, we launch into another Thunder Round edition of Listener Mail. This set isn't quite as brisk as the last, but we still covered a lot of ground in about half the usual time. As always, we love hearing from everyone and highly encourage you to send questions and comments to the show. And don't forget about the next RetroActive! You can still join the vibrant discussions in our special forum thread for Twilight Princess.
This episode was edited by Guillaume Veillette. The "Men of Leisure" theme song was produced exclusively for Radio Free Nintendo by Perry Burkum. Hear more at Bluffs Custom Music.