Get ready for RFN's first-ever live unboxing (of horror).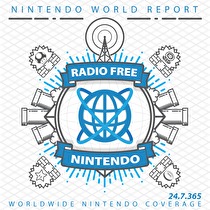 Subscribe via iTunes (Please rate and review, too!)
After two annual specials in a row, it feels good to slip back into our usual format this week. New Business gets a strong start to thanks to Guillaume's post-game evaluation of Bayonetta 2, including some positive sessions with its online cooperative mode. James gives quick updates on Atelier Escha & Logy and Persona Q, but his main topic is the level editor in Smash U. Jon transports us all back to 80s arcades with his impressions of 3D After Burner II, while Jonny also regresses with the lovely (and awkward) HD remake of the GameCube remake of Resident Evil.
Listener Mail is abbreviated this time, but for good reason. The questions concern Club Nintendo and a very personal discussion of how games can help us cope with loss. Things get serious for a while, but we end the show on a thrilling note, as birthday boy James opens a mysterious and frankly nefarious package from one of his admirers. However, we don't really want anyone to mail us anything except musings of the electronic kind!
Finally, we are excited to announce the return of our community-driven RetroActive feature. After sifting through dozens of your great suggestions, we settled on a trio of nominees with little in common, except that they're all readily available on Virtual Console: Castlevania III (NES), Pokemon Trading Card Game (GBC), and the original Sin & Punishment (N64). Listeners will determine which game we play and discuss on a future episode, so please vote without delay and try to play along once the winner is announced! Voting will only be open for about a week and a half from this posting, so vote now, before you forget!
This episode was edited by Guillaume Veillette. The "Men of Leisure" theme song was produced exclusively for Radio Free Nintendo by Perry Burkum. Hear more at Bluffs Custom Music.