Even this extra-large episode can barely contain all the Nintendo Direct news and our Top Five Games of 2014!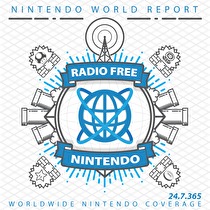 Subscribe via iTunes (Please rate and review, too!)
We have a special format for you this week, as there is neither New Business nor Listener Mail. That's thanks to a surprise Nintendo Direct earlier in the week, which gave us far more discussion topics than we could possibly fit into this first segment. We crammed in as much as we could and hit most of the major points, including New 3DS XL for North America, "The Latest in the Fire Emblem Series" for 3DS, an avalanche of amiibo announcements, lots of walking in Xenoblade Chronicles X, the long-awaited arrival of Wii games on the Wii U eShop, and further confirmation that Splatoon could be Nintendo's first fully-featured modern shooter. There's a lot of disagreement and controversy throughout, so buckle up for this one!
The latter half of the show is just as lengthy but far less adversarial, since we each get our own personal list for the Top Five Games of 2014. The diversity in our picks is maybe surprising, considering it was one of the leanest release calendars in Nintendo's history. Many rich discussions emerged from our passionate and sometimes shocking choices, and this feature is a great showcase for the four distinct personalities on this podcast. It's impossible for you to agree with all of us, so just let that go and enjoy the conversation!
We're currently planning to do our annual (and ill-fated) predictions feature next week. Maybe you could fan the flames with a prediction of your own -- go crazy on that email form! We are also still working on the next RetroActive roll-out and hope to announce something concrete next week. You can help a lot by posting ideas in the forum thread (where they'll be considered for many subsequent editions) or using the more ephemeral Twitter method, thanks to our brand new account: @RFNpodcast (finally!).
This episode was edited by Guillaume Veillette. The "Men of Leisure" theme song was produced exclusively for Radio Free Nintendo by Perry Burkum. Hear more at Bluffs Custom Music.