It's November, y'all -- so here's an entire show of new game impressions!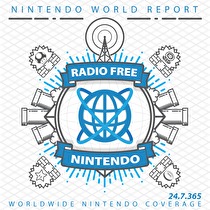 Subscribe via iTunes (Please rate and review, too!)
It's been a very busy week on the RFN subscription feeds, with all three parts of the telethon recording as well as a remix of the epic 400th episode all added for our listeners. It has also been a good time for us to play games, especially with the lack of any formal New Business during last weekend's telethon, so now you get a double-dose of impressions for all the cool new games we're playing.
We start with a big overview of the Mario Kart 8 downloadable content, which brought Guillaume and Jonny both back into the online arena. Then, James catches up with Hyrule Warriors, and it's no big surprise that he loves the janky chaos and knowingly goofy action of this franchise mash-up. Jon tries The Binding of Isaac: Rebirth, a new expansion of the disturbing action-roguelike that proudly wears its (original) Legend of Zelda influences and may finally be heading to 3DS after years of censorship drama. The podcast's first segment concludes with Jonny's early thoughts on Stealth Inc. 2, an extremely polished independent eShop game that is, at least for now, exclusive to Wii U.
But wait, there's more! New Business distends past the break to give us time for even more big games. Gui revisits Fantasy Life and reignites his debate with James over the best way to enjoy that addictive Level 5 joint. Then, we return at long last to Halo land with expert guidance from Lindy (even though he's not really a fan...) through the humongous new Master Chief Collection. Jonny shows some interest there, before swinging the pendulum hard back to Kirby Triple Deluxe, which turns out to be exactly what he wanted from this long-running Nintendo series.
We ran out of time for Listener Mail this week, but we'd love to hear your thoughts and questions on the recent announcements and latest game releases. Send 'em in and we'll run through a bunch of emails next time!
This episode was edited by Guillaume Veillette. The "Men of Leisure" theme song was produced exclusively for Radio Free Nintendo by Perry Burkum. Hear more at Bluffs Custom Music.