Jon is back, and he brought along Billy for this big episode in which we give Nintendo WiFi Connection an honest (if slightly premature) eulogy.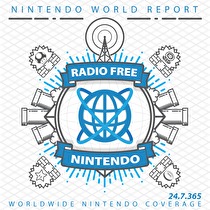 Subscribe via iTunes (Please rate and review, too!)
Jon's back, Billy is our special guest, and we take an extensive look at online gaming in this week's episode. Lindy catches up with Steel Diver: Sub Wars and uses his FPS expert skills to slice it up for us. James tries the newest and maybe final Professor Layton; he also polls the group on our Bravely Default progress. Gui checks out an upcoming PC/Wii U game called A.N.N.E. that sounds like a twist on Blaster Master(!). Jonny approaches the end of DKC: Tropical Freeze and tries the new South Park game. Billy's up last with NES Remix, Plants vs Zombies: Garden Warfare, and even a couple of minutes on Titanfall.
That's the perfect segue to the feature segment, in which we take a look back on a decade of Nintendo WiFi Connection. It's been a rough path to retirement for Nintendo's first major online network, but we have plenty of happy (or at least amusing) memories. In fact, we thought it would be kind of cool to go back and play one of these games, so look out for details on a WFC-themed RetroActive to come out this week through our SOCIAL MEDIA PRESENCE. And please shoot an email on any gaming topic for next week's deep dive into the bag!
This podcast was edited by Guillaume Veillette and Jonathan Metts.
Music for this episode of Radio Free Nintendo is used with permission from Jason Ricci & New Blood. You can purchase their newest album, Done with the Devil, directly from the record label, Amazon (CD) (MP3), or iTunes, or call your local record store and ask for it!
Additional music for this episode of Radio Free Nintendo is copyrighted to Nintendo and is included under fair use protection.