We now return to our regularly scheduled, annual tradition of doomed E3 predictions.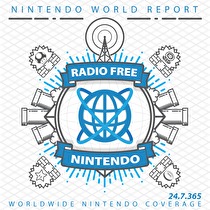 Subscribe via iTunes (Please rate and review, too!)
Most of the RFN crew just had a week off, and with this being our last normal episode before E3, we're all eager beavers for Nintendo right now. Even in the usually dull period before that big event, we have some new games to discuss.
Gui is up first with a summation of his review for Lego Batman 2, the long-delayed Wii U port of last year's well-received adventure. It seems to be a good version of the game, but our editor is even more impressed by Lego City Undercover after playing this earlier game in the franchise. Jon has clearly been busy of late, but he does sneak in a few thoughts on the Marvel Pinball demo for 3DS -- noting that you may be better off just buying the full game. James glosses over his review copy of Murder Mysteries: Jack the Ripper (why-oh-why can't that be as cool as it sounds?) and instead pours confounded adoration over Asura's Wrath. Jonny joins the choir on Mario and DK: Minis on the Move, a fully loaded eShop puzzle game with enough modes to circumvent any specific frustrations. We then head back around the lineup so Guillaume can express his severe disappointment with The Starship Damrey, our first Guild 02 title, and Jonny gets a chance to characterize the rote experience of Uncharted: Golden Abyss on PS Vita.
The second part of this episode is all about E3 -- of course! We begin by rounding up the recent information on Nintendo's surprising effort to bring E3 demos to Best Buy stores around the continent. While everyone thinks it's a great idea, the actual implementation of this plan is considerably underwhelming. More importantly (based on the numerous requests from our listeners), we get into our annual E3 predictions. As James notes, it feels harder to pin down the possibilities this year due to Nintendo Directs and the Wii U's dismal performance so far, but we still manage to cover key topics like 3D Mario, Wii Fit U, Mario Kart, hardware announcements, and yes, Retro Studios. Everything we say will be proven wrong, but at least you only have to wait another week to see just how wrong we were.
The next time you hear from RFN, it will be E3 week. Expect multiple, shorter episodes with a rotating cast of NWR staff members and special guests. The home team might even answer some emails, so hook them the eff up, man! And if you'd like to hear more from the pirates of last week's show, check out the recent podcast episodes over at Crosstawk.
This podcast was edited by Guillaume Veillette.
Music for this episode of Radio Free Nintendo is used with permission from Jason Ricci & New Blood. You can purchase their newest album, Done with the Devil, directly from the record label, Amazon (CD) (MP3), or iTunes, or call your local record store and ask for it!
Additional music for this episode of Radio Free Nintendo is copyrighted to Nintendo and is included under fair use protection.