The RFN gang talks though one of the most exciting Nintendo Directs yet.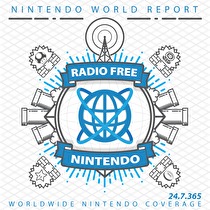 Subscribe via iTunes (Please rate and review, too!)
We start this week's show with just three members present, but have no fear, the quartet is soon complete. Jonny begins with a return to the improperly maligned Assassin's Creed 3, a Wii U launch title that deserves more attention as the numerical sequel approaches in just six more months. James picked up Yoot Saito's Aeroporter, the Guild 01-associated luggage stacking puzzler, but he finds little to recommend even at the reduced eShop price. Gui continues the bargain warnings with escapeVektor on 3DS, a likable but glaringly flawed Pac-Man successor that was, until recently, on sale. Since Jon didn't have any New Business this week (he's been getting a head start on Mega Man, hedging his bets by playing both candidates), we had enough time for Jonny to come back around with a glowing review of Saints Row: The Third, an open-world game that finally recaptures the spirit of the "sandbox game".
For the second half, we celebrate an unusual dump of announcements for this time of year, as Nintendo hosted a Direct video event to trump all others. The focus was on 3DS, of course, and although we'd like to have more reason to be excited about Wii U in the year 2013, it's hard to complain about the lineup of sequels, revivals, and digital releases unveiled last week. We run through most of the notable tidbits and speculate on how this will affect the resurgence of 3DS as well as Nintendo's plans for E3, now just a few weeks out.
Urgent reminder: voting on the next RetroActive will end mere days after this podcast launches, so delay not in submitting your vote, good citizens! You can stay informed about the winner and get a link to the upcoming forum thread by connecting to the RFN Facebook page and following NWR's official Twitter account. You can also help keep the show interactive by filling up the mailbag, as Listener Mail is sure to return next episode.
This podcast was edited by Guillaume Veillette.
Music for this episode of Radio Free Nintendo is used with permission from Jason Ricci & New Blood. You can purchase their newest album, Done with the Devil, directly from the record label, Amazon (CD) (MP3), or iTunes, or call your local record store and ask for it!
Additional music for this episode of Radio Free Nintendo is copyrighted to Nintendo and is included under fair use protection.