We discuss new game announcements from Nintendo Direct. Also, this episode contains a recording of RetroActive Live: Majora's Mask!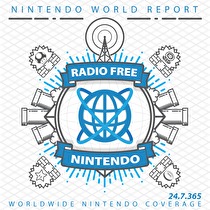 Subscribe via iTunes (Please rate and review, too!)
After months of build-up, it's finally time to dig into The Legend of Zelda: Majora's Mask in the live version of our RetroActive feature. But first, we attend to some podcast business (the fourth annual PAX East panel and a sale on RFN/Connectivity t-shirts). Then we spend the remainder of this pre-recorded opening segment on analysis of the recent Nintendo Direct. You know, the one about Wii U sequels for Mario, Smash Bros, Zelda, Yoshi, and Xenowhatever, not to mention the latest WTF crossover game out of Japan, Shin Megami Tensei x Fire Emblem. James is understandably over the moon about a couple of these announcements, while the rest of us are perhaps a bit more skeptical overall, considering how little was actually shown. Still, it was a good day to be a Nintendo fan, and we headed into the live show with a positive attitude.
The rest of this episode is a recording of our live RetroActive show. It was a great chance to discuss this complex, controversial Zelda game with several callers from the audience. We were also very fortunate to have our old buddy and editor Greg Leahy on the call. There's no shortage of things to say (or argue) about Majora's Mask, and it's no surprise that these two hours turned out to be one of the best RetroActive features in all the years we've done them.
It's well past time to catch up on Listener Mail next week, so please get in your questions and comments for the podcast!
This podcast was edited by Guillaume Veillette.
Music for this episode of Radio Free Nintendo is used with permission from Jason Ricci & New Blood. You can purchase their newest album, Done with the Devil, directly from the record label, Amazon (CD) (MP3), or iTunes, or call your local record store and ask for it!
Additional music for this episode of Radio Free Nintendo is copyrighted to Nintendo and is included under fair use protection.