Our long, international nightmare is now over: Jon Lindemann has come back to RFN.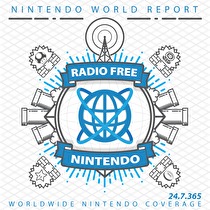 Subscribe via iTunes (Please rate and review, too!)
Like Superman in 2006, Jon Lindemann returns to save Earth from... whatever's the opposite of what he does on the show. So we're really happy to have him back, and so will you be! So you and be will. Swoubyillandeo.
Jon didn't have a ton of time to play games during the past few months (that's part of why he wasn't on RFN), but he did make some progress on Super Mario 3D Land. You'll also hear the FPS master's thoughts on Call of Duty: Blacks Ops 2, which still isn't on the Wii U eShop because Activision doesn't like money? I can't imagine what else would explain it. Guillaume follows up with his own take on Paper Mario: Sticker Star, and he bought a new DSiWare game called... actually, just read that phrase over again -- you'll have more fun than he did playing Galaxy Saver. With the segment already running long, James trims his own New Business to a single, but highly worthy game called To the Moon. Jonny slows down just enough to give proper respect to Gunman Clive, the spectacular and highly affordable new 3DS eShop release, and he engages Jon for a quick discussion of Halo 4.
The second segment contains our apparently popular, annual feature on predictions for the new year. We start by recapping some of the stupid bets placed for 2012, though there are a couple of odd zingers and even a few that could still happen, though much later than we'd hoped. You'll even hear a very quick comment from Greg Leahy on his assessment of last year's predictions. From there, we move on into a brand new slate of ridiculous and occasionally provocative claims about what might happen later in 2013. You can bet that Retro Studios is a prominent (some would say perennial) topic, but we also cover the go-to Mario/Zelda/Kart franchises and pitch ideas that might generate some Wii U buzz to fill the post-holiday vacuum. It turned out to be a really fun part of the show, so hopefully you'll find some charm amid the naivety.
We're planning to count down our personal Top 5 Games of 2012 lists next week, but you can always send thoughtful emails to the podcast for future consideration. Look for scheduling info on the live Majora's Mask RetroActive very soon (Jan. 26 is a strong contender), and keep trucking through the game if you still need to prepare. Also, we hope you'll visit and support the guys at Tales of Charity, who are set for a marathon trip through Tales of Symphonia to raise funds for Child's Play. Check out what they're doing at the official Facebook page or on Twitter. The event is running from January 18-20, so don't wait!
This podcast was edited by Guillaume Veillette.
Music for this episode of Radio Free Nintendo is used with permission from Jason Ricci & New Blood. You can purchase their newest album, Done with the Devil, directly from the record label, Amazon (CD) (MP3), or iTunes, or call your local record store and ask for it!
Additional music for this episode of Radio Free Nintendo is copyrighted to Nintendo and is included under fair use protection.