Wii U is all the New Business we need.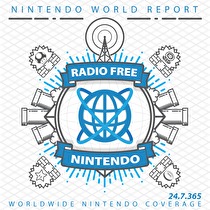 Subscribe via iTunes (Please rate and review, too!)
For this special Thanksgiving episode, we recorded a bit early and did one long segment. The subject, of course, is Wii U. Jonny's launch system was broken, and James got his just hours before the show, but we have the power trio of Guillaume, Billy, and first-timer Ariel to deliver the goods. They dish out tons of impressions for Mario, Nintendo Land, Miiverse, and the whole setup process. Ariel also praises the Wii U version of Call of Duty: Black Ops II, while Billy tries to explain Chasing Aurora, and Guillaume marvels at Nano Assault Neo.
We want to hear about your own experiences with Wii U, so please email the show with your stories and questions about the new system. Also, be sure to check out the RFN-themed Mafia game in the forums! See you next week when things get back to quasi-normal, and maybe Jonny will have his system by then.
This podcast was edited by Guillaume Veillette.
Music for this episode of Radio Free Nintendo is used with permission from Jason Ricci & New Blood. You can purchase their newest album, Done with the Devil, directly from the record label, Amazon (CD) (MP3), or iTunes, or call your local record store and ask for it!
Additional music for this episode of Radio Free Nintendo is copyrighted to Nintendo and is included under fair use protection.