Join the RFN crew (plus a special guest) to celebrate the 3DS' first birthday!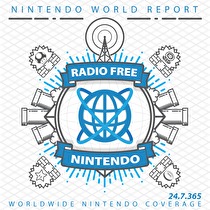 Subscribe via iTunes (Please rate and review, too!)
200 episodes on from their first appearance together, the RFN crew begins this week's show without their beloved host/loquacious tyrant Dr. Jonathan Metts. Thus, Greg leads the New Business segment with the help of special guest and fellow podcast editor Guillaume Veillette of NegativeWorld.org, who kicks off the show at 88mph with impressions of Telltale's Back to the Future: The Game, before claiming that Kirby's Return to Dream Land is one of the most challenging platformers he's played since Ninja Gaiden!
It's Jon's turn to blow our minds next as he reveals that he's finally succumbed to the siren song of Nintendo's stereoscopic stunner, paving the way for 3DS games such as Super Mario 3D Land and Mario Kart 7 to sit atop his infamously huge backlog. Then, James shares exciting news of The Last Story's arrival from Europe as well as a report on Pac-Man & Galaga Dimensions (plus the baffling 3D movie included with it), before Greg wraps up the segment with Europe's impossibly large VC line-up for March and impressions of Nintendo's much-maligned 3DS launch window title, Steel Diver.
After the break, Dr. Metts returns just in time to blow out the candle on the Nintendo 3DS birthday cake as we use the recent occasion of the first anniversary of its Japan launch as an excuse to take stock and reflect on our time as 3DS owners thus far. We document our software collections (retail & digital), pick out our best and worst experiences with the system, offer some hopes for the future, and ponder a highly disturbing question: did Jon call it right where the rest of us got it wrong? Tune in to find out!
We politely remind you that RFN's third annual live panel event shall take place at the Penny Arcade Expo (PAX) East in Boston, April 7 at 11:30am Eastern. Join us!
This podcast was edited by Greg Leahy.
Music for this episode of Radio Free Nintendo is used with permission from Jason Ricci & New Blood. You can purchase their newest album, Done with the Devil, directly from the record label, Amazon (CD) (MP3), or iTunes, or call your local record store and ask for it!
Additional music for this episode of Radio Free Nintendo is copyrighted to Nintendo, and is included under fair use protection.