RFN kicks off 2011 by catching up with your Listener Mail.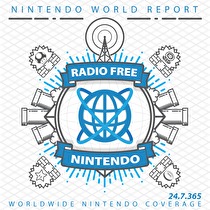 Subscribe via iTunes (Please rate and review, too!)
It's a new year but RFN gets 2011 underway with a classic episode format and the cast you know all-too-well by now. Jonny's still on the road (calling in this week from the Big Apple) so Greg handles the hosting duties, beginning by taking us through a (relatively) brisk round of New Business, in which Dr. Metts once again demonstrates his mastery of physics by besting VVVVVV, a retro-styled, gravity-flipping puzzle-platformer. Also, James goes on the trail of dream thieves and flea murderers in the bizarre Touch Detective, Greg looks back at Donkey Kong Country 3, and Jon hits upon his "broiest" game yet with Resistance Retribution.
After the break it's time for us to catch up with your questions in Listener Mail, beginning with a look at the state of WiiWare—suddenly a hot topic in the wake of the recent cancellation of Super Meat Boy and the delay of Retro City Rampage. Next, the crew discuss the apparent demise of region-free portable gaming before wrapping things up by debating the causes of "fluff"—unsatisfying additional content—in games such as Kirby's Epic Yarn and Metroid Prime 2. Next week: Jonny and Lindy together in person!

This podcast was edited by Greg Leahy.
Music for this episode of Radio Free Nintendo is used with permission from Jason Ricci & New Blood. You can purchase their newest album, Done with the Devil, directly from the record label, Amazon (CD) (MP3), or iTunes, or call your local record store and ask for it!
Additional music for this episode of Radio Free Nintendo is copyrighted to Nintendo, and is included under fair use protection.