Nathan and Karl join Greg and James to fill out their Wii Report Cards.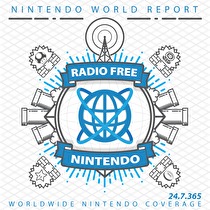 Subscribe via iTunes (Please rate and review, too!)
It's not often that you can say fate itself seems to have something against a podcast, but such was the case for this week's episode of RFN. With our usual host Jonny already scheduled for a week off to cap his decade-long college career, disaster struck when James fell ill and Jon suddenly had to board a flight to an unspecified location. But never fear, for two special guests offered to step in for their fallen comrades: Nathan Mustafa of the NWR Newscast and former RFN host Karl Castaneda. Then, at the last moment, James found the inner strength/medication to join fill-in host Greg for a rather unusual but no less bro-ey show (OK, maybe a bit less given Jon's absence).
New Business gets underway with Nathan sharing some of his recent iPad games of choice, including World of Goo and the oddly Punch-Out!!-like Infinity Blade from the makers of Shadow Complex. Next, Karl shocks the world by returning from his years-long review exile for THQ's uDraw tablet for Wii (drunken Pictionary ahoy!) before James dusts off his regal robes to reconnect with his favourite WiiWare game, FFCC: My Life as a King. Greg brings an end to the first segment with some stern words for Nintendo and an outburst of joy at his conquest of Ghosts'n Goblins and the long-awaited arrival of his copy of Kirby's Epic Yarn.
Part two of the show kicks off with your Listener Mail, which continues to add to the medical lexicon with a discussion of "The Metts Condition." Then it's time for the main event: our Wii Report Card, not just for 2010, but for the lifecycle as a whole. In a throwback to RFN 78, Karl takes the reins as we grade Nintendo's revolutionary console in four categories in addition to our overall personal satisfaction with the system. It's a big discussion covering big topics - let us know your thoughts and send us an e-mail!
RetroActive will conclude soon -- if you've played The World Ends With You and haven't yet posted your thoughts in the official forum thread, please do so!
This podcast was edited by Greg Leahy.
Music for this episode of Radio Free Nintendo is used with permission from Jason Ricci & New Blood. You can purchase their newest album, Done with the Devil, directly from the record label, Amazon (CD) (MP3), or iTunes, or call your local record store and ask for it!
Additional music for this episode of Radio Free Nintendo is copyrighted to Nintendo, and is included under fair use protection.