This episode kicks off the RetroActive feature and celebrates Lindy's promotion.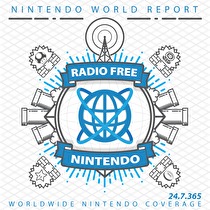 Subscribe via iTunes (Please rate and review, too!)
He still can't boss me around.
Jon Lindemann has major New Business this week -- he's now in charge of NWR! He's also been playing Mario Kart Wii lately, which leads us into a brief conversation about the recent NPD numbers and a debate over whether Wii Play is a "real game". Also in New Business: more DQ Swords talk, and an overview of Salamander from the Japanese Virtual Console.
After the usual smattering of DLC Mondays and your Listener Mail, we jump into the first on-air RetroActive discussion. Our reactions to Dynamite Headdy vary quite a bit, but we all pay respects to its technical prowess and creativity. We also read some of your comments from the forums -- thanks to everyone who participated! You can vote to choose the next RetroActive game in this poll thread until Monday, Feb. 2.
Credits:
This podcast was edited by Greg Leahy and James Jones.
Music for this episode of Radio Free Nintendo is used with permission from Jason Ricci & New Blood. You can purchase their new album, Rocket Number 9, directly from the record label, or download it from iTunes, or call your local record store and ask for it!