It's no Magnum Opus, but it has some merit.
In Lost in Harmony, each level is a dream in which protagonist Kaito is skateboarding on variously dangerous terrain with his close friend, Aya, holding on. The level design is unique and pleasing to the eye, and each one sets a different mood. Music, of course, plays a key role, and generally does a great job of heightening the emotion in each of the dreams.
This Switch port retains the use of touch controls, a holdover from the game's mobile origins. These can control Kaito's direction and allows you to jump over obstacles. However, there are certain sequences in which you have to press buttons in rhythm, which unfortunately makes for clunky transitions between challenges. These rhythm sequences come up too fast to realistically allow for touch screen controls. In some places, there is too much happening at once to really feel like the game is presenting you with anything but a barrage of obstacles.
The music (featuring Wyclef Jean) is beautiful and there are some killer remixes of classical pieces that made some levels absolutely wonderful for me. While generally gorgeous, the music isn't always properly timed, and, to me, did not feel fully integrated into the gameplay. Oftentimes, rhythmic cues seemed like an afterthought and not necessary to really get into the swing of avoiding obstacles.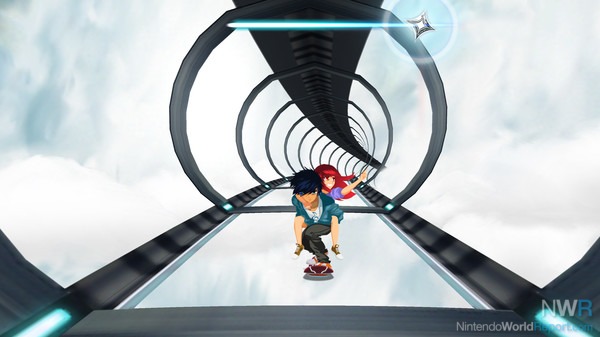 This runner also tells a story, if a slightly underdeveloped one: between dreams, Kaito seems trapped in a melancholic daze while he texts Aya. The conversations are short and fail to instill anything but the same melancholy in the player. I wish there had been more to the story—it felt more like a prelude than anything substantial. Although the story did keep me playing, it was predictable, and I only wanted to continue the story to make sure I was right about how it would end. That being said, the story really does come second to the actual gameplay, and I think it adds a certain amount of heart to the game.
"M. I. R. A. I.'s Escape," the other story in Lost in Harmony, has a very different tone and a much different story, but it's fun to play as well. Overall, Lost in Harmony, while providing a couple hours' entertainment, is a well-designed runner with great music. It is a definite hit with people who love this genre, though the integration of the rhythm isn't stellar. I won't be getting lost in the game for a second play-through, but I enjoyed my time with it.