An incredible port that makes me wish I loved the game as much as the developer does.
If there is one thing that the various interviews with developer M2 make clear, it is that they have a passion for what they do. They have been emulating Sega's old arcade games with a meticulousness bordering on insanity. In the case of Super Hang-On, it means actually attempting to recreate, using the gyroscopes on the 3DS, the experience of sitting on a motorbike and steering it physically.
The illusion is surprisingly convincing, with the bezel of the arcade cabinet shifting this way and that way as you enter curves and dodge competing bikers. The motion controls can even help negotiate the more subtle curves with more finesse than the Circle Pad can allow (though it's always a control option, should your arms tire). The motion controls also mean that you will probably have to go without the eye-candy of the stereoscopic 3D. This is a real shame since it is genuinely impressive, and the bare 2D visuals look much more dated in comparison.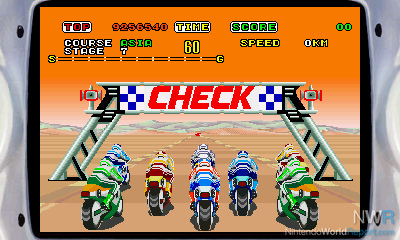 The care put into this Super Hang-On port is very impressive, but once the novelty of the controls and stereoscopic 3D wear off, the game remains a shallow arcade racer. I went from being dumbstruck at how well the game just works to being frustrated at how unforgiving the time limits to reach the next checkpoint are, to being bored once I went into the options and lowered the difficulty. The game is too simplistic to hold my attention for long or to try and master it.
In the end, I appreciate the story behind the development of this port more than I appreciate the game itself. M2's attention to details and their efforts to give players an authentic experience are to be commended, but I wish the game were more deserving of the lavish care put into it.