Reliving an unlikely ancestry.
As a paleontology buff, I'm constantly faced with amazement that animals around today (or even extinct, but long-lived lineages) survived at all given their meager origins. The most obvious example is mammals—while they dominate almost every large-scale ecosystem today, mammals started out under the ever-present shadow of early dinosaurs and large, carnivorous crurotarsians. Once the Triassic period ended in a blaze of extinction-event glory, early mammals found themselves competing with dinosaurs, and we all know how that played out over the next 150 million years. Mammals survived by being small and largely nocturnal, living in places dinosaurs didn't bother occupying. Things didn't turn around until another major extinction event—at the end of the Cretaceous period—once again wiped the slate clean. All the non-avian dinosaurs went extinct, and suddenly mammals were the dominant life forms.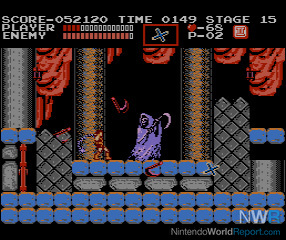 So now we come to art imitating life: Castlevania. This video game franchise is one of the oldest that's still around today. The original NES game came out on the Famicom in 1986 and trudged forward, barely changing, until the franchise was largely retooled, with Castlevania: Symphony of the Night, to emulate Super Metroid in 1997. That template proved as sturdy as its forebearer, ending with 2008's Castlevania: Order of Ecclesia. After that, control of the franchise moved from Konami to MercurySteam, who relaunched the franchise, mixing it with God of War action in Castlevania: Lords of Shadow. So the franchise has seen three distinct periods: the original series, the Symphony series, and the Lords of Shadow series.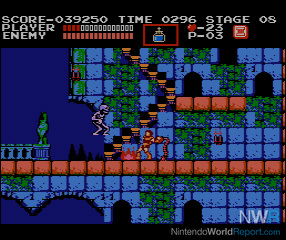 Through all these sequels and reboots, it's easy to forget the original game. Like the first mammals, it's difficult to see how Castlevania survived into the modern day. Though you could previously purchase the NES cart, the Wii Virtual Console emulation, or the Game Boy Advance port, you can now get your whips on the 3DS eShop. It's the worst five dollars you'll ever spend. The roots of the franchise are here, unearthed and glistening in the poorly rendered moonlight: whipping enemies, using sub-weapons, collecting hearts by destroying candles, and fighting cheap bosses. The game's flaws are immediately obvious: Simon Belmont walks slowly, jumps slowly, and whips slowly. He can be knocked off platforms very easily. You don't automatically walk up or down stairs—you have to press up or down on the D-pad to do it. You can't jump onto or off of stairs. About halfway through the game, enemies start doing more damage to you for no reason.
Boss battles are exercises in futility and frustration. Death, especially, seems to have been designed by people unfamiliar with how Simon moves or attacks. Dracula's second form is similarly overpowered in the face of your limited abilities. One wonders how players actually got through the game before the advent of restore points. Beating Castlevania is a Life Achievement you should get flowers for accomplishing.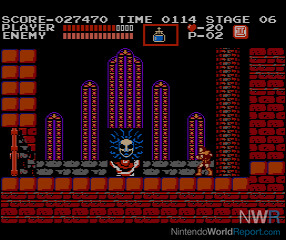 It is an ugly game filled with browns and sickly blues and reds. Super Mario Bros. looks like a living rainbow by comparison. The soundtrack is memorable, however, in that so many classic Castlevania tracks are instantly recognizable, even in their most basal forms.
And yet, I was compelled to complete the game. Perhaps my will was strengthened by virtue of being stuck in the hospital with nothing else to do, but despite its ridiculous difficulty and poor design decisions, Castlevania deserves a certain amount of respect, if not for what it is than what it eventually became. You might not say too much for Eomaia, but without her, Homo sapiens wouldn't be around today, so nod your head and pay your dues. I can't say you'll like Castlevania, but you should give it the old college try—just see how far we've come.