Eagles do more damage than bullets. For real.
Ninja Gaiden has a very fair reputation for being brutal, unforgiving, and extremely challenging. The Tecmo-developed action platformer isn't for the faint of heart, but thanks to the save states present in the 3DS Virtual Console version, more people than ever will be able to push their way through the game's unfairly difficult sections.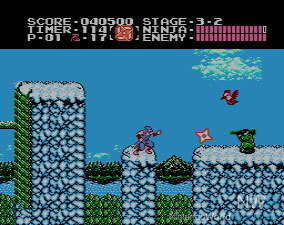 For me, Ninja Gaiden has always had a rhythm and cadence to its movement and combat, and while that rhythm gets thrown out of whack when a super-damaging eagle flies from off-screen to send you plummeting to your doom, the experience loses very little in the transfer to the portable screen. The only problem is that it is sometimes tough to differentiate platforms from the background in certain levels on the smaller screen.
Especially with the benefit of save states, the game holds up extremely well. If you're up for an often-brutally challenging experience with some cheesy dialogue and awesome music, then Ninja Gaiden on the 3DS Virtual Console might be perfect for you.
What's a Review Mini? It's a new article type for Virtual Console games and smaller downloadable titles. It allows us to deliver you our thoughts on smaller or older games in a concise manner.