Dance your way into shape.
Thanks to the release of Nintendo's own Ring Fit Adventure, plenty of Nintendo Switch owners are now using their console as an essential part of their fitness journey. Alongside the previously released Fitness Boxing and Just Dance, players now have another way to get in shape while playing a game: Zumba Burn It Up!
Zumba should be familiar to those with an interest in fitness as it's the exercise program created by Colombian dancer Alberto Pérez. The pitch is rather simple: dance off the pounds you've put on to some fun latin music. This release doesn't change the formula at all from gamd adaptations and DVD releases as players just do the intended dances while holding one of the Joy-Con controllers in their hands.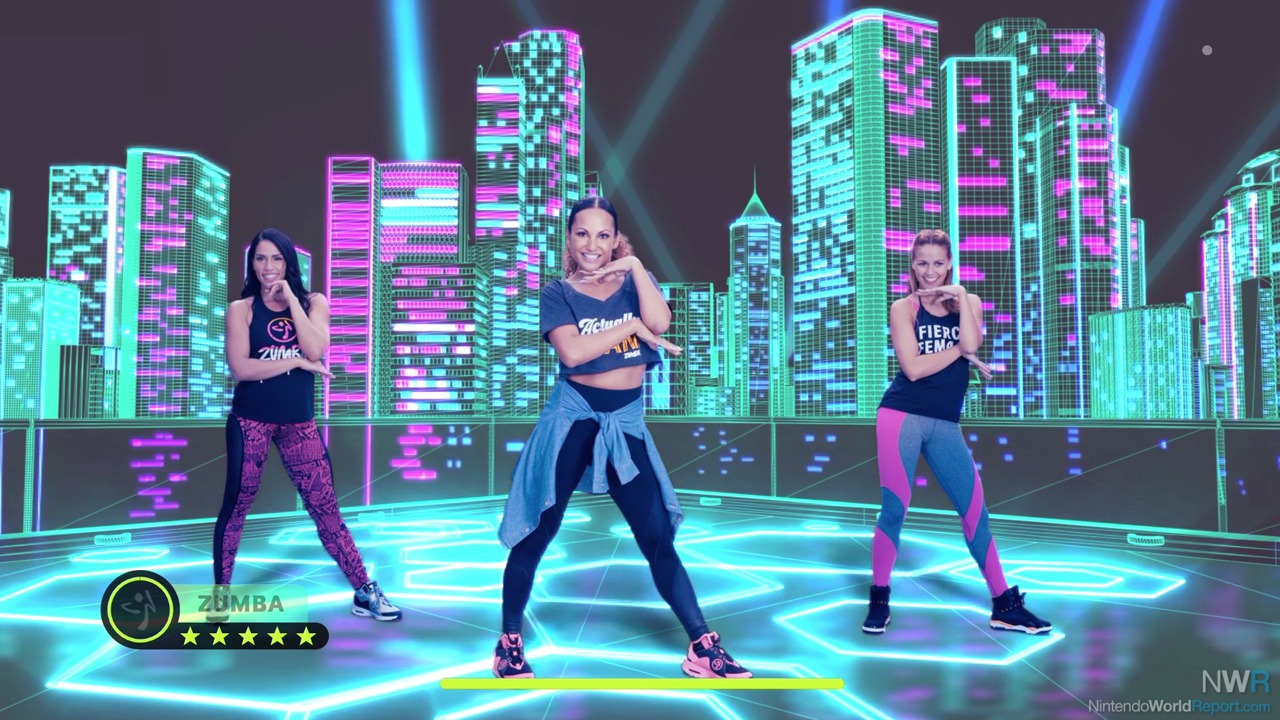 The main way to play Burn It Up! is to take on the fitness classes. These range from relatively quick 15-minute sessions to 60-minute marathons. In total, there are 15 short classes, 10 30-minute classes, and six hour-long ones. These only differ in the song intensity, as some playlists are low intensity while others expect players to frantically dance the entire time. I preferred doing the shorter classes as I found the dances to be a good supplemental workout rather than something to base my entire morning routine around.
The only real issue is that the Joy-Con isn't the greatest way to measure dancing. Sure, it works better than using a non-interactive DVD that can't grade the player at all, but it's only measuring arm movements. It's generally accurate, but there were definitely points where I did the movement and it just didn't register in-game, and other times when I knew I could slack off a bit and not be penalized since it wasn't going to pick up on my leg movements when I'm moving my hands back-and-forth. If you view Burn It Up purely as a game, then it can certainly be played like one, and there are shortcuts that devalue the fitness aspect.
However, with the intended exercise program, it works pretty well. There are over 30 songs to dance to, with most of them being latin music with little name recognition. The biggest track in terms of American popularity would be "I Like It" by Cardi B, Bad Bunny & J Balvin. That summer anthem is in full effect here and is included in plenty of playlists. The game stays true to its Colombian roots with its music selection and all of the tracks are fun to dance to.
The other ways that Zumba Burn It Up! turns your workout into a game is by providing a number of fitness challenges. There are daily goals to meet (such as earning five stars in a song) and more long-term ones to finish via weekly fitness challenges. It measures how much the player has worked out via a vague energy metric, but players will want to burn at least 200 of that metric each day if they want credit for the daily workout streak. These are worthwhile additions as they give everyone a goal to work toward, and nothing is too daunting that it'll dissuade someone from giving it a go.
By itself, it's hard to really recommend the Switch version of Zumba Burn It Up! The tracking isn't great and it's not something you'd ever want to spend hours with. However, as a greater part of a workout regimen, it certainly has its place. If anyone is looking for something to pair Ring Fit Adventure or Fitness Boxing with, this is fairly decent addition.