A fitness adventure for all that is worth celebrating.
When Nintendo tries to do something daring, it is not hard for me to be on board. That being said, I was reluctant in this specific instance. As a guy born with a physical disability, exercising is a troublesome thing for me. I do my darndest to keep up with everyone around me, but I almost always lag behind. The only fitness games I could dedicate myself to playing for a reasonable amount of time were the Wii Fit games. They have a routine that is customizable and can be adjusted to your skill level. For this reason, I found myself dipping my toes back into that content over and over again. Honestly, I didn't feel that I got the most out of the experience, despite playing the Wii Fit games for hundreds of hours. It was demoralizing to not feel entirely supported. On the contrary, Ring Fit Adventure instantly set expectations for me. Yes, it let me participate in something I feel like I couldn't. Unlike other fitness titles, the game didn't give me stress. Instead, Ring Fit Adventure opened a lot of doors that I thought were previously closed.
The big thing I need to credit Ring Fit Adventure for is being welcoming. With other games, including Wii Fit, everybody would follow the same program. They wouldn't take your personal fitness and situation into account, which forced me to keep trying over and over. Ring Fit Adventure, as you boot up the Story Mode, wants to tailor the experience to you. Players can give certain details, but they aren't required to do so. Immediately, you will press in the Ring-Con and jog with the Leg Strap to your personal satisfaction. You can put the Leg Strap as low as you want, or raise it up for a more challenging workout for yourself. The game doesn't judge and goes along with what you prefer. In addition, you can go even deeper into the options, allowing you to distinctly make your handicaps known. You can even, in fact, change it fully to Silent Mode and keep doing short squats instead of moving your legs. There is nothing but love for these features, which felt long overdue.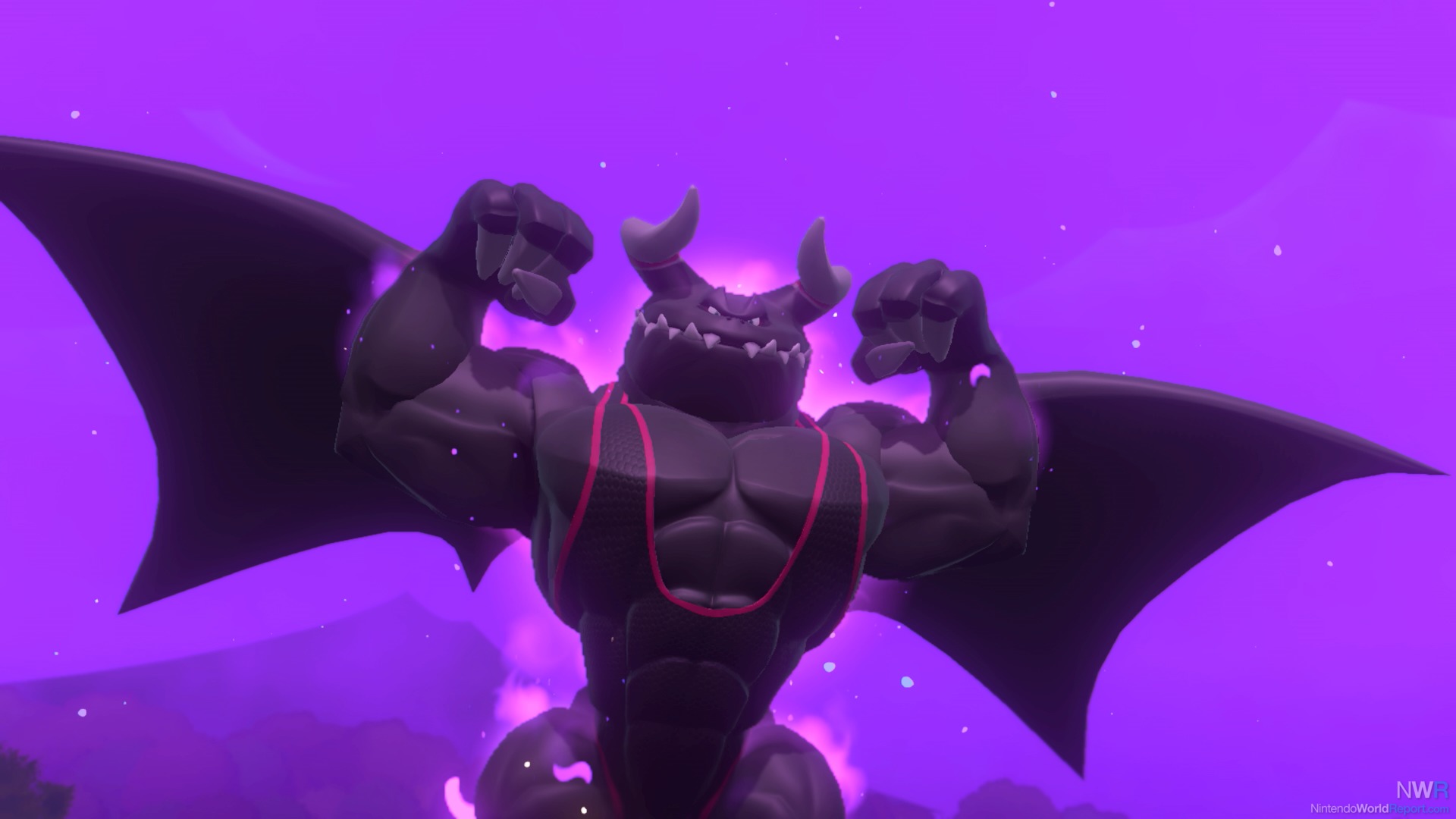 Since we are already talking about the game's Story Mode, we might as well dive right in. The gist of the game is that Drageux the bodybuilding dragon escaped from a ring, and now terrorizes the world around you. You, the player avatar, will have to team up with a talking Ring, who becomes your makeshift coach and supporter, to conquer levels and overcome the challenges in every new world. While there is some dialogue here, the fact is that Ring is the only one who uses spoken words. Now, I do get the idea behind it. Ring is meant to be your guide every step of the way, giving you instructions on how to perform. That being said, I really think it wouldn't have hurt to put some of that personality into Drageux as well. You meet him more than enough times to warrant that, I feel. The voice-less boss encounters make the situation just a teensy bit weird.
Regardless, what a varied and warm bath Story Mode turned out to be. The player will travel through twenty worlds, each with a variety of things to do. There are levels where you will jog through and interact with objects, complete minigame sized challenges, visit various towns with quests, or focus solely on Ring Fit Adventure's battling system. The worlds don't follow a specific scope and scale, opting instead to create impactful levels that fit the flow of the game. By far, my favorite are the jogging levels, where I played half the time with Silent Mode enabled. With the Ring-Con in hand, players will use the device to shoot bursts of air or jump by pointing the device downwards and squeezing. While the stages themselves offer linear passageways, you feel constantly involved thanks to the various motions enabled by that special controller. Speaking of special, some stages offer unique sections where you use different kinds of transportation or climb stairs for example. In one moment you might be exploring a river, while another sees you moving a minecart left and right. No two stages feel exactly the same, which is what kept me going throughout my play time. The reward is seeing a new environment flourish and seeing everything to the fullest.
While running along, you will come across white blobs that will stop you in your tracks. This can only mean that Fit Battles, where you will fight colorful fitness gear monsters, are upon us. The battles aren't unlike regular turn-based RPG combat where you would pick a move and see the results of your labor. Instead of seeing what happens, however, you actively do the attacks yourself. The attacks, spread across four categories, vary in difficulty and intensity. That might sound daunting at first, but I wouldn't worry too much. I do think that roughly 40 moves is a little light, mostly considering not every option might fit your exercise profile. Even if your pickings are slim in the early goings, the recharge timer isn't anything too bad, meaning you can repeat the ones you're the most comfortable with. Despite my shortcomings, I found it fun to experiment with the options available and see where I would land. A good example is how I thought I wouldn't able to do any of Leg attacks, but I found one that I could perform decently well.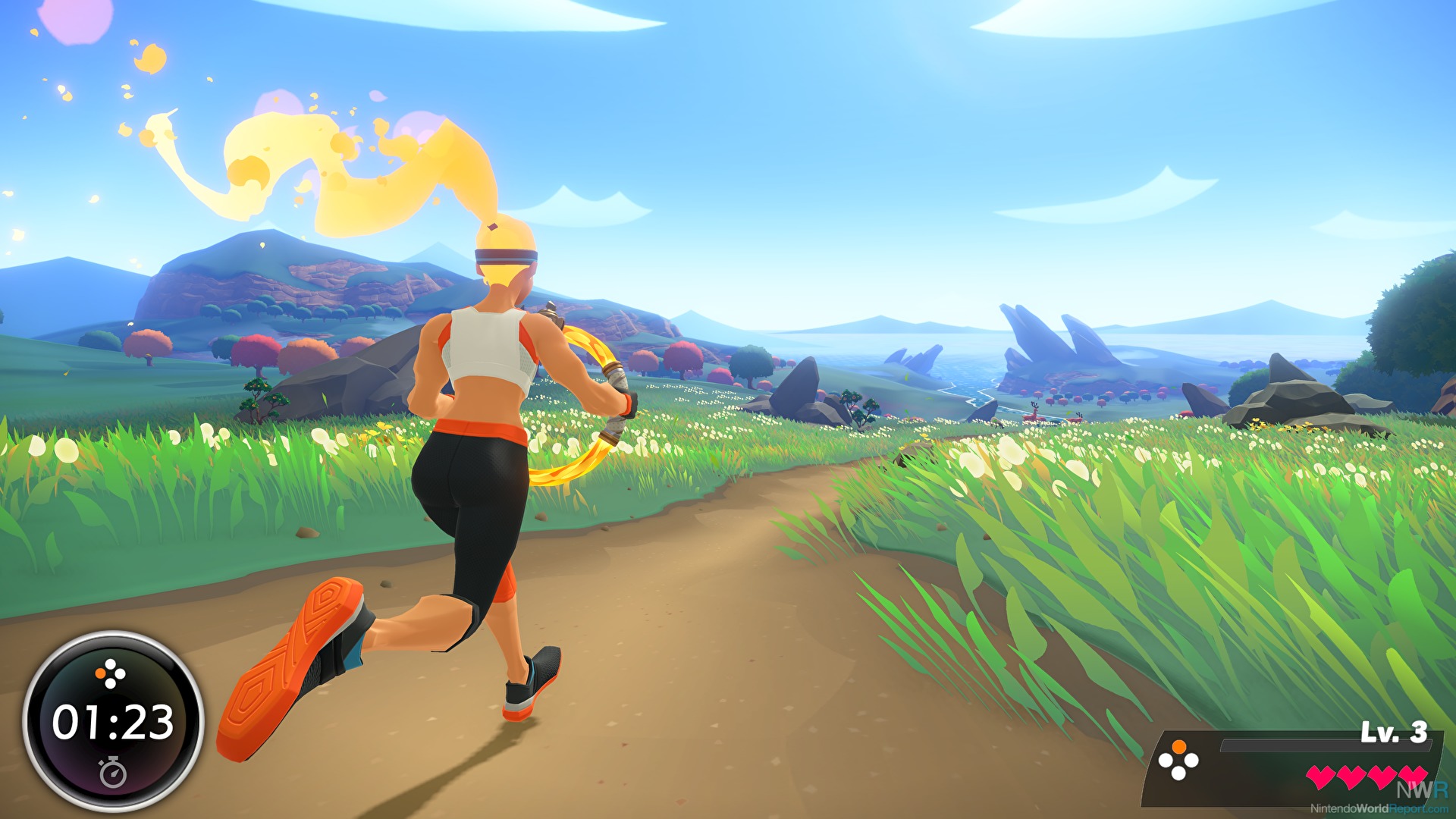 The Story Mode thrives not just at being a great fitness game, but an enjoyable video game in general. It excels at making every exercise feel different. The journey may seem linear on a television screen, but in my mind, I'm playing a fitness arcade game. What I found the most shocking is that I wasn't thinking: "I am playing a fitness game," Instead, I was focused on the task at hand like I would in a regular title. The story elements are nice, but the gameplay loop is what really kept the ball rolling. With a game like Wii Fit, I got some pats on the back, but never felt fully satisfied after completing a run. Despite some of the exercises literally killing me, I had a big smile on my face because I was taking the next step in the journey. That is what makes Ring Fit Adventure such a rare specimen. I didn't feel spoken down to for my personal issues, but actually encouraged to do better.
In addition to the robust campaign, there are other elements worth highlighting. Quick Play offers tons of options to sink your teeth into, mostly to step away from the more structured Story Mode. With Simple Mode, you will train certain aspects of your body, forcing you to do the same movements within a very strict time limit. In the Pectoralis Major Challenge, for example, you will have to keep pushing the Ring-Con in and out to net yourself a strong highscore. In the beginning, these short burst challenges may seem simple to overcome, but I really started to feel them in the latter half. You can lose the pace very quickly, and perhaps end up with a disappointing score. I found that ramping up your achievements was key in getting the best score over time. It just felt extremely nice and refreshing to work them into a session.
Next up, we have the twelve Minigames available in the package. Similar to my approach with Wii Fit, I would usually play a few minigames as a warm up or cool down for my Adventure Mode sessions. There were moments where I played the minigames separately, but that was mostly to best the scores of my friends. One that I really adored was Robo-Wrecker, which is more or less a Ring-Con version of Whack-a-Mole. You would use the Ring-Con to steer two hammers and bash the heads of robots. Bootstrap Tower is another highlight. It is here that you push down the Ring-Con to climb a tower. Depending on how you push, you will climb a certain distance upwards, allowing you to earn points and climb the ladder. In all honesty, there wasn't one minigame I disliked, and they made for great party games. It is easy to hand off the Ring-Con and let others give it a go themselves.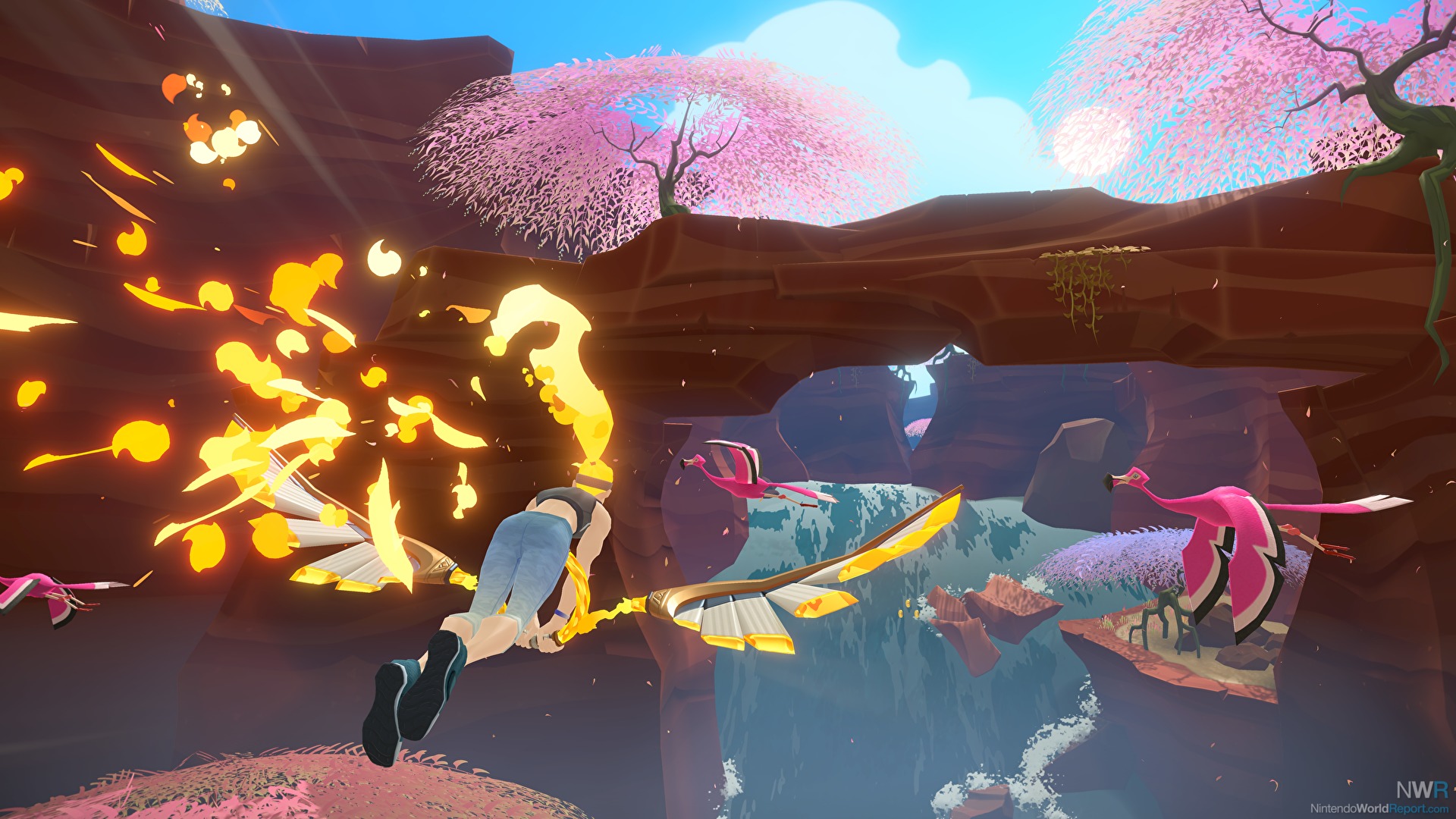 Finally, there is the Sets option. It is here that you choose a selection of exercises, based on certain muscle groups, and perform them to the best of your abilities. Similarly to how you do them in the Fit Battles, you will have to do each individual exercise for a certain amount of time to complete them. When there wasn't a day with a lot of time to keep moving, I would use this option to train specific parts for the day. You can create your own custom workout with all the options available, allowing you to string ten exercises together at once. The great thing about Sets is that it scales to your ability. Players can pick from either a Casual or Hardcore option, allowing you to play at your own pace.
As far as looks are concerned, Ring Fit Adventure knows how to make a strong impression. Personally, I adore the visual look of the game with its stylized characters and lush backgrounds. Your main character's expressions can be a little goofy at times, but overall, Ring Fit Adventure is a colorful journey worth seeing through. What helps is that the music really helps to sell the world. The Fit Battle theme is one of my favorite tunes this year, and easily makes my head bop while choosing attacks.
Ring Fit Adventure is the real deal. In these initial weeks, I easily spent way too long getting through the worlds day by day. I was encouraged to do so as exercises were extremely inviting, and never made me feel left behind. While I would wish that the Story Mode offered a few more attacks, I can't deny how I adored exploring all the options available. In addition, Quick Play offers even more things for you to do, making the package extremely wide in scope. Even at that, however, Ring Fit Adventure never loses sight of its main goal: making moving your body accessible to players of all skill levels. In that sense, Ring Fit Adventure simply hits it out of the park and never looks back. I couldn't believe how well it scaled to my needs, which Nintendo deserves a lot of praise for. Spectacular stuff through and through.