A country boy can survive.
I'm never one to turn down an opportunity to belt out some karaoke, and that's why I was excited to check out Let's Sing Country, the latest genre-themed expansion in the Let's Sing franchise. While I'm not usually listening to country music in my free time, I have nothing against it and carry fond memories of being driven by my grandmother as she sung along to whatever the local country station would play. From Kenny Chesney to Garth Brooks and Reba McEntire, I've listened to more country music than I probably would've chosen to over the years.
Unfortunately, most of the artists that defined country music in the 90s and 00s aren't included here. Anyone looking to sing some Brooks & Dunn or Keith Urban will definitely be disappointed by the tracklist here. The track list isn't bad, but its pre-2010 inclusions are shockingly sparse. Beyond single offerings from Glen Campbell ("Rhinestone Cowboy"), Kenny Rogers ("The Gambler"), and Dwight Yoakam ("Streets of Bakerfield") there's barely any country music from the previous century. In fact, there's not a single country song from the 90s included here. The 00s don't fare much better as they only have three songs and Toby Keith's "I Wanna Talk About Me" is the biggest jam of the bunch (which to be fair, is quite the tune).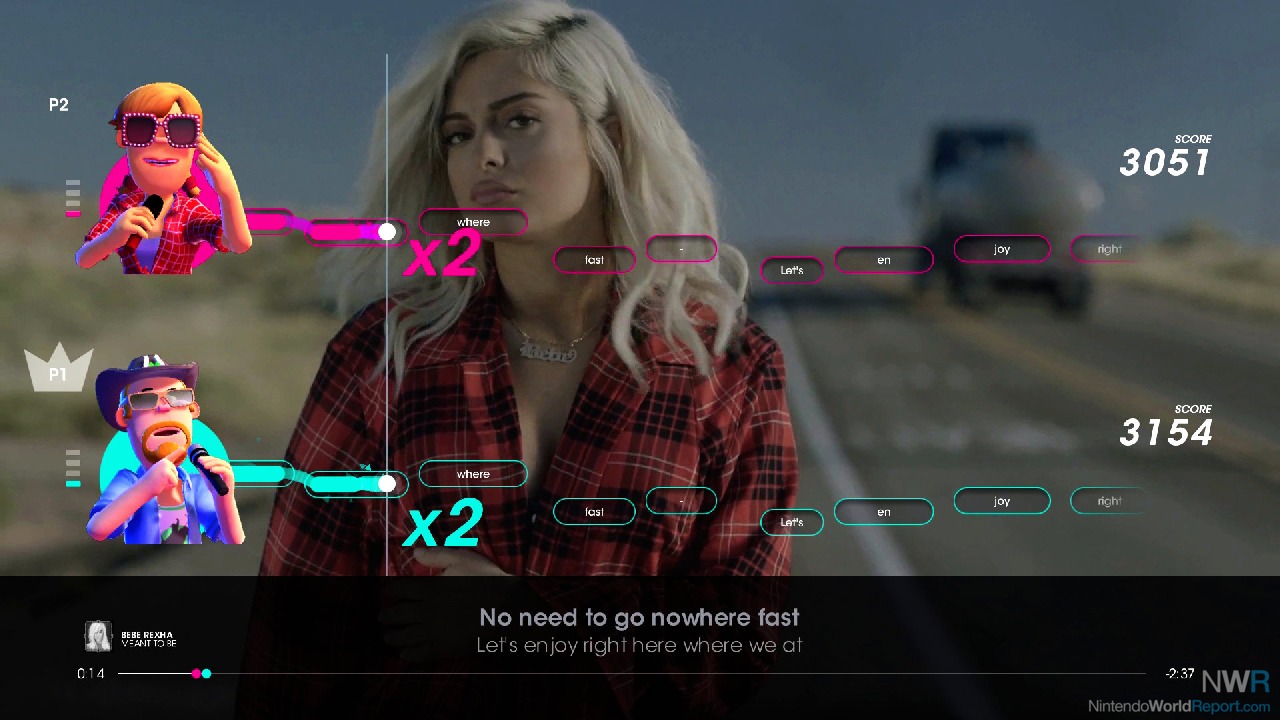 Clearly Let's Sing is trying to target a younger fanbase and is using newer songs as a result. Thankfully, even if I wasn't familiar with all of the songs, they're all pretty enjoyable to sing along to. It's fun to put on a southern drawl and belt out "Sunny and 75" regardless of whether it's your favorite song. Although, they definitely skew towards modern country pop, there's a decent variety of country to be found here.
That said, the package is definitely on the sparse side with only 30 songs available. Most rhythm games live or die by their music selection, and it wasn't knocked out of the park here. There's plenty of existing Let's Sing DLC to purchase, but they're not going to scratch that itch of wanting to sing along to some Tim McGraw.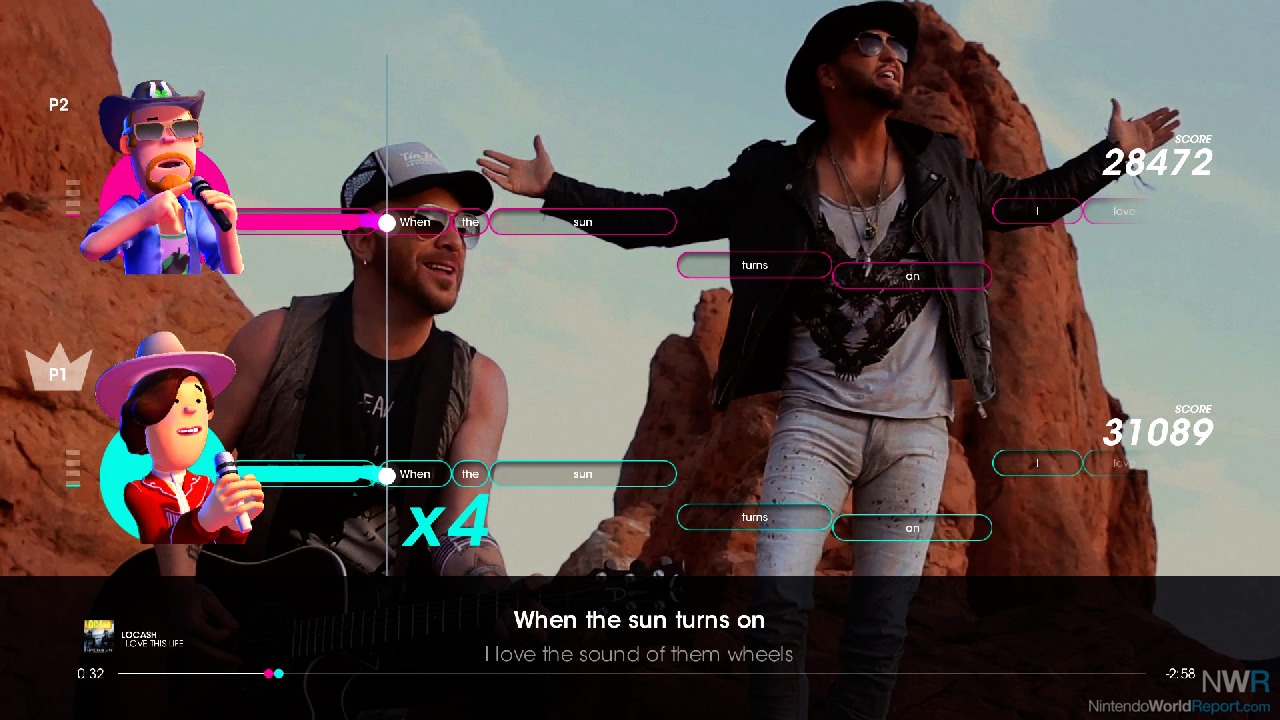 There are some additional modes to choose from such as "feat.," which is built around guest verses and singing with friends or the real artist, but there's no way for the game to change up its basic karaoke gameplay. If you're a competitive singer that prides yourself on singing in tune then you'll be saddened by the game's extremely sparse community. Let's Sing Country has been out several days but most songs only have a few people on the leaderboards on Switch. In fact, I managed to top the list in nearly every song I played, which isn't a great sign as I'm far from an all-star vocalist.
Let's Sing Country is a totally fine karaoke game that has a pretty lacking tracklist. It has made the conversion to Switch just fine as it's easy to read the lyrics even in handheld mode and the mobile phone app means you don't need microphones to have fun. However, there's just not enough songs to make it worth buying for most would-be singers.