A winning presentation helps cover up some weaknesses on the roster.
Golazo has a goofy presentation that already helps this arcade soccer game standout from the start. Coming from Argentinian studio Purple Tree, the art style definitely seems inspired by the developer's previous work on licensed work for Disney and Cartoon Network. Character design isn't complex, but it's appealing in a less stereotypical way than genre classics like Sega Soccer Slam. While part of me wishes the gameplay itself was a bit more refined, Golazo does more than enough right to be an enjoyable arcade soccer game that works best in multiplayer but can stand on its own as a solo experience decently enough.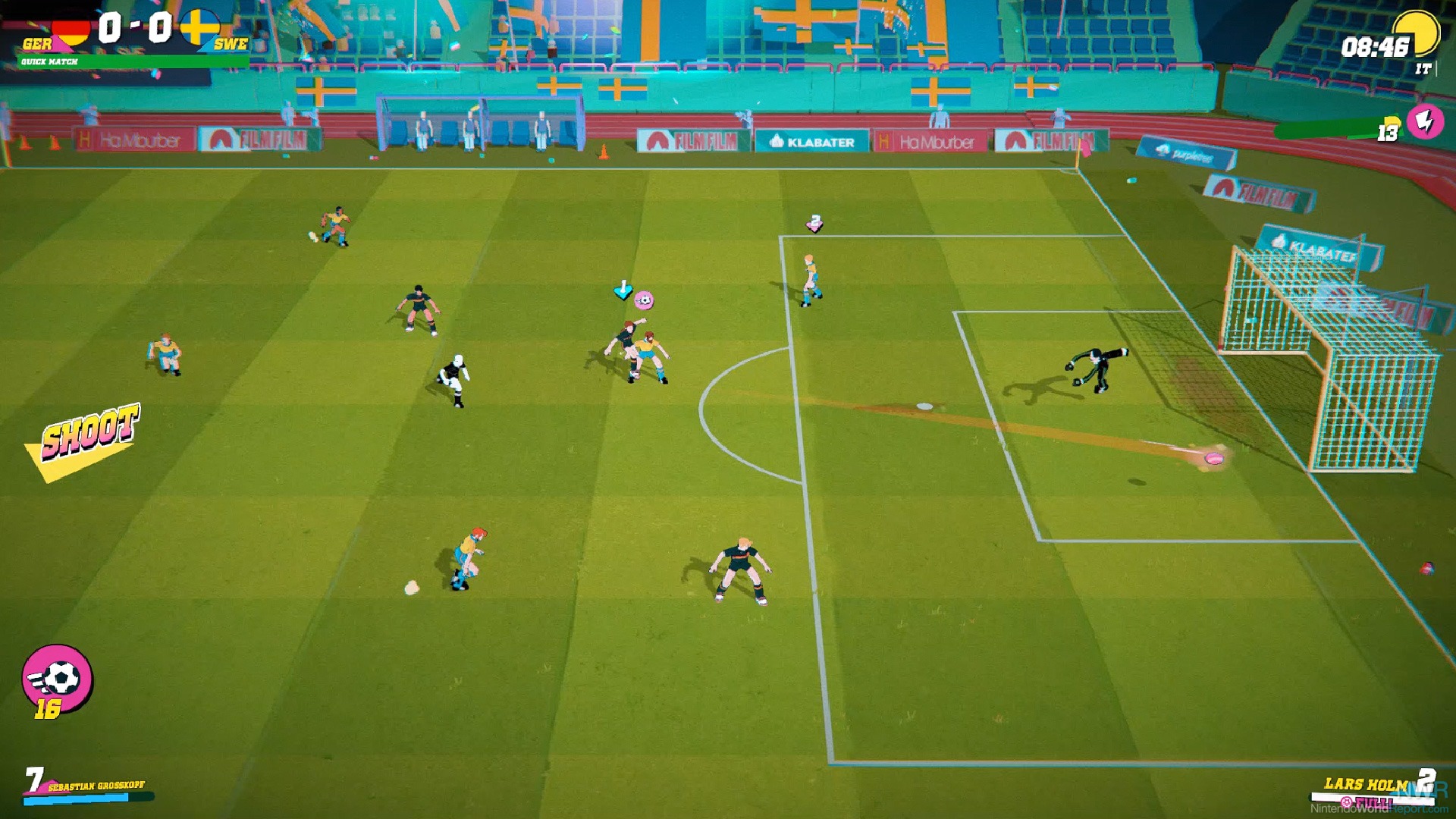 The teams here might try to mimic actual national teams and players, but the gameplay is pure lighthearted spectacle with a lack of fouls leading to lots of slide tackling and power-ups. Controls are easy to grasp, made stronger in a multiplayer sense by not being that convoluted. Shooting and passing, however, felt imprecise. The off-kilter isometric angle sometimes made lining up shots tough, as I thought I'd be set up to hit the corner of the goal but find out after shooting it was the post or just outside of it. For passing, setting up anything close to approaching a one-timer appeared to be a fool's errand, especially without a human teammate.
Thankfully, movement and dribbling doesn't suffer in a similar manner. The comical scuffles that broke out on the pitch where the offense tries to time their dekes and movement to avoid the pokes and slide tackles of the defense are regularly thrilling and humorous. This element of the gameplay being fun is important because Golazo was often a much lower-scoring affair than the typical arcade soccer game. Power-ups periodically deploy for each team, giving boosts to speed, passing, slide tackling, or shooting. They help to add wrenches into the gameplay and I enjoyed them as a way to liven up momentum and shift priorities in matches. For example, if your opponent has a boost to their speed, you might play more conservatively for a time so you don't get caught flat-footed. If that's not your speed, the power-ups can be easily turned off. Locally, it's playable with up to four players and while it's not quite the kind of memorable, long-lasting fun of stone-cold classics like Sega Soccer Slam or Super Mario Strikers, it's a good time.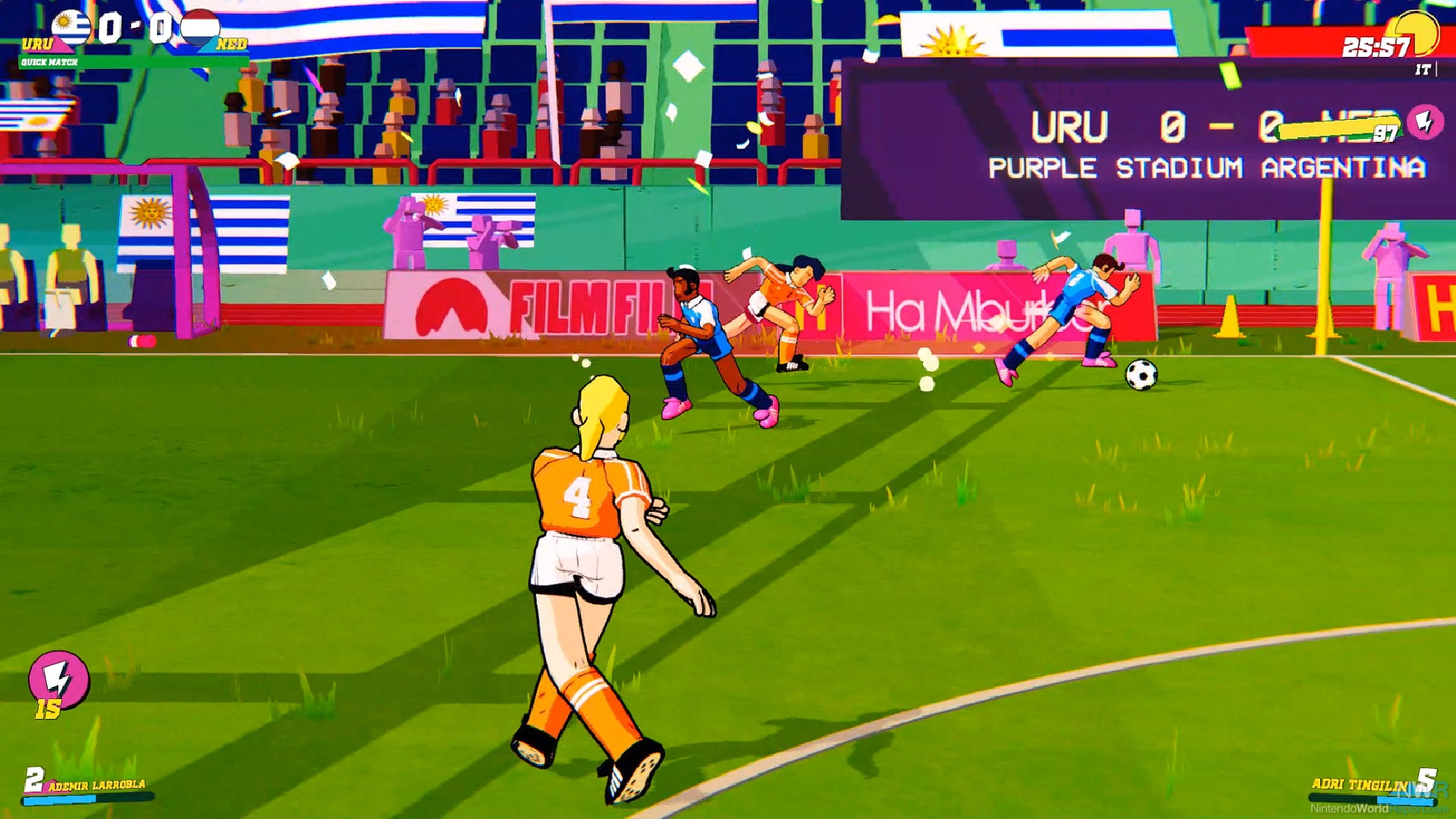 Aside from the multiplayer, two different season-like modes exist. A World Cup mode modeled after the quadrennial event is playable in addition to an International Cup with team rankings and a longer season. They are totally fine if fleeting. Golazo's clear expertise is in couch multiplayer. Playing in any mode will earn you in-game currency that can be used to buy new accessories, whether it's different colored balls, alternate uniforms, or new player celebrations. They don't change the gameplay, but it's nice to have something to strive to collect.
Golazo does a lot right even in spite of a few nagging issues with shooting and passing. I sincerely enjoy the presentation as it has a wacky yet still grounded feel. The single-player offerings aren't all that deep, but in a multiplayer setting, this is an enjoyable sports game. It's light and breezy with just enough strategy that it could rouse amusing competition out of a local multiplayer session.