A typical LEGO game, but now with dinosaurs!
After Jurassic World revitalized the Jurassic Park franchise in 2015, the developers at TT Fusion and Warner Bros decided that dinosaurs deserved the LEGO treatment, too. Four years after LEGO Jurassic World's initial release, the dino-packed adventure is making its way to the Switch. The Switch release comes with all the content of the original 2015 game and also includes all the DLC released, making this the definitive version of the original game.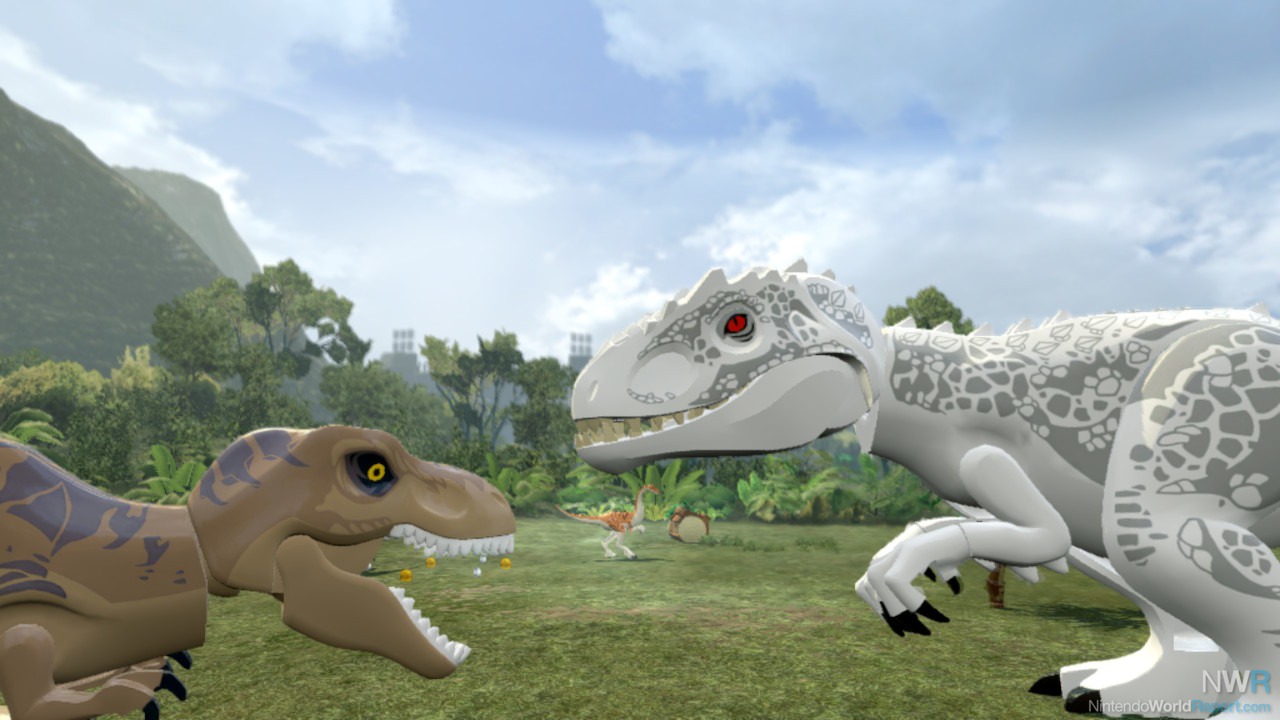 At first glance, LEGO Jurassic World's title is actually misleading. While the game includes the full story of Jurassic World recreated in LEGO form, it also packs in the original Jurassic Park trilogy, which is given exactly the same love and treatment that Jurassic World was. All the iconic scenes from each movie are perfectly recreated here, with a sprinkle of LEGO humor dashed in as well. Because of the nature of the films, a lot of the fear factor was dialed down and replaced with some cute gags to better suit a family audience. For example, instead of a man being eaten by a T-Rex, he is instead eaten and spit out as a gag. While this may irritate some die-hard Jurassic Park fans, I found the changes quite humorous, allowing the game to stand as a fun reinterpretation of the films. Regardless, the visual gags made each cutscene enjoyable, even if the humor occasionally stooped to potty jokes.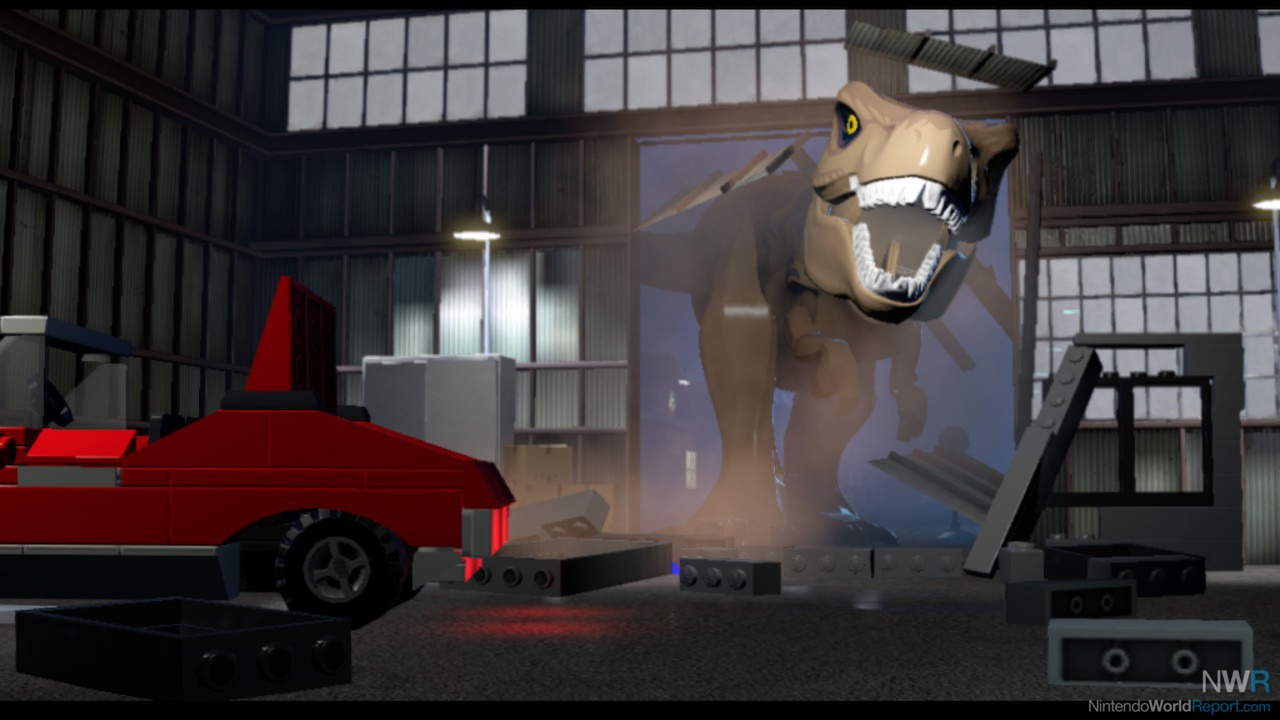 The adventure follows a mostly formulaic approach. At the outset, the player is allowed to choose between either Jurassic Park or Jurassic World's story to play through. After a brief opening cutscene, the player is thrown into the first scene of the respective movie and the typical LEGO shenanigans commence. If you've never played a LEGO game, they typically consist of moving around and trying to solve small puzzles to try and proceed on with the story. For about 80% of the adventure, these puzzles see you breaking all the LEGO builds around you, allowing you to rebuild the pieces so that you can progress. The other 20% are Jurassic World's newfound love for quick-time events. If done right, quick-time events can be a fun change of pace, but here they are an intrusive pace breaker that only irritated me whenever they came up. They showed up about three or four times every chapter, but just involved mashing a button, rotating the left stick, or pressing three buttons in a certain order. These were by far the worst part of the game as they never felt necessary or fun. Besides that, after completing a level, you are given the option to go back into a "free-play" version of the stage, allowing you to use other characters in a chapter to hunt down hidden collectibles to gain more gold bricks for use in the overworld. Exploring the overworld allows the player to visit each park, which, while cool in concept, was mostly barren besides a few hidden collectibles. Compared to LEGO Harry Potter, which was also recently ported to Switch, LEGO Jurassic World's hub world felt more like a novelty and less like a key gameplay element.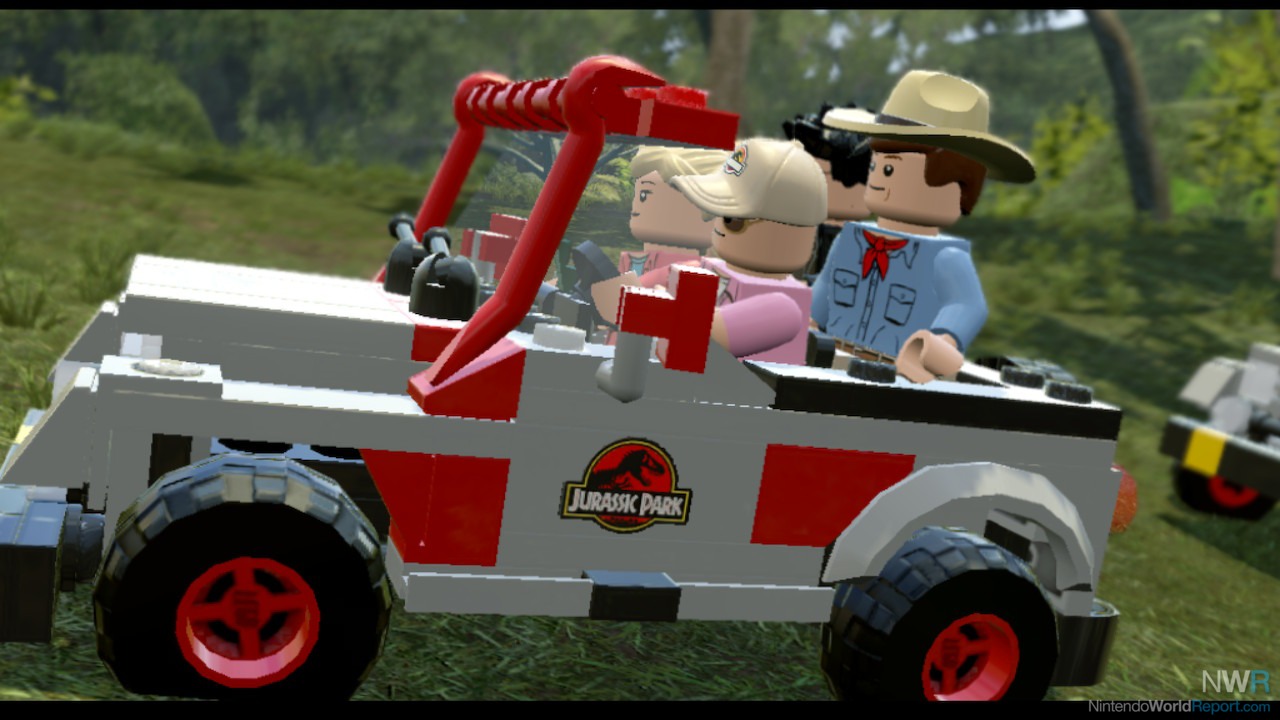 Besides some minor graphical hiccups, LEGO Jurassic World played mostly fine. It looked great in handheld mode, but while docked, showed some of its age. Additionally, the controls made a solid transition to the Switch, feeling better than they did on the Wii U in every scenario, except for one. The vehicle controls were mapped to the right and left triggers, meaning ZR was accelerate and ZL was reverse. This made controlling vehicles extremely awkward, but it's a small blemish on a otherwise fine control scheme. Additionally, like LEGO Harry Potter, LEGO Jurassic World features drop-in/drop-out co-op at any time, which is much appreciated. However, even without a friend's help, LEGO Jurassic World is by no means a difficult game. Each level was a breeze and only took about 10-15 minutes, which is understandable due to the game being directed towards kids. For an older or more experienced audience, a difficulty option, however, would have been much appreciated.
Overall, LEGO Jurassic World is a great love letter both to fans of the Jurassic Park franchise and fans of LEGO games. The strange addition of quick-time events to this entry was annoying, but looking past that, there is still a lot of content to enjoy. It would have been nice to see some Jurassic World: Fallen Kingdom content here too, but considering the game's original release window, it's still a must own for all Jurassic Park fans. Plus, having this package on the go makes the Switch version the ideal platform to play on. This may be just what a family needs in order to tide them over until Jurassic World 3.