Contra might not be in the name, but this seems like the most faithful new Contra game in years.
Playing through the first level of Blazing Chrome flushed me with deja vu: the visuals of a retro-themed futuristic city being destroyed; faceless foes rushing in to fight me; the crunching metal-tinged soundtrack; the familiar pain of a one-hit-kill, side-scrolling action game. Blazing Chrome's opening stage is Contra to the max, which is actually representative of the entire game. It's an ass-kicking, modern, Contra-style game that pays homage to the Konami franchise well.
The game is straightforward in that presentation. You pick between two characters at the outset, the human warrior Mavra and the rebellious robot Doyle. Blazing Chrome's level count isn't that high, but each one features multiple stages with a variety of stylish and engaging mini-bosses and bosses. A high score component sort of encourages replayability, but online rankings aren't available at launch. Two other ninja-themed characters that feature different melee-centric attack methods can be unlocked as well, and they control dramatically differently so as to encourage return trips through the action-packed mayhem. Additionally, a Boss Rush mode and, almost laughably, a Mirror Mode are unlocked after you beat the game.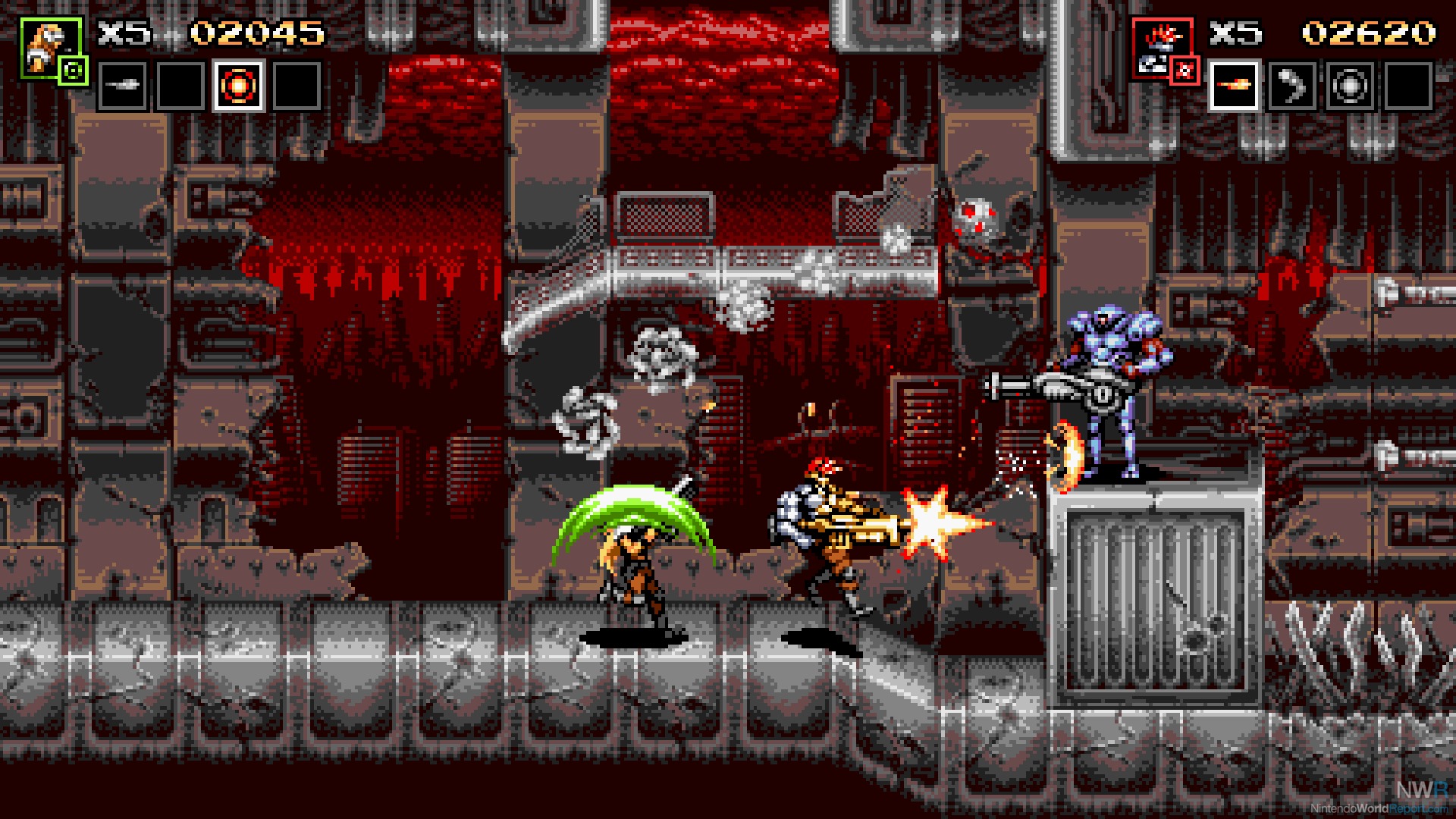 This is just as punishing as old-school Contra, with one-hit deaths often resulting in swift game overs. Thankfully for the two entry-level difficulties, there are endless continues and a mostly forgiving checkpoint system. The Easy difficulty isn't a pure cakewalk, but provides enough rope to let players better learn the nuances. The Normal difficulty is a notch below what I'd call the average Contra difficulty, mostly lower because of the friendlier checkpoints and continue system. The Hardcore difficulty, only unlocked after beating the game on Normal, is as advertised and relentlessly kicked my ass.
Variety is packed into each stage. While most action is boots-on-the-ground run-and-gun fun, essentially every level has some sort of unique segment, whether it's a romp through an area with a powerful mech suit, a tense speeder bike portion, or a perspective-shifting jetpack sequence. The bosses are also glorious, and while some of them are very challenging, I liked how most of them skewed a little more towards spectacle than immense bullet-hell difficulty.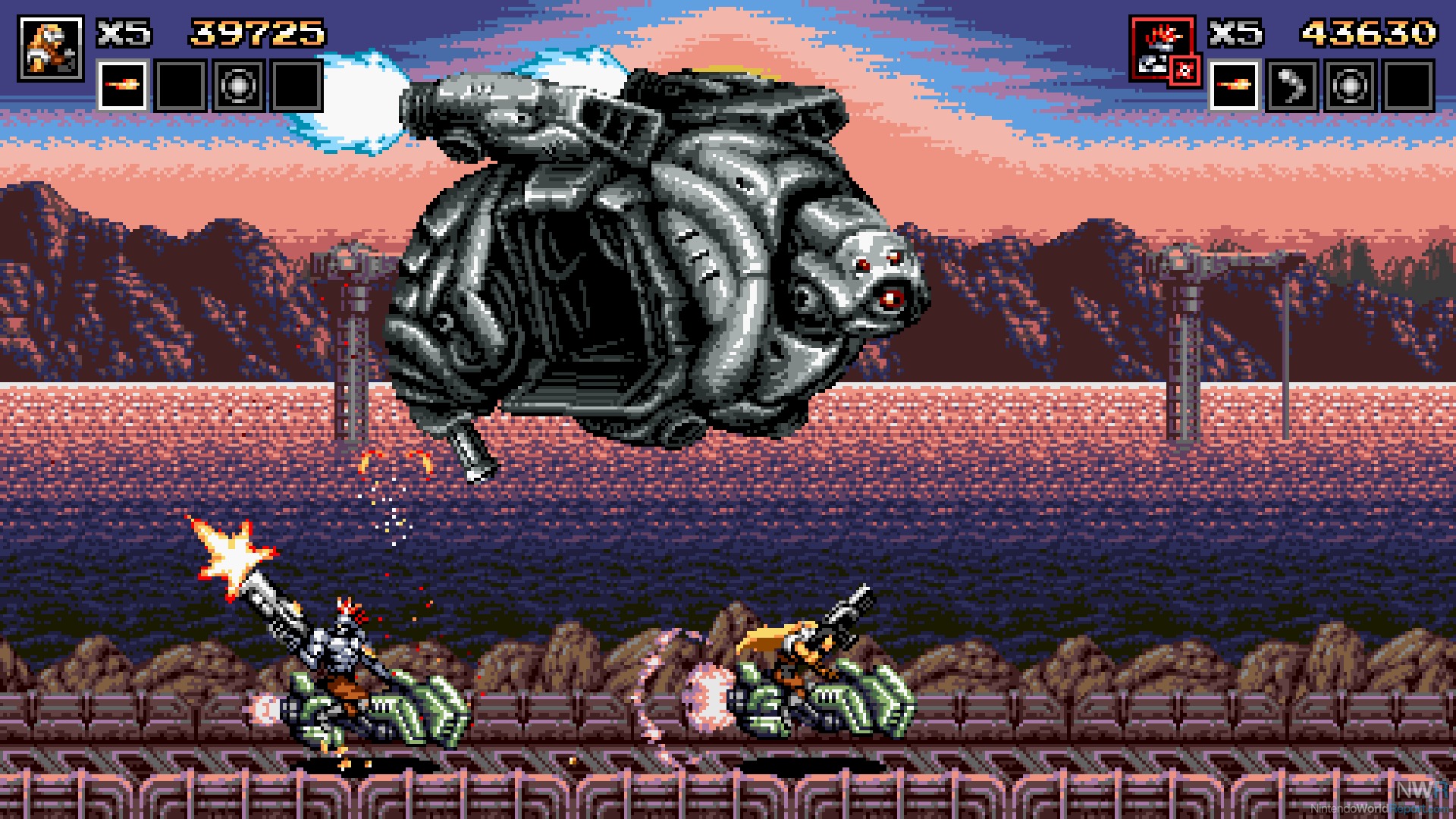 In some respects, Blazing Chrome is almost too much like its forebears. When bullets and enemies fill the screen, slowdown compromises the experience, which is especially frustrating in a game where you can die in one hit. That becomes a little more frequent while playing co-op as well, which is a shame because the ability to romp through this deliriously over-the-top action game with a friend is excellent.
A straightforward and to the point Contra-like experience sums up Blazing Chrome well. With six levels that will probably only take you an hour or three to clear the first time through, it's a tiny bit light on content, but thanks to the co-op and unlockable modes, more mileage can be squeezed out of this short and sweet joyride.