Nintendo should go indie more often.
The idea of an indie developer making an official Legend of Zelda game is mystifying, but now it's a reality. Brace Yourself Games worked with Nintendo to make Cadence of Hyrule, which combines their excellent Crypt of the NecroDancer with a variety of 2D Zelda concepts and ideas. Best of all, it features spectacular musical remixes of classic Zelda series songs. The dense and elegant rhythm-focused 2D Zelda is a triumph, paying delightful homage to the legendary series while still being its own unique experience.
Before we get too far into this, here's the skinny on Crypt of the NecroDancer: it's a rhythm-based roguelike dungeon crawler that has a tile-based layout not too far off from 2D Zelda. The action in the original is split into randomly generated floors that you work your way down. In Cadence of Hyrule, the basic controls are similar. You have to move to the beat of the song, as represented by an on-screen indicator. Enemies all move at the same time, each with their own unique patterns. For example, Moblins shake their hands up on one beat and then jump to a tile on the next. Tektites hop around diagonally on alternating beats. Cadence of Hyrule doesn't feature a singular dungeon you crawl down, though. Instead, there's a full explorable map of Hyrule that features a variety of challenges, as well as dungeons of different shapes and sizes.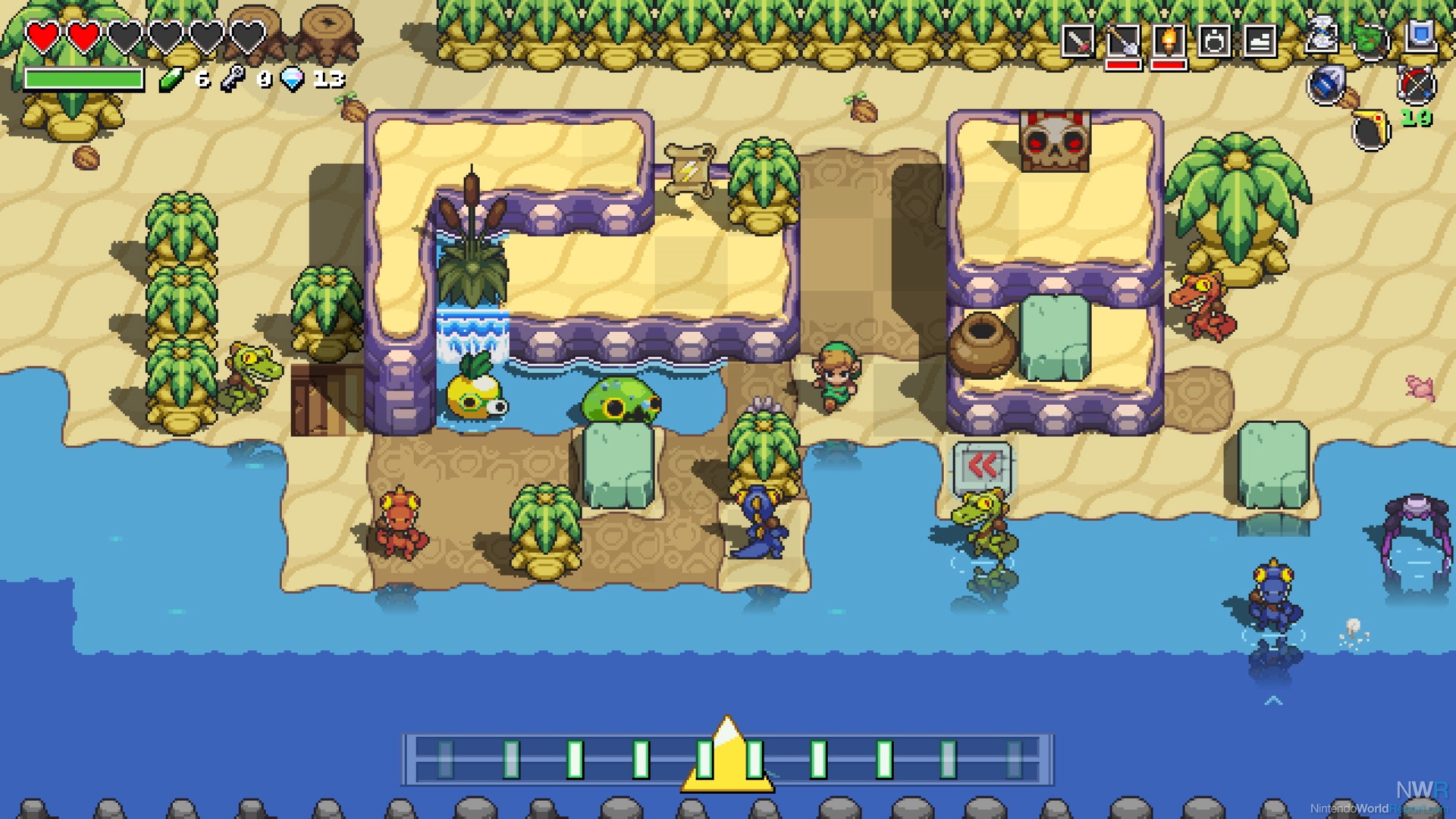 The story kicks off with the star of NecroDancer, the heroine Cadence, finding herself stranded in Hyrule as the villainous Octavo takes over Hyrule Castle. Link and Zelda are both in magical slumber and Cadence can wake one of them up, thus starting the quest to beat four bosses spread across dungeons at the corners of Hyrule to get back to the castle and take down Octavo. In addition to that story mode, which features a randomly-generated layout whenever you start a new game, other play modes add more meat to the bones of this adventure, including a Daily Challenge and Permadeath option. If you're musically challenged, the Fixed Beat mode lets you play more at your own pace. Lastly, everything can be played cooperatively with a friend.
Permadeath makes the game a lot harder, more in line with the brutality of NecroDancer. Thankfully, that's not the main mode of play in Cadence of Hyrule. It's still no walk in the park, but even with death happening often, enough of your exploration and item discovery carries over so you can always make progress with each life. The only things that don't carry over are Rupees and some lower-tiered items, such as torches and shovels used for basic exploration. But as you come across Bombchus, Hookshots, and Fire Rods, you keep them even in failure.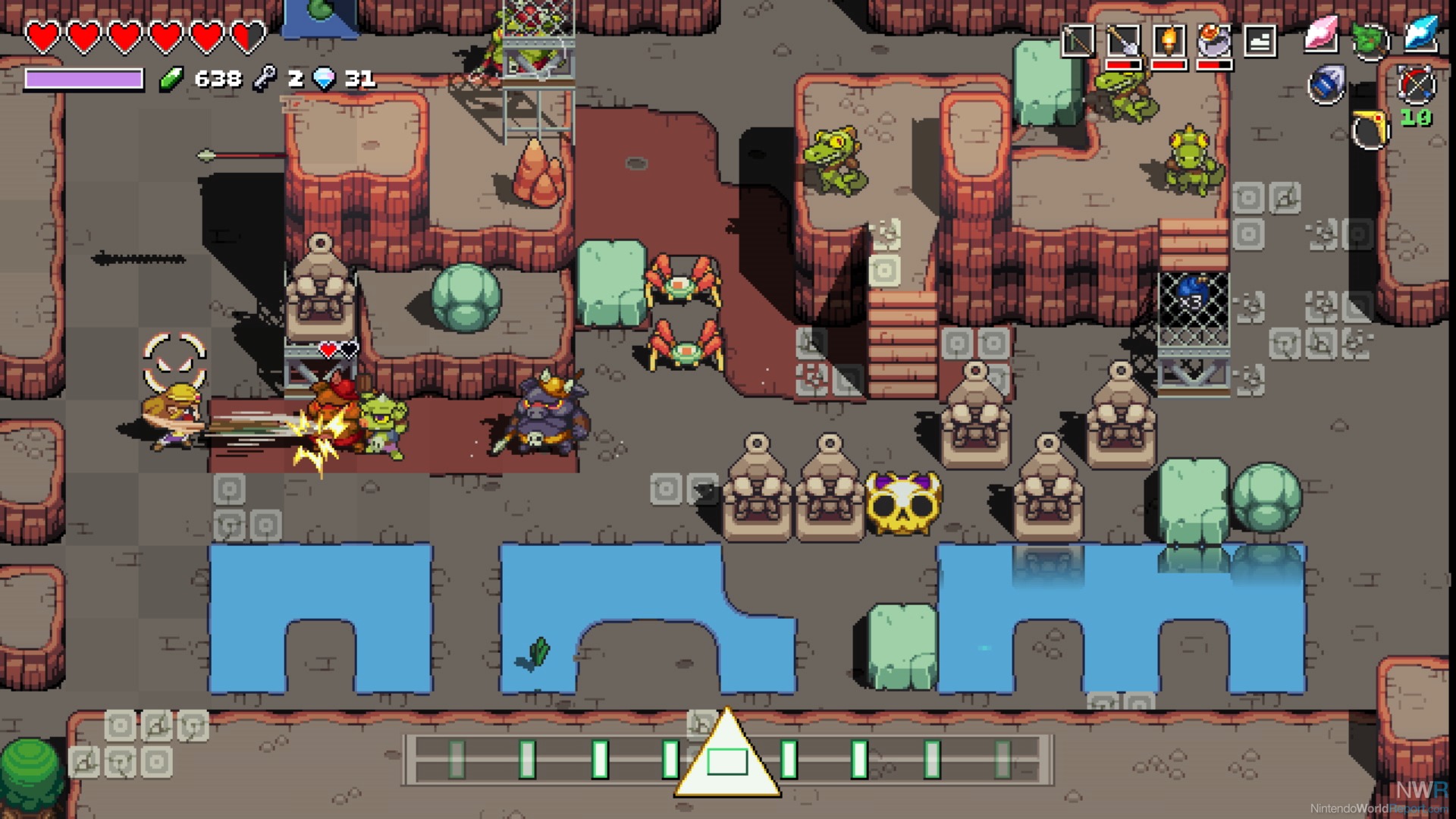 As I settled into the routine of exploring Hyrule in rhythmic glory—finding the next dungeon, unearthing secrets, and uncovering oodles of Zelda references—everything about Cadence of Hyrule grew on me. At first, it leaned more NecroDancer than Zelda, which was fine but not as much of what I wanted. As I got to the end and stormed Hyrule Castle, though, the clever 2D Zelda influence reared its head more definitively. The only sore spot is that, mostly due to the nature of the music-centric gameplay, the puzzles are a little pedestrian for a Zelda game. Not that they're absent; they're just less plentiful and inventive.
The map is loosely familiar if you've played A Link to the Past or other 2D Zeldas. It's not identical, but it has similar locales, with grassy fields, Gerudo-esque desert regions, watery depths, and mountainous spaces. The beauty of the randomly-generated design makes it more replayable as well. Going through multiple playthroughs was enjoyable because of that, and the Daily Challenges that see how far you can go on one life while competing against an online leaderboard are equally enjoyable.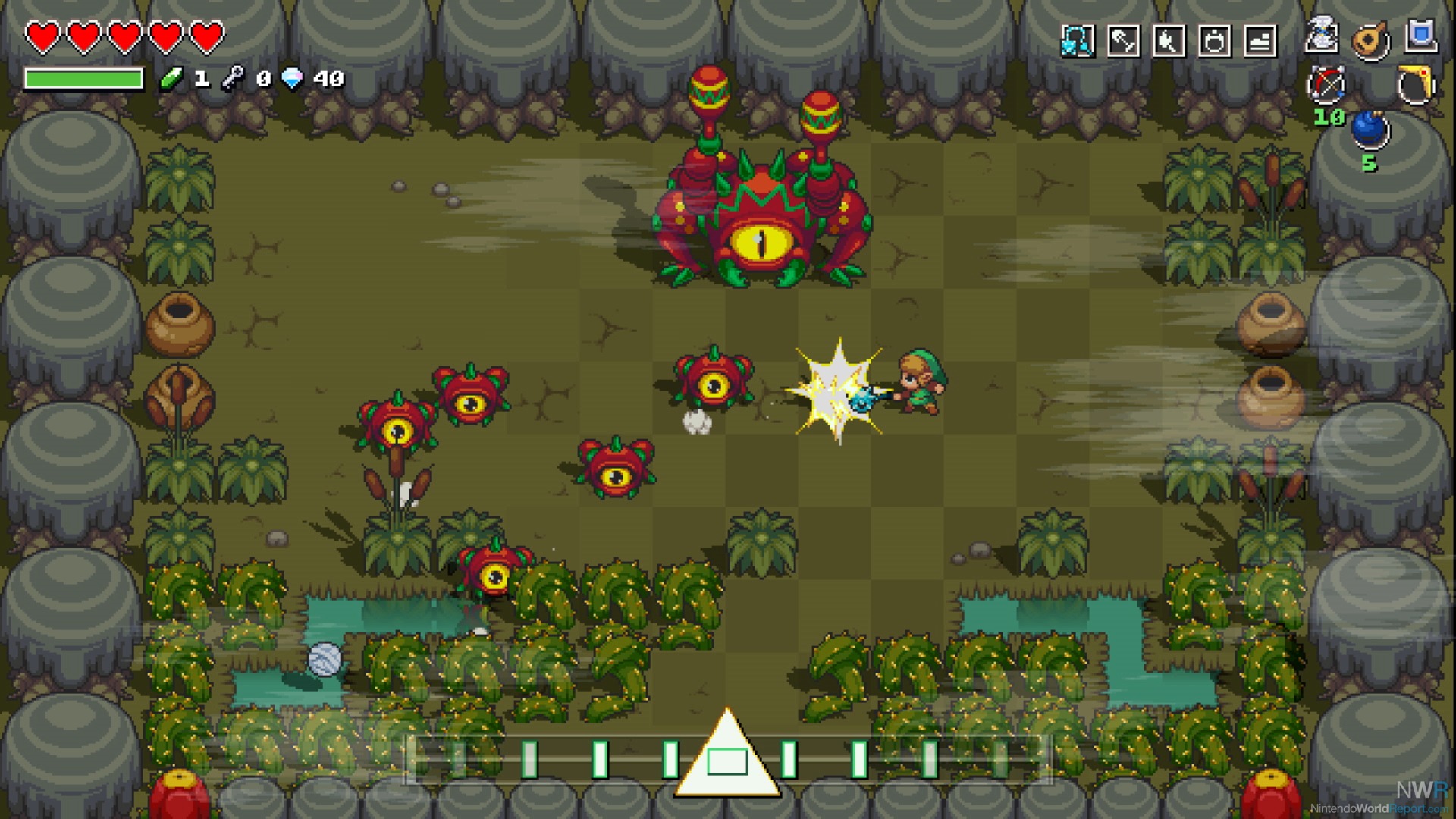 Through the hours I spent with this game, the music stayed consistently masterful. The soundtrack features a number of amazing Zelda remixes from Danny Baranowsky, who also worked on Crypt of the NecroDancer as well as Canabalt and the original Super Meat Boy soundtrack. Everything just sounds like the best Zelda OCRemix track you could find, which makes sense since Baranowsky has roots tied to that fabled game music remixing community.
As someone who enjoyed Crypt of the NecroDancer and loves the Zelda series, I was predisposed to like Cadence of Hyrule. Still, I had doubts as the game got closer to release, like maybe it would be too hard or too disparate from regular Zelda, but after spending a fair bit of time with it, those doubts washed away. This isn't Link to the Past; it's something new and different. Cadence of Hyrule successfully earns its place in the pantheon of Zelda adventures by carving a distinctive rhythmic path that brings new ideas to the series while also hitting the right nostalgic keys.