It's not too late to whip it.
Konami has risen from the dead recently to bring us a series of collections based on their back catalog, and the latest is the Castlevania Anniversary Collection that has just released on Switch. While the previous set, the Arcade Classics Anniversary Collection, was comprised primarily of shooters, the Castlevania Collection doesn't mask what it is. While it doesn't have any of the Metroidvania entries, it does contain games across four different consoles, including Kid Dracula, which had never left Japan until now. This collection is sure to please old-school action-platformer fans, Castlevania enthusiasts in particular, but a few of the games haven't aged quite as well as the Count himself.
The NES Games
Castlevania and Castlevania III remain two of the better games in the Collection. While the latter has aged a little better with its multiple protagonists and branching paths, the classic music and atmosphere of the former are still worth experiencing. Simon's Quest will have its defenders, but it's still obtuse and frustrating. Efforts to bring adventure elements into the series didn't quite work as well as they could have, but credit to the game for trying something new, much like what happened with The Adventure of Link—arguably the stronger sequel that diverged significantly from its predecessor.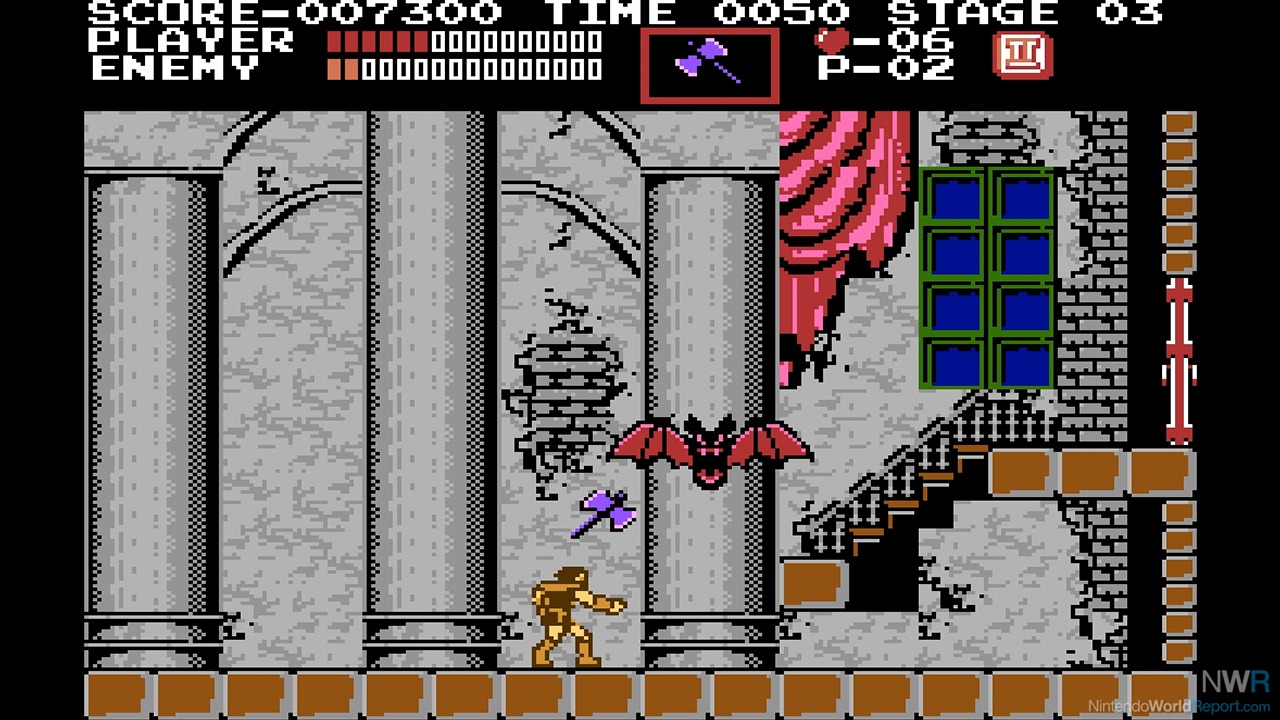 Kid Dracula is a spinoff of Castlevania and employs a much more light-hearted and charming presentation. The soundtrack isn't quite as strong as any of the true Castlevania games, but you earn new abilities after clearing each stage, such as homing shots and the ability to temporarily transform into a bat. Some of these abilities are used to navigate certain areas and stage hazards, but they aren't used as extensively as I had hoped. While fun to play, there are segments that are brutally difficult and checkpoints are fairly infrequent, meaning death can nullify much of your progress. Overall, it's a cool relic that rounds out the package but not one that justifies a purchase on its own.
The Game Boy Games
The two Game Boy Castlevania entries in the package could certainly be named in a less confusing way, but considering both came out early in Game Boy's lifespan, Castlevania: The Adventure and Castlevania II: Belmont's Revenge should be praised for how faithful they are to their home console counterparts. While neither title holds up incredibly well in 2019, those with nostalgia for the pair or even just the Game Boy itself are likely to enjoy playing their way through. Belmont's Revenge in particular adds the sub-weapons missing from Adventure, stage selection, and a fun two-part final castle. There are even parts of the stages where you choose one path over another and play through different screens on your way to the eventual boss.
A few issues hold back the two Game Boy titles: Christopher Belmont's slow walking speed and uneven difficulty. The vampire hunter plods his way through each screen, making missed jumps and death all the more punishing. I also noticed a little bit of slowdown from the games themselves during my playthroughs, but nothing too major. One stage in Belmont's Revenge contains an area where the screen goes dark, and this section is incredibly frustrating. Compare this against many of the end-stage bosses who are fairly easy to defeat, an exceedingly tricky penultimate boss fight, and then the somewhat disappointing showdown with Dracula himself. Funny enough, the Dracula fight happens in the same room in both games, but Adventure's version is more challenging and satisfying.
The SNES and Genesis Games
A little over three years separates Super Castlevania IV and Castlevania: Bloodlines on the SNES and Genesis, respectively. Despite both being from the 16-bit era, they are fairly different games with Castlevania IV being a remake of the original and Bloodlines almost a spinoff. While Bloodlines does have two playable characters and a lot of boss fights, its level design is a little too straightforward. It's interesting that the stages are based around real places in Europe, and overall the game is fun to play—if a little on the easier side—but it's just not as memorable as the SNES title. Both games have solid visuals, but the effects stand out more in Castlevania IV.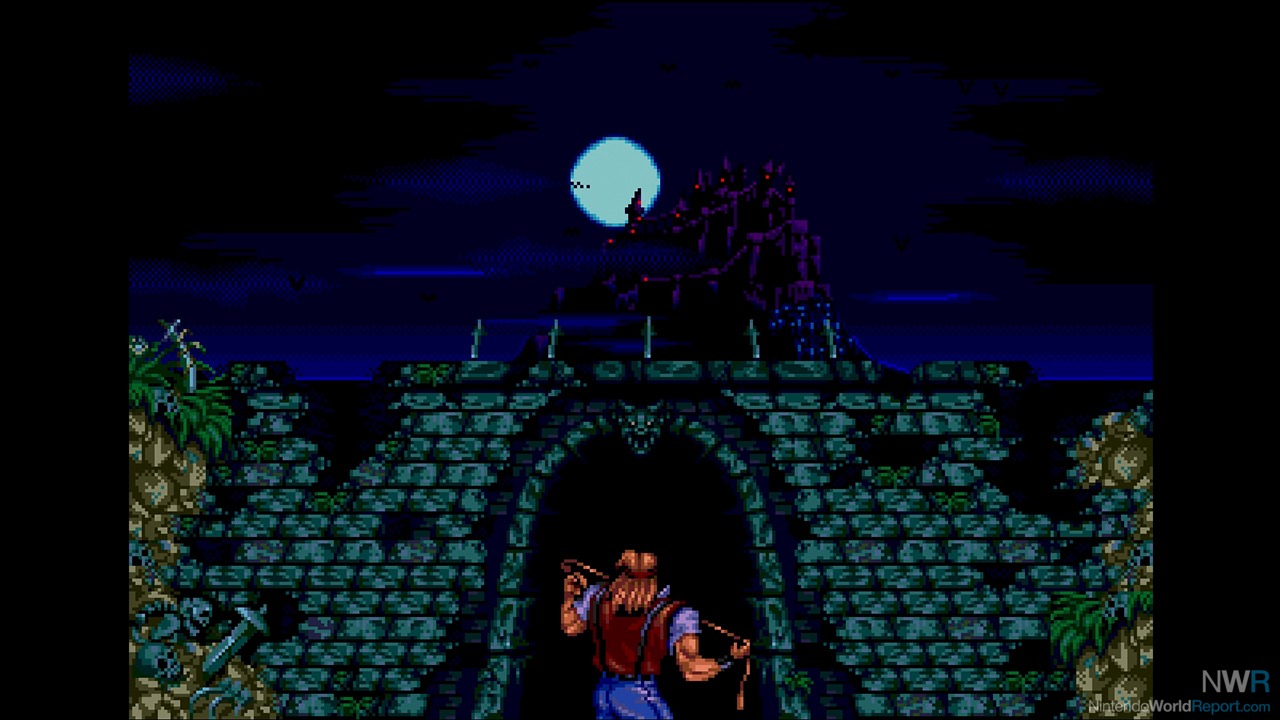 For many, Super Castlevania IV is the pinnacle of the classic series, before it moved to 3D or created the Metroidvania genre. It drips with atmosphere and has an incredible soundtrack. It also airs more on the methodical rather than action-based side of platforming. You have to be patient and wait out hidden enemies before making that next jump. Castlevania IV was the first game to introduce whipping in eight directions, which made flying enemies much more manageable, and you can also stick your whip out and flail it around to damage more stationary or heavily armored targets. The final battle with Dracula is pretty good, but it's a little disappointing that he only has a single form considering he had two in the original Castlevania and multiple during many other encounters with him throughout the series.
Music and Conclusion
Just like how you can't review a Castlevania game without referring to Devo's Whip It, I am obligated to highlight the unbelievable music. Simon's Quest features the classic Bloody Tears, and for my money that 8-bit rendition from Kenichi Matsubara is still the best version. Vampire Killer shows up in a handful of the games in the collection, and it's the theme song of the franchise for good reason. Even the Game Boy pair have some memorable chiptune music, such as Battle of the Holy from Castlevania: The Adventure. Undoubtedly, the soundtracks that play throughout the Castlevania Anniversary Collection do so much to conjure up nostalgia, and none of the games would be the same without them.
Any Castlevania fan would be doing a disservice to themselves by not picking up the Castlevania Anniversary Collection. With the ability to save replays and create a save state, choose from six different display options and three borders, and flip through a bonus book filled with cool art, history, and interviews, this anthology is a great value. I would have liked to see a sound test option built into the main menu, the ability to remap buttons, and multiple save files per game, but on the whole the Castlevania Anniversary Collection delivers. A few of the titles don't hold up completely, but every part of this collection is worth at least trying. Even though the first Castlevania came six years after their biggest hit, I have to believe Devo had the Belmont family in mind all along. When a good time turns around, you must whip it, and the Castlevania Anniversary Collection has whips and good times in spades.