The flexibility of a Switch dock without the hassle.
There's no way I could recall every instance of having my Switch at a friend's house or at a party or gathering of some sort where I wish I had my dock on me. Let's face it, that thing is huge hassle to disconnect from your monitor or television every time you go out, and even when you do, it will take up quite a bit of space in your bag.
Now, I'll give a brief, but necessary, warning. Third party docks, or portable cables replicating the functions of the dock, are not licensed by Nintendo. That means if one damages your console, Nintendo won't be able to help you. It's happened before: many users last year reported a software update bricking their consoles when using third-party docks. While this doesn't seem to be an ongoing issue, please just be aware of the risk that comes with using unlicensed accessories.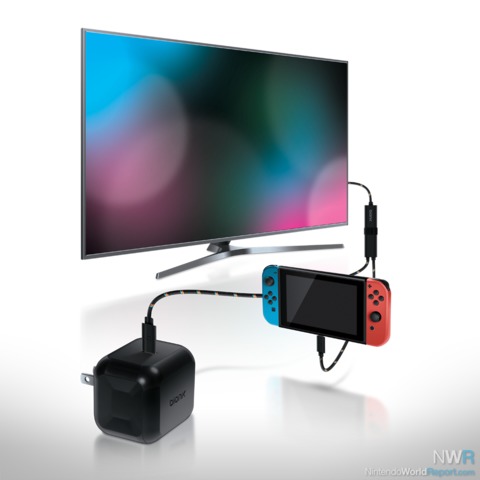 As of now, though, it does not seem like Bionik's TV Lynx, an unlicensed portable power cable and adapter that hooks up the Switch to HDMI in the same way as the dock, has this issue. I've been playing games on this thing as usual without any issues.
Physically, this is almost everything I would ever want from a cable like this. I was surprised to see a very premium six-foot braided cable lined with a classy black, blue, and orange pattern when I opened up the box. The length is about the same as what you get with the original dock, so no worries fitting it into complex entertainment system setups.
There's a small plastic bit in between the cables, presumably holding the mechanisms that would normally be in the dock transferring data to HDMI. The giant, chunky power brick on the end of the cable is smaller than Nintendo's but still way too intrusive to fit into packed extension cords.
This product works exactly how the original dock does, with the obvious exception that it leaves your screen exposed. You won't be able to use the screen as a second screen or in normal handheld mode when it's plugged in, or anything of that nature. I have no complaints about how this works, if you've used a dock before, you'll know how to use this. Just know, there aren't any extra USB ports on it if you want to plug in a wired controller, GameCube controller, or ethernet adapter as you would on the dock.
If you're looking for a portable dock to take with you on the go and aren't afraid of the risks of using unlicensed accessories, you'll find it here. I'm excited about throwing this in my backpack and enjoying the freedom of play this will bring.