Beautiful animation and aesthetics make this difficult ride one worth taking.
Cuphead is a tough-as-nails run-and-gun indie game that carries with it the sensibility of 1930s Disney animation and a distinct feeling of sympatico with Nintendo games. It's existence as a Microsoft exclusive for its original 2017 release was definitely something I was jealous of as a Nintendo-focused writer. Cuphead coming to Nintendo Switch less than two years later is both mind-boggling and awesome. This beautiful and demanding game feels at home in Nintendo's library and the port to Switch is mostly excellent save for some controller-related maladies.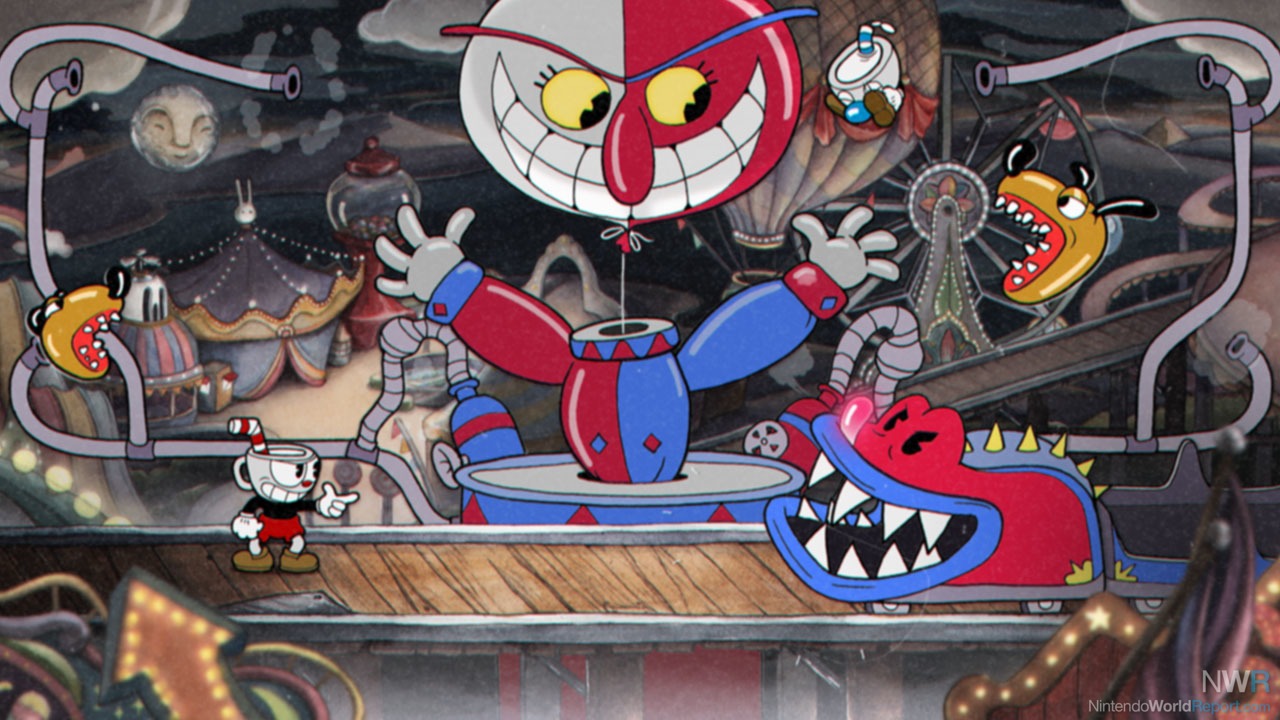 At heart, this is a boss rush game. The majority of the gameplay is spread across more than a dozen battles, with a handful of side-scrolling levels and extras thrown in for good measure. I am disappointed that the focus is just on the boss battles because the few normal levels are inventive and fun, providing a really nice balance to the pressure and intensity of the bosses. Still, each boss is drawn and animated amazingly, featuring multiple phases, tons of tricks, and a whole lot of heart. The fights are all their own puzzle to solve as you experiment with the best ways to fell them while taking little damage.
The elegance of the hand-drawn visuals is aesthetically matched with the audio design. The music pays wonderful homage to the era of animation referenced and the audio creates an overwhelming pitter-patter that pulls everything together. Each gun you can use has its own rhythmic firing speed and noise that, because you're very likely going to be constantly slamming on the fire button, is constant. It's a backing track to the whole beautiful tableau.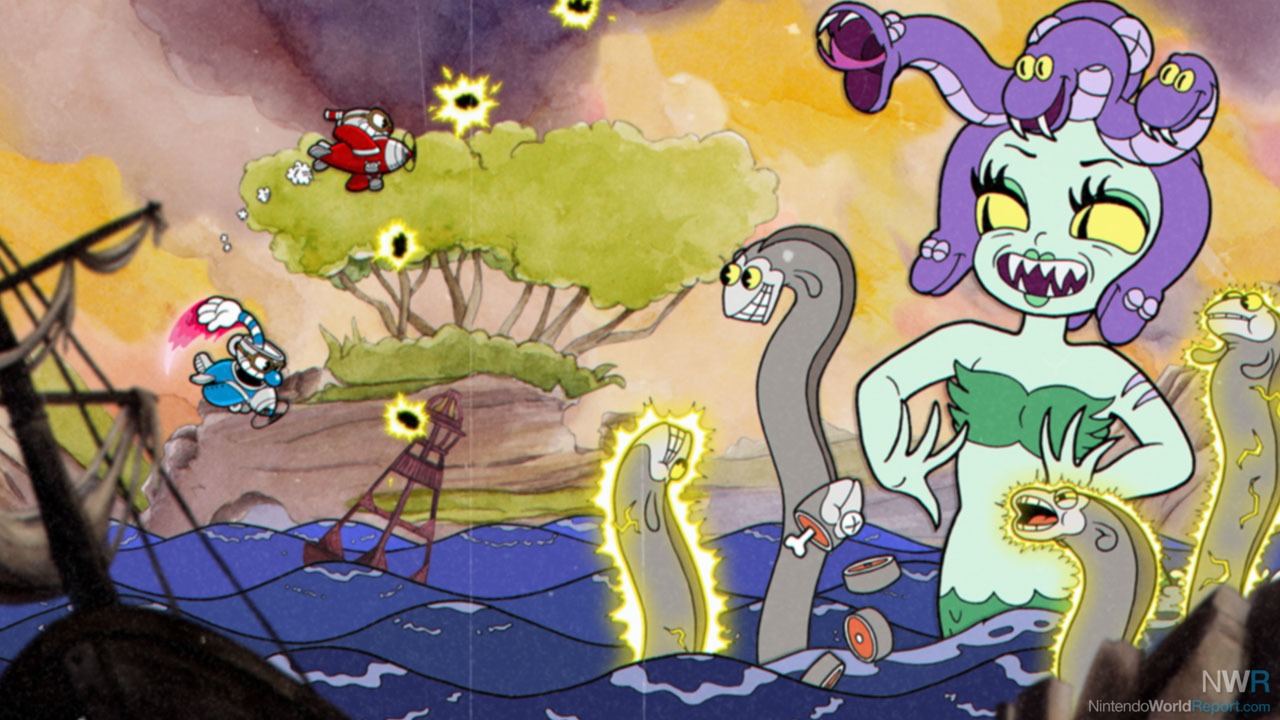 While Cuphead is fully enjoyable by yourself, it is at its best in co-op. A second player can jump in and help you out with a tough boss, made slightly easier thanks to the added firepower and the ability to revive a fallen partner. Even with that aid, the foes here aren't a walk in the park. The bosses demand competence at the start, but with an endless supply of lives and well-defined attack patterns and phases, this isn't as unfair and difficult as I was led to believe back when it first came out in 2017. The going gets very tough but delicately toes the line between fair and cheap. My failures generally happened when I was still learning the boss' patterns or I got too cocky. Rarely was it due to unfair circumstances, though some late-game bosses painfully test this conclusion. If it is too hard for you, you can opt for the Simple difficulty, which unfortunately doesn't allow you to beat the game. Simple is best used as an easy alternative to learning bosses and mechanics early on as it removes some of the slightly random elements of the boss' patterns.
The Switch version, on the whole, runs very well. When comparing it to the Xbox One release, the initial load times are a little longer, but once you get into a boss battle, respawns are very short, which they absolutely need to be because death is a common specter. Also the questionable D-pads on the Switch's controllers barely hold up to scrutiny in this game. I still enjoyed myself, but I long for the days when Nintendo's controllers had the best D-pads out there. My solution was to adapt to the analog stick for control, which wasn't ideal but at least it was more consistent. Co-op is, naturally, perfect for the Switch and now, if you so choose, player two doesn't have to default to Cuphead's pal Mugman. In fact, a single-player can choose to play as Mugman or Cuphead at the outset.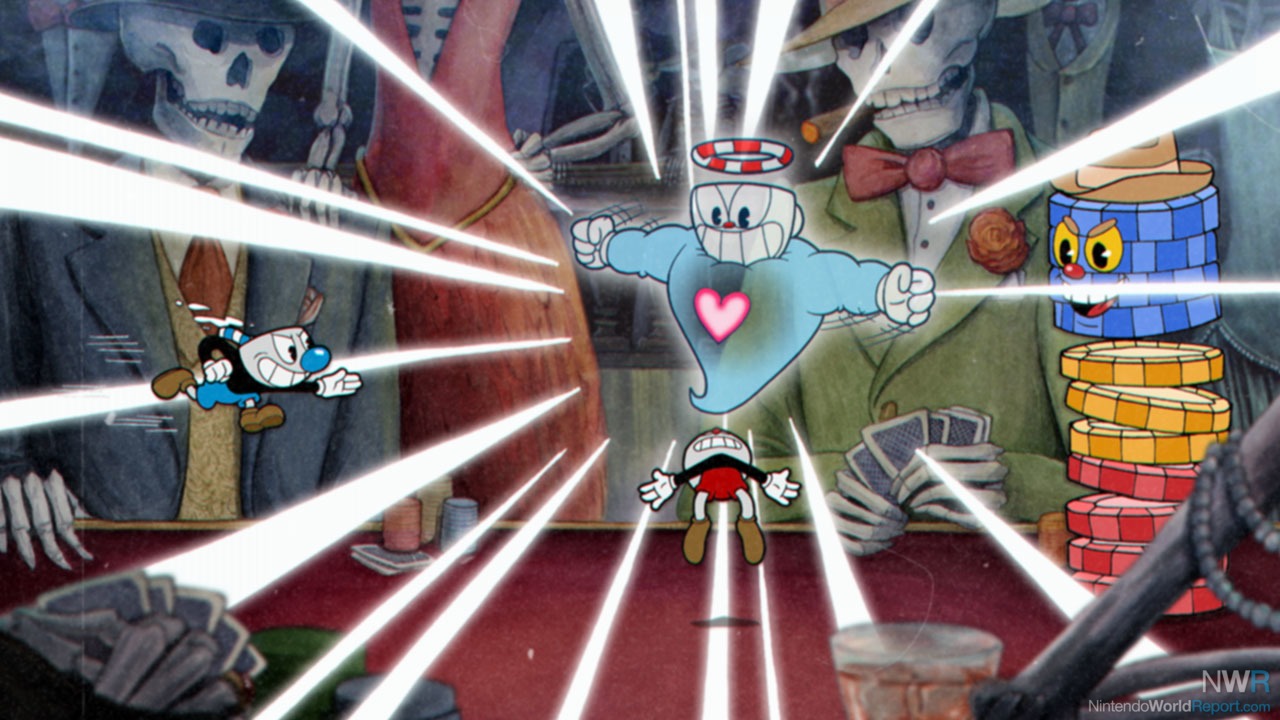 With close to 20 bosses, Cuphead can take a while to finish. A lot of that depends on how good you are at these types of games. For me, it took me in the ballpark of 10 hours to get through the story. Replay value can be found in improving your efficiency, but even if Cuphead is just a singular romp through the visually arresting world, it still triumphs. Challenge is prevalent, but with lovely visuals and sound coupled with a well-crafted, though still terse, difficulty curve, this is an adventure worth working your way through. My only real qualms are with the controllers on the Switch and some frustration found in the late-game bosses. This is a gem of an addition to the Switch library.