Hey, I just met you and this is crazy. Here is my Switch now, so train me maybe?
My relationship with fitness games is more complicated than it might seem. I rely on these types of games for most of my exercise as they are within the scope I'm allowed to do. Wii Fit U is one of games I return to every couple days, allowing me to get the required movement done. When new fitness titles come around, I find myself being extremely skeptical. Most of them don't go far enough, or just focus on a singular gimmick. This is how I went into Fitness Boxing. I was very curious if it could keep my attention for long enough or see it deliver on the elements I need. The response is a resounding "yes!" But it does falter in a few areas.
In Fitness Boxing, the player will hold strapped Joy-Con in both hands and perform a variety of moves. The selection includes straight punches, uppercuts, jabs, hooks, and a whole lot more. These moves need to be performed in time with the music to activate icons that come up from beneath the screen. By nailing the timing, you will collect points (and a colored indicator) that make up your final rank. One course can easily last six minutes, though in the early goings, it will likely be closer to three. In either case, the player can easily do a few in a row and feel like they got a good workout in.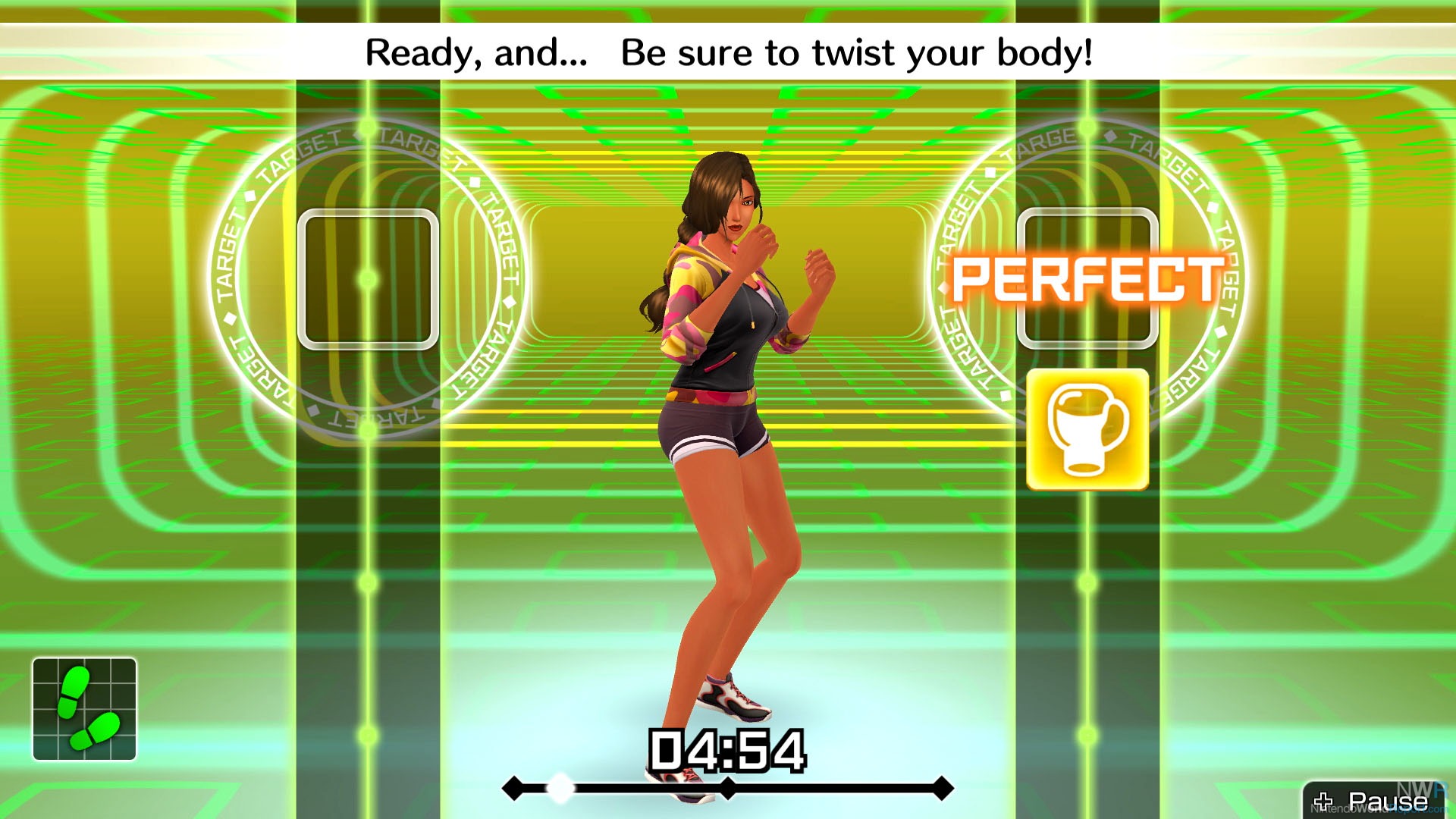 Satisfaction is the keyword here. While rhythm fighting isn't something I can usually keep up with, Fitness Boxing does a fantastic job of keeping the player sharp. There is HD Rumble to respond to the moves you do, clear indicators of your punches, and most importantly a trainer. You can pick from six different trainers that will guide you through the experience. While you play, they will give you handy tips on your position and how to stay in rhythm. Of course, the trainer will also tell you what you can expect next, ensuring that you're never truly lost.
While I had problems at first trying to wade through the entire training, you quickly get used to the way the exercises operate. It is all about shifting your body around, bouncing along with the beat and stepping forward when required. You don't need a ton of room to play Fitness Boxing, but it is smart to keep a little bit of distance between the screen and yourself. It can be hard to keep looking straight up, all the while following instructions, but the better your setup the nicer the experience will be. In either case, if you are unsure in the first couple of days, try to keep the schedule light so you can get used to Fitness Boxing's overall flow.
If you have more room than you would like to admit, you can opt to play Fitness Boxing with a friend. In the standard modes, you can work together to chain combos and work up a sweat. Various family members I showed the game to were very much into this, and they even started to count the tempo together. Likewise, they had a blast with Fitness Boxing's Versus Mode. It is here that you can see who has the better rhythm, skills, and of course uppercuts. Solo or with a pal, Fitness Boxing is very much made to impress.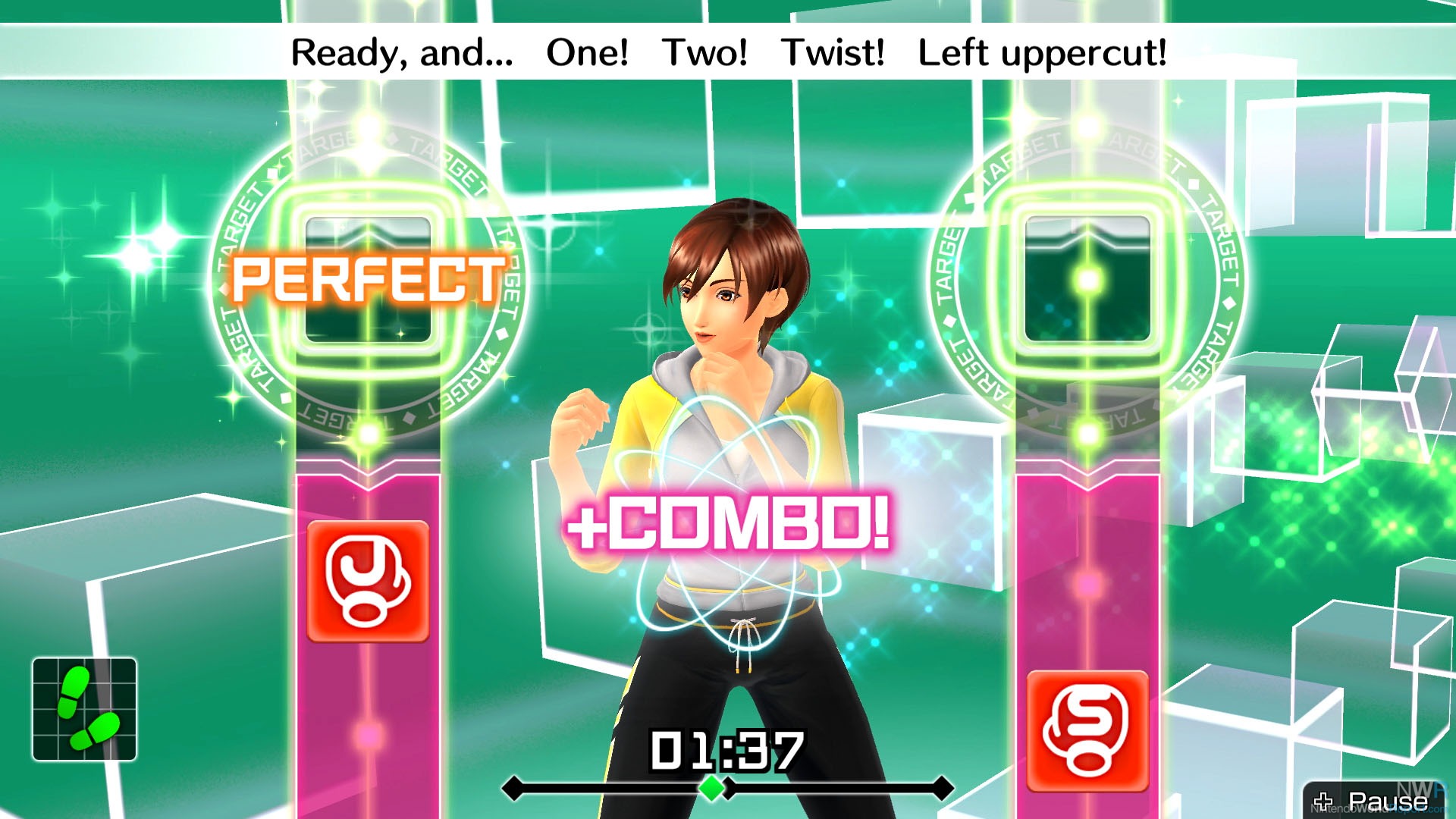 On the flipside, though, there were a couple of elements that were somewhat underwhelming. While I certainly wouldn't do this, it seems that you can totally cheat your way to perfect punches. There were moments where I didn't do it exactly right, yet the game said I nailed it. Mind you, it is not as bad as Just Dance can be in some cases. You do need to do the move, but nothing is stopping you from doing the punches sitting down. It is a hard thing to get right.
In addition to this, I can't help but feel that the music selection is incredibly sparse. Honestly, I don't mind instrumental versions of songs at all, but at least give me a bit more variety. A song like ''Call Me Maybe'' doesn't feel suited to the tempo of the game, which is an absolute annoyance. Yes, I can increase the tempo of the song in Free Training, but why not just optimize both the song and its moves? Personally, I kept using the same cesspool of songs, which eventually will burn me out. 20 songs doesn't sound bad from a distance, but the music genres are too far apart.
The rest of the presentation serves its purpose. Fitness Boxing isn't the best looking game on Nintendo Switch, but everything about the UI is extremely clean. It never complicates matter for the sake of looking fancy, and instead puts the focus on where it truly matters. The trainers don't look too good though, but for the most part, I am more focused on their voices anyway. Those voices are easy to hear above the music and clear in what they want from me.
Fitness Boxing is a fine selection of exercises. With a ton of courses to get through, you will be hard pressed to not find a skill level that suits you. As you go along, it is easy to take the next numbered version in a series and deal with the increased difficulty. The controls aren't the most accurate, but easily a cut above Just Dance. That being said, the music is easily my least favorite part of the game. Considering you have to time the moves with the songs, I am very surprised by the music choices. It left me with only a handful of songs I really cared about using, which will be the thing that eventually gets me to move on. Until then though, Fitness Boxing serves its purpose very admirably.