Hard to pick up, but even harder to put down.
Risk of Rain is a side-scrolling platformer that borrows from metroidvania and roguelike stylings. The goal is to fight through a 2D side-scrolling world in search of a teleporter to bring you to the next level. Items that add new power-ups and stat boosts are ever present and give a variety of different buffs to boost your strength, mobility, and defense. Though level layouts are always the same, the locations of items and enemies are randomly generated every time you start a new run. Exploring each map to find as many items as you can is the key to increasing your strength.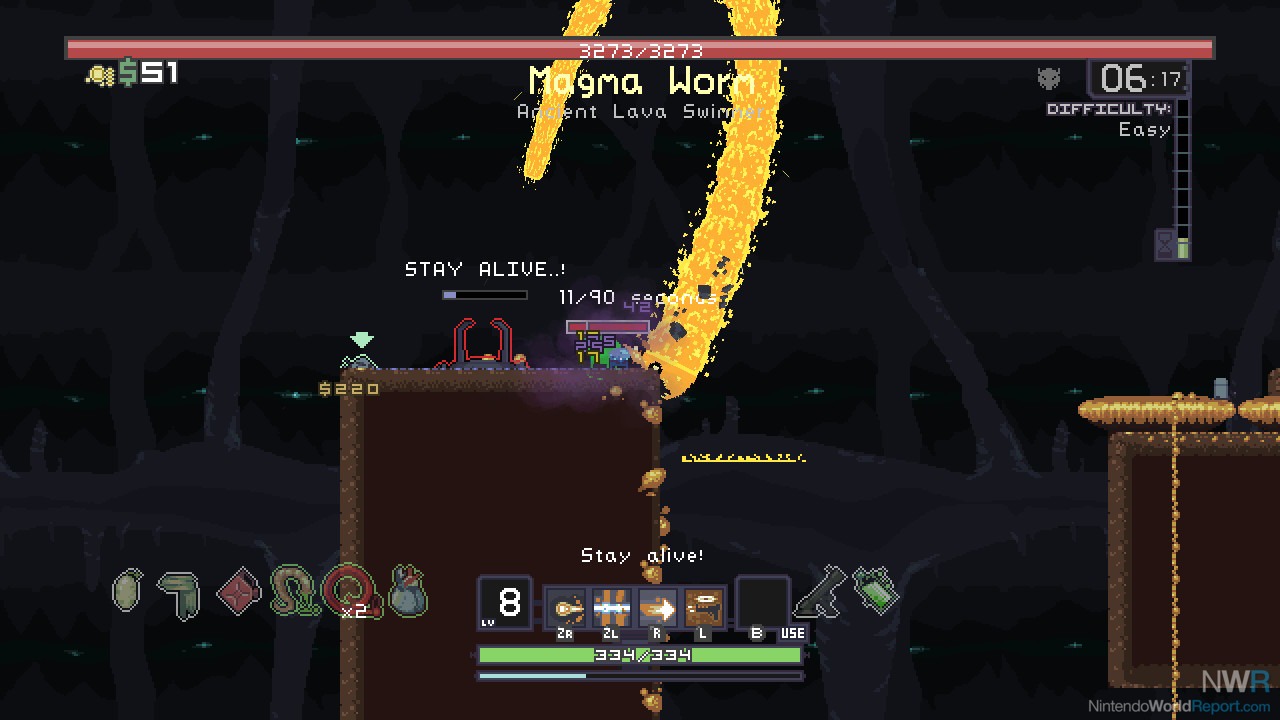 Taking your time with exploration has consequences though. Risk of Rain's key feature is a dynamic difficulty level that gets harder as time passes. At the start, enemies will be weak and rare, but eventually an endless wave of monsters spawn, refusing to give you even a moment to breathe. Finding the teleporter in the level starts a timed gauntlet that infinitely spawns enemies and a gigantic boss. Enemies stop spawning when time is up, but the remaining foes need to be dealt with before moving on. The timer is a looming presence that's always visible, making it a difficult decision whether to keep searching for more item pickups or to start the teleporter's gauntlet as soon as you find it so you can move on before things get even harder.
The greatest strength of Risk of Rain's gameplay is the sheer amount of variety between runs. More than 100 different items can spawn, adding in new options to approach fights with. If a run lasts long enough for you to reach the final level, your pool of items might be so long as to stretch off the screen. The array of powers helps make your hero feel like a force to be reckoned with in the late stages. If passive buffs aren't enough, you can also unlock up to 10 playable characters with completely different movesets and basic abilities. Each character feels totally unique from the others, and beating the game as each of them forces you to use totally different strategies.
Though the gameplay was fun enough to motivate me to hit "retry" every time I died, Risk of Rain's greatest weakness is its simple presentation. The pixel art is sleek and cool, but the minimalist monster designs blend together in frantic fights. During the later stages of a run there are so many things on screen that trying to parse what you're looking at is overwhelming. Item pickups are also confusing when you start playing since the only time the game tells you what an item does is the moment you pick it up. There's no way to know what ability you'll get from an item until you've already committed to it - the in-game item glossary is on the main menu so you can't reference it when you're in the middle of a run trying to decide which item to buy.
A lack of clarity plagues both the aesthetics and gameplay. Reaching a place where you know what you're doing isn't an easy task, but getting over the learning curve is worth it. A single run in Risk of Rain is quick, but it's also so addicting that you'll rarely ever play just one run.