This jailhouse rocks.
Management/construction simulators are a genre often underserved on consoles. Whether developers felt like the console player base didn't show interest in the genre or that the control scheme is tough to translate from keyboard and mouse, people like me who love them are relegated to PC or accepting a simplified port. The Switch's portable nature and screen size makes the platform well suited for an entry from this genre, and largely, Prison Architect is a good pairing to it.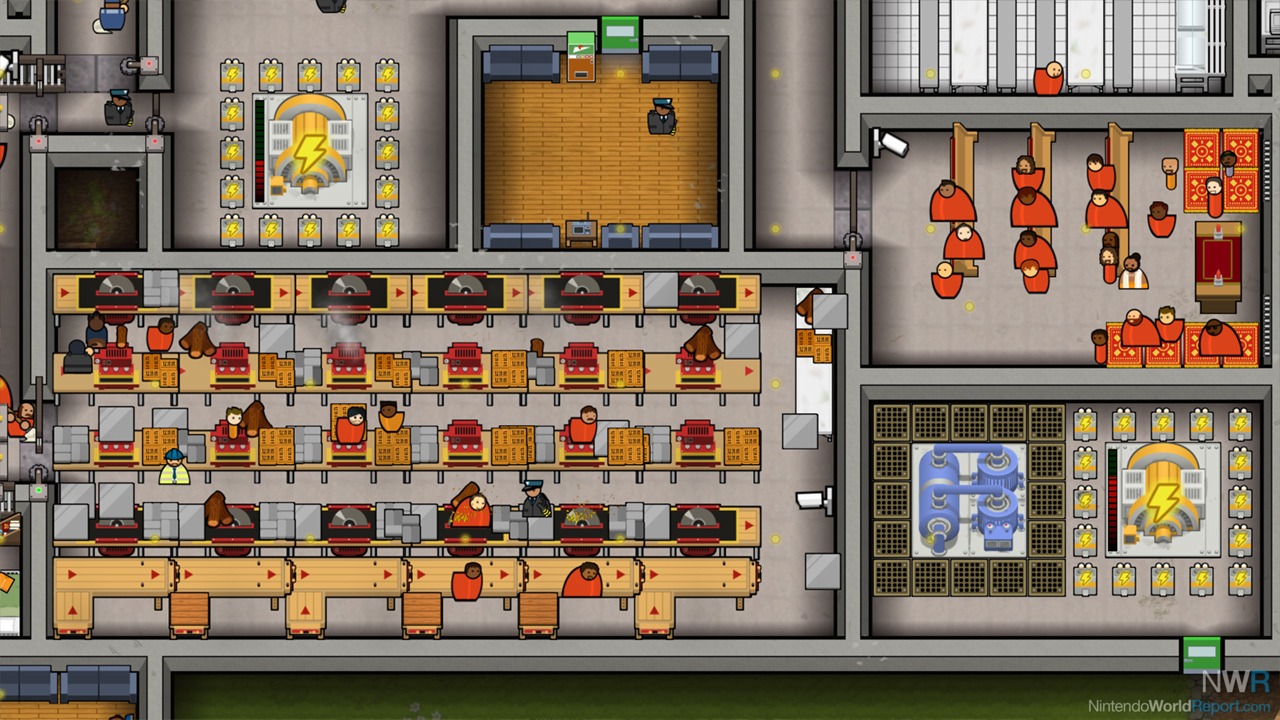 First impressions of Prison Architect, published and developed on Switch by Double Eleven, weren't positive. I was immediately greeted with an invitation to sign up for their newsletter in exchange for two additional wardens, which came off as withholding content. Think of Wardens like choosing your profession in Oregon Trail – they give you a trait or skill as you build and run the prison. After begrudgingly signing up for their newsletter, I started with the five-chapter story mode, meant to act as a tutorial for first-time players. Each include snippets of story played out in Polaroid photos with scenes and dialogue surprisingly graphic compared to the simple, cartoony top-down look. The mode effectively uses scenarios such as quelling riots and managing fires for going through how to make infrastructure, managing different personnel, and uses for each. Other than getting stuck in a few spots where the instruction was unclear, it worked as intended and is a good introduction to the systems and tool set.
Thankfully, that tool set works well on Switch. Directional and shoulder buttons are used to navigate and select menus, left stick to move the visual window, and right stick to act as cursor. Erecting buildings is simple enough with the controls given, and construction doesn't require a level of precision that leaves you wanting for a mouse. One of the best tools available is a designer screen that allows you to draft blueprints of building designs prior to actual construction. Another neat feature is the ability to upload your prisons for others to view or attempt to run, which was a great way to see best practices of fellow constructors, or just to use as a playground to experiment if you don't want to tamper with your own creation.
Unfortunately, setting up patrols for guards feels imprecise and unclear. Directing sets of riot guards, firefighters, or other personnel can be tricky and involve too many sub menus to respond quickly to hazards. Units also get caught up against walls, or in construction workers' cases, get caught in an unfinished building and unable to escape until their colleagues finish the task and place the door for them to run out of. You can also drag-and-drop a cursor to select several units in order to give directions, but often I would not be able to give more than one direction without the game un-highlighting those units.
It should be noted that the Switch version is meant to also include an Escape Mode where you control an inmate trying to find their way out. For the purposes of this review, we haven't been able to check it out. Despite that omission, it's not hard to pour a bunch of time into Prison Architect, and I am happy to recommend it to anyone looking for a sim game to play on their couch.