More of a layup.
I have a long-distance friend whom I see a couple of times a year. He's an indie multiplayer game connoisseur, seeking out any interesting or strange titles that stick out in a sea of also-rans. When he visits, with him are four controllers and a laptop, and we rotate a smorgasbord of small titles I haven't heard or know much about. 30-minute chunks of different multiplayer styles and experiences results in a night of silly fun with a group of friends.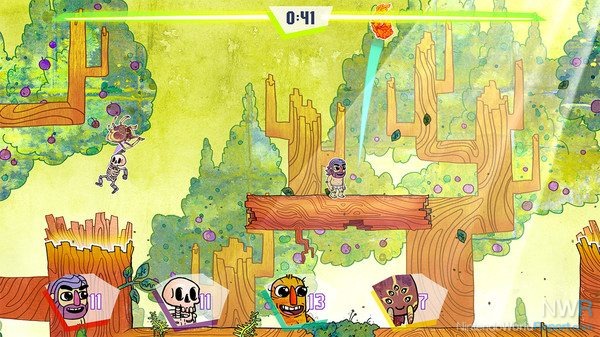 Slam Land would be a welcome addition to his library. It's a four-player multiplayer competition with the objective of picking up your opponent and landing them in a volcano. You can either uppercut them, toss them towards the pit by directing the arc of your throw upon grabbing them, or jump with them in-hand directly into the volcano. You get points for each dunk, and matches are timed with a goal of accruing the most points by the buzzer. Sessions are frenetic, fast, and exciting, making it almost difficult to make sense of what's happening on-screen. While some of the movement feels imprecise at times, it's never enough to impede from the zany action.
You will be introduced to a super distinct, bizarre style. Characters are bug-eyed with big goofy smiles on their faces like the more bizarre Nickelodeon characters of the '90s. Levels are drawn with bright, deep colors and little details without getting in the way of action on screen. Music is tinny, twangy, and hollow in a way that seems intentional, and suits the art style surprisingly well with the midrange tempo chosen. A lot of care was placed in the presentation of Slam Land, and it shows.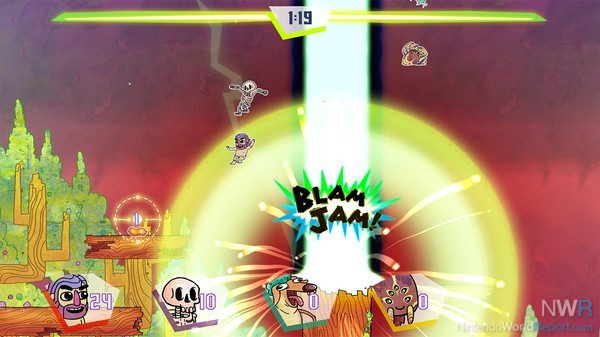 This makes it all the more disappointing when you reach the limits of ways to play. There is no online multiplayer, and playing against the AI grows stale over time. There are modes outside of its basic "Slam Tour" mode: Peanut, which the objective is to slam a randomly dropped Peanut with a point value that increases the longer it's held, and Horse, where several totems drop randomly and you can pick up and dunk several at a time, getting a point for each. These modes aren't distinct enough from the base game. There could have been ways to diversify game modes, even leaning harder into its basketball tendencies for a match type. Or borrowing further from its Smash Bros. leanings by incorporating items and power-ups to keep the experience from feeling threadbare.
If you have a game night with a group of friends who like playing a handful of silly multiplayer games that'll cause laughter and aggravation when getting too competitive, Slam Land with its visual goofiness, quirks, and crazy on-screen dunk action will belong beautifully as part of your rotation. I'll have a bunch of fun with my friends when they come to visit next, but the game will likely go untouched until then.