Building a city has never been more relaxed.
Puzzle games come in many different sizes, shapes, and forms, but when it comes to block-matching they typically rely on quick thinking and even faster reactions to succeed. However you'll find that isn't the case with SubaraCity, which instead takes a casual approach that results in a relaxing, yet surprisingly fun little experience. There isn't much outside the main game mode, but this simple puzzler proves to have a bit of complexity hidden under its charming aesthetic.
Block-matching puzzle games are nothing new, but it's always interesting to see how the different rule sets found within each alters the experience and sets themselves apart from others. It's clear that accessibility was a focal point of the core gameplay, as the concept is fundamentally simple and easy to grasp. All the action takes place on a 5x6 grid which is populated by different color blocks, each representing city buildings. As long as more than one block of the same color is touching, they can be stacked to create bigger buildings. Normal mode has four different colored blocks, while casual only has three, making it easier to chain blocks together. Gathering enough of one color will eventually boost the building up to level 10, it then loses its original color and can only combined with other level 10 buildings. As you continue to bundle buildings, the remaining blocks will fall towards the bottom and any missing areas on the grid will be filled by new blocks that drop down from the top. When all possible moves are exhausted, including using all your mayor tokens which give you the ability to delete a block, the game will conclude and a score will be given depending on how successful your city prospered.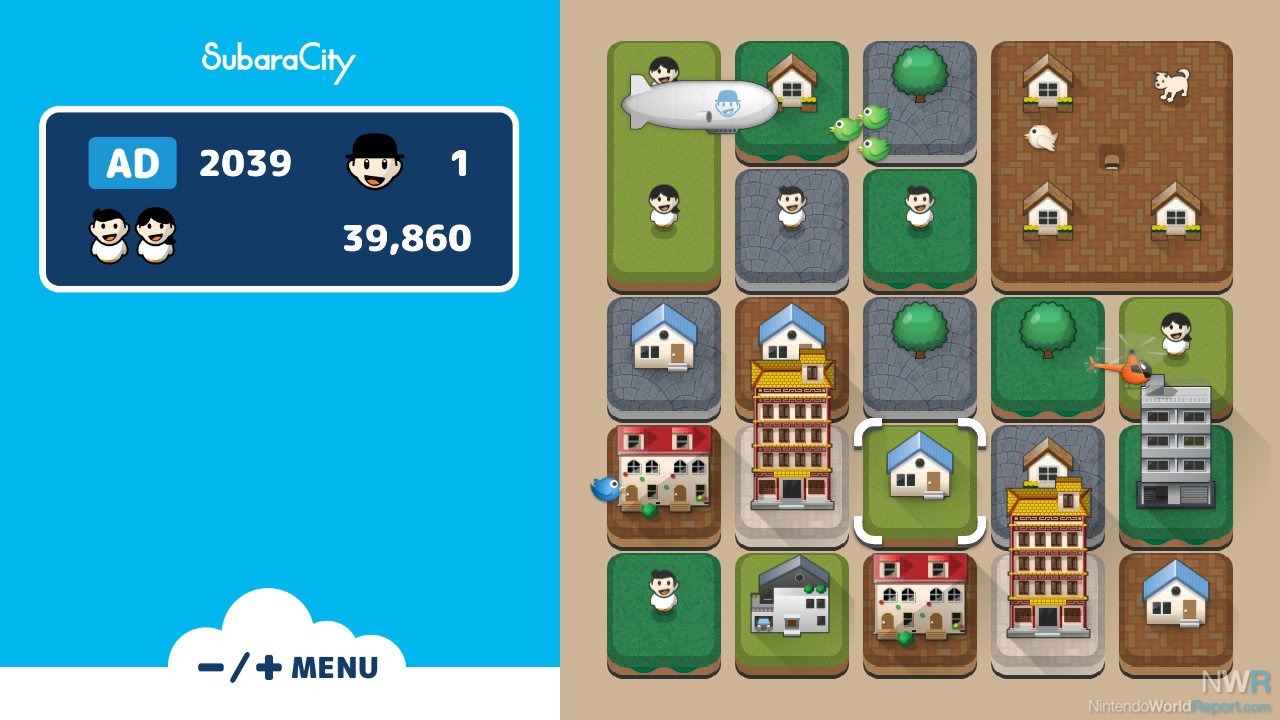 Now it might seem like the concept is actually too simplistic, especially when you factor in that there's no time limit, but there is a surprising bit of strategy. In the beginning I found myself randomly stacking blocks with no real sense of location, but I quickly found out that really it's by far the most important aspect of the game. It's crucial to try to amass tall buildings towards the bottom of the board because if you find yourself with a level 10 building formed in the middle, it can become problematic to navigate around it. Just a few poor decisions can alter an otherwise good game into a checkered mess. There will also be times a rogue block will find itself stuck in the corner and working out of that situation will require both a smart approach and a bit of luck. However it feels really great when you are able to bounce back from a series of bad moves. Lining up and stacking multiple level 10 buildings will not only be rewarded with a huge score bonus, but also yields higher level buildings that look far more interesting, which is a nice incentive outside of score. The downside of the simplistic nature and only one game mode is that the experience will likely feel repetitive and unless you absolutely adore the gameplay, it will run its course relatively quick. Fortunately with the Switch, it works exceptionally well for shorter pick up and play sessions.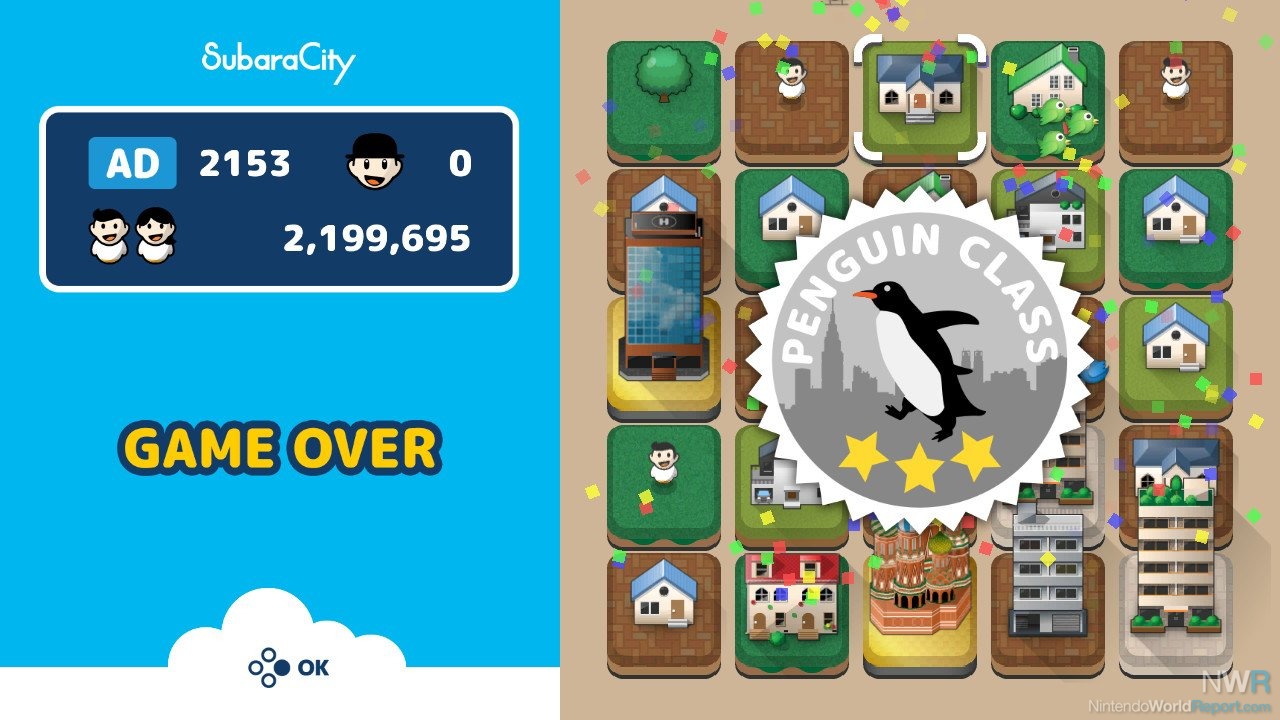 Outside of the main game mode there isn't too much added value, but there are a few things to ticker with. As you upgrade buildings to new levels, you'll be able to change the appearance between a few different models from various regions around the world to give your cities a personal touch. There are also some minor achievements that unlock different characters that will pop up on the board as you play, but I found myself just randomly stumbling across these instead of seeking them out. Local leaderboards are present and a cool aspect is seeing what the city looked like at the end of the game, but with no online option it limits this for those playing alone. The entirety of the game can be played completely via the touch screen which is a nice feature for on-the-go play.
At first glance SubaraCity appears to be a somewhat generic iOS puzzler ported to the Switch, but after just a few rounds its apparent that's not the case. A relaxed and casual take on the classic block-matching genre, there's a level of charm I found to be enduring with its simplistic nature and easy to grasp gameplay. There is a level of strategy needed, as just one or two wrong moves can sink an otherwise promising run. Unfortunately though, with just the single game mode there's a good chance the legs fall out from underneath it sooner rather than later.