Painting the world with the ink of your enemies.
The Switch has a number of retro-inspired games in its rapidly growing library. Inksplosion attempts to introduce a new take on the genre by combining retro bullet-hell type games such as Sheriff, with a much faster pace commonly seen in modern games. While this sounds fine on paper, it fell on most of its promises.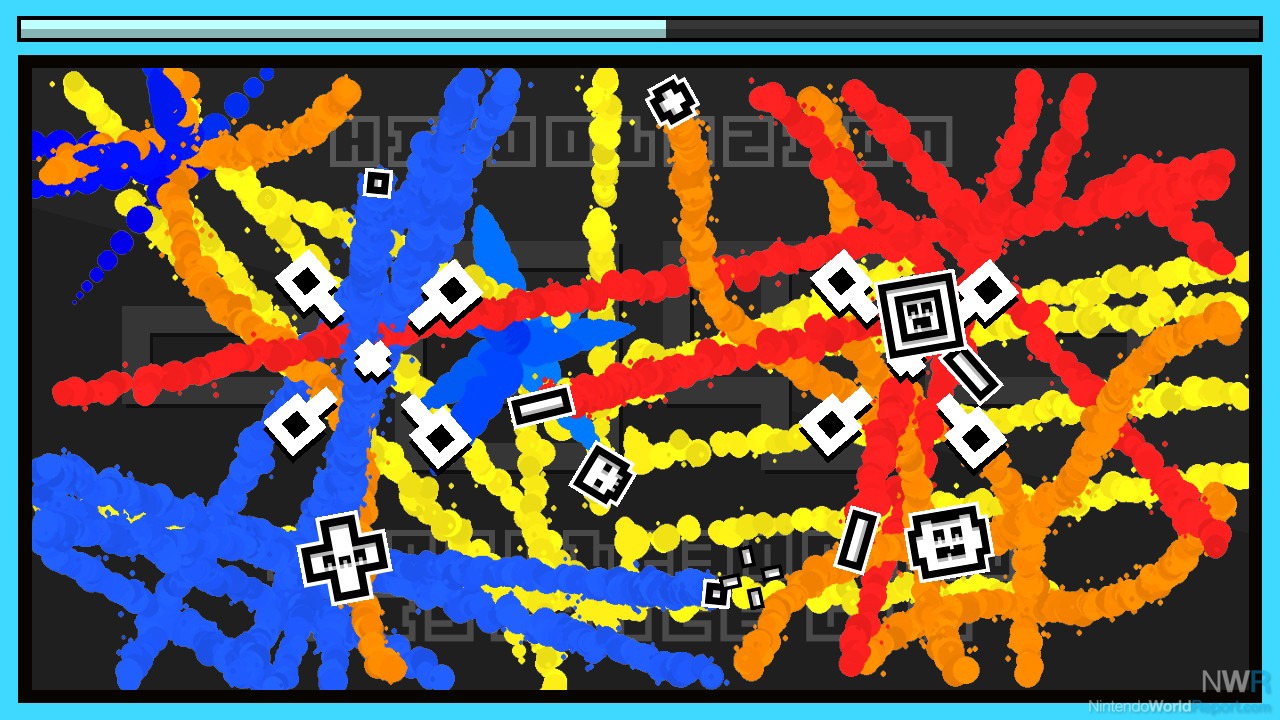 Here, you play as a skull (which is ironic since dying is what you'll mainly be doing in this game) that is tasked with surviving the waves of enemies that are out to defeat it. These enemies are various different shapes each with their own movement style and unique weapon. Your main objective is to survive for as long as you can to get the highest score possible.
Inksplosion has two main modes, Classic and Arena. Technically, there is another mode known as Hard, but it's just a more difficult version of Classic. Classic is basically defeating the enemies but with obstacles in the way, while arena takes place in an open area. What I found odd about these modes is that Arena and Hard mode must be unlocked by receiving a score of 100,000. While this isn't completely unachievable, the high difficulty makes it a challenge to reach this number. Thus making it feel like a chore to unlock the other modes.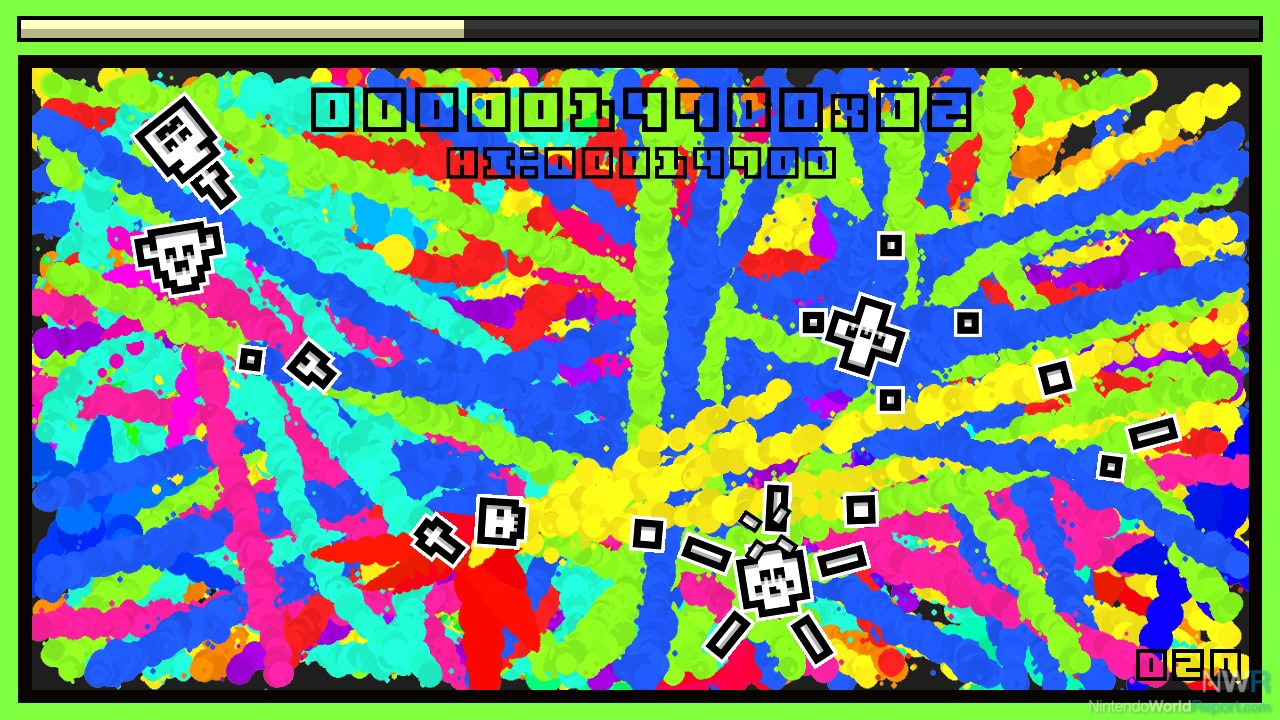 The controls are fairly standard. The left stick is used to move, right stick to aim, right trigger to shoot and left trigger to slow down time. The slowing down of time is both a blessing and a curse as it makes it easy to dodge the swarm of oncoming projectiles, but it rapidly drains your health which is vital to your survival. I'd personally prefer that there be a different bar for this feature, but it does make it so you don't rely on it constantly.
The overall game was fast-paced, simple and ultimately quite enjoyable. However, I ran into some major issues that affected gameplay. The most prominent was the intense lag that would occur at the beginning of each round. I couldn't really tell if it was because of the enemies that would spawn in, or the number of bullets that were being fired at once, but an intense lag would occur in the beginning of most of the levels.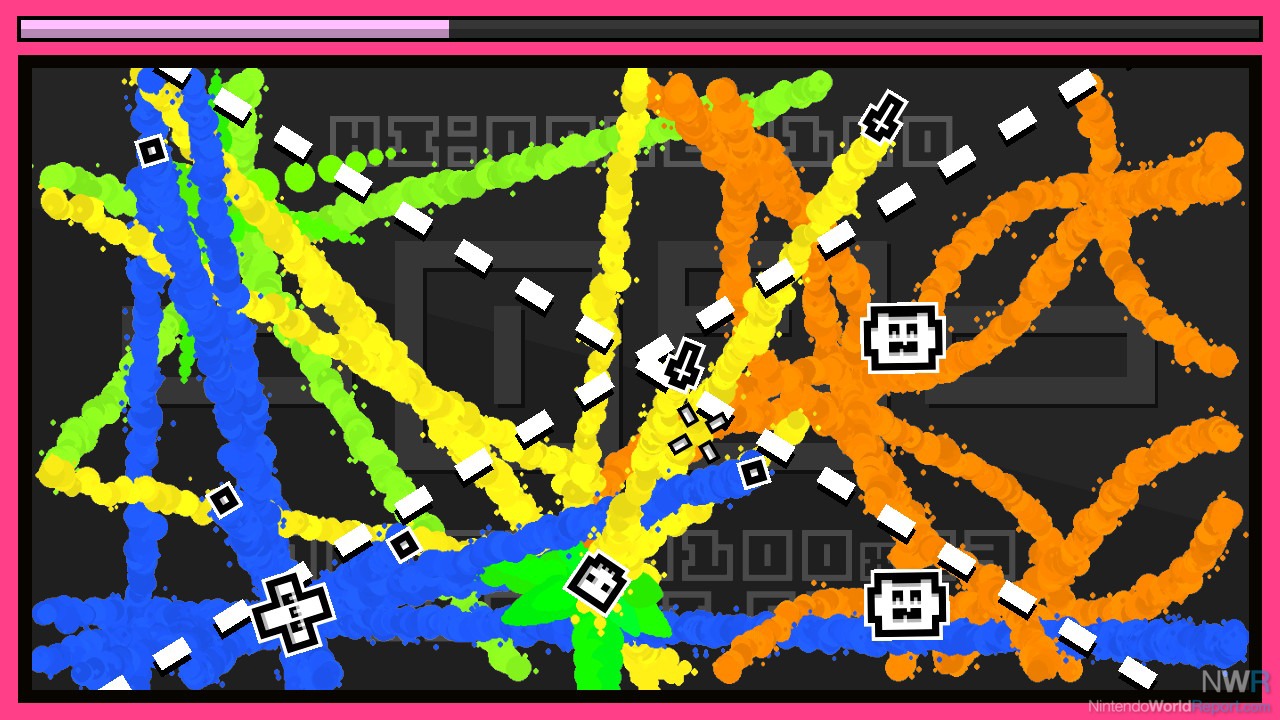 Another aspect I found somewhat strange was the odd timing in which it would decide to end a stage. With the bullets and numerous obstacles cornering you, you don't want to be left in a tight spot. However, you can still be knocked out by any leftover bullets or moving obstacles even if you've knocked out all of the enemies. This wouldn't be a problem if it wasn't for the fact that most of the obstacles are made to have the player complete the level in a certain amount of time, thus allowing you to still lose even if you've completed the level.
This is a fine classic game for its low cost. The visuals and splat paint style gives the game a punk-ish style that keeps it feeling fresh. However, the main issue I have with recommending it is the frequent lag that occurs at the beginning of the levels. Hopefully, this is a situation that can be fixed in the future, but for now, let's leave the ink guns to the squids.