A rough road paved with good intentions.
Nintendo platforms have been home to the greatest kart racers in gaming. Releasing a title in this genre for a Nintendo platform cannot be done without having said title immediately juxtaposed against the racing antics of plumbers, chimpanzees and even upstart blue hedgehogs. In order to find a place amongst these titans of the track, a new kart racer must provide significantly new experiences.
At first glance, Super Toy Cars looks to have a strong offering of new ideas to draw the curiosity of Nintendo Switch Owners. Offering a package of 15 tracks with various racing modes and 16 upgradable cars to tinker with, Super Toy Cars feels like a strong offering on the surface. However, the races and tracks quickly feel repetitive.
The 48 events of the game's career mode span 5 different types of racing competition. While this seems like a great amount of variety, the variance of play between some of these modes feels very negligible. I often found myself quickly losing interest in the game when taking part in a single lap time trial just to follow it up with a 3 lap race.
This lack of variance also plagues the game's tracks. While 15 tracks is a good amount for a racing game, these tracks only span 5 different locations so in practice it feels more like the game features 5 tracks.
Even though the aforementioned lack of variety hurts the overall package of Super Toy Cars, the title still has some novel ideas that work well. Purchasing different vehicles and upgrades is a worthwhile reward for career mode success. I was surprised at how different the games 16 cars felt from one another and the car I eventually settled with felt like it was set to my own racing preferences.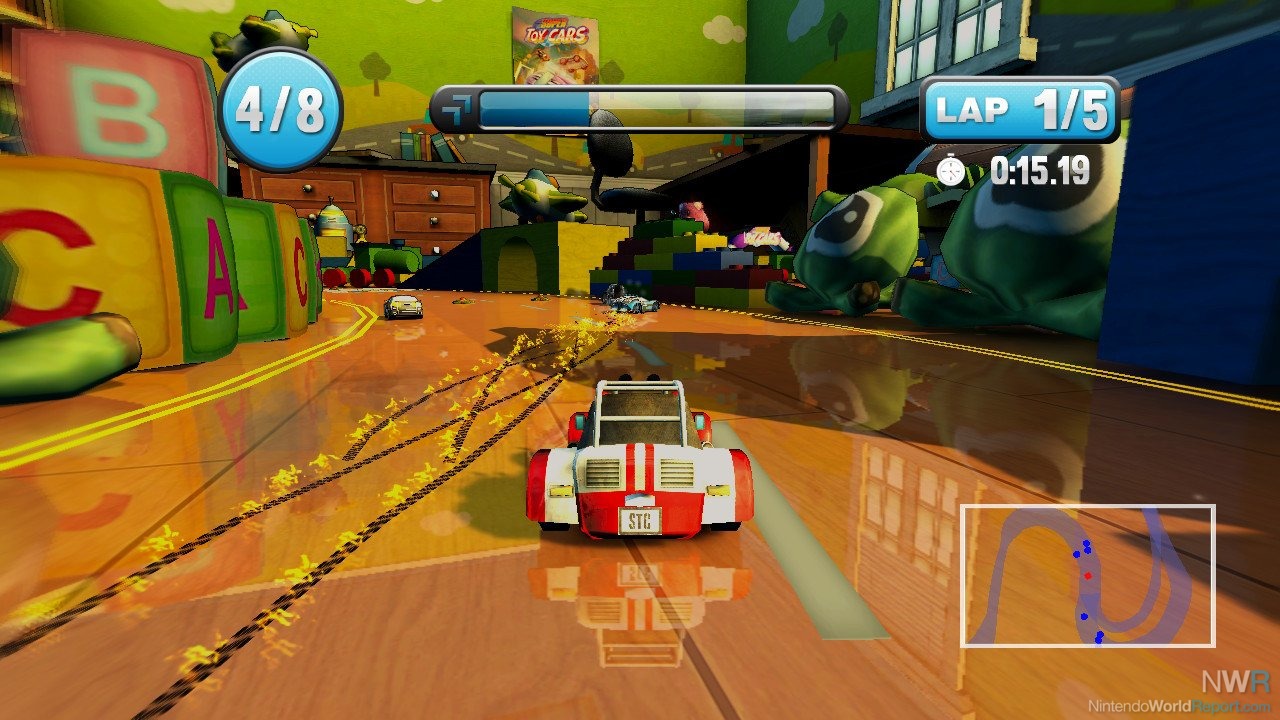 While a handful of the 5 events fail to offer significant variety, the minefield races truly are a stroke of genius. Tracks that once felt too wide and slow quickly become a sight of mayhem where no part of the track feels clear and the other racer's vehicles become a hazard as concerning as the mines themselves. I couldn't help but laugh when being dropped to the back of the pack due to a pileup.
However, what good will Super Toy Cars builds with these standout features is lost in the overall package due to the poor performance of the game. While performance issues in handheld mode are less prevalent, I found the performance in docked mode to be quite frustrating. At times I found the framerate inconsistency to be so jarring it would cause me to have difficulty controlling the car and sometimes even crash.