Portability mostly makes up for the lack of a second screen in this excellent Metroid-esque adventure.
Playing through Axiom Verge on Switch has been my third time through it and with repeated play, it hasn't lost its luster. I first played through this one-man Metroid-inspired adventure back when the game launched on PlayStation 4 in 2015, and then revisited it on Wii U last year. It's a testament to its marvel that the third time has been just as warm, fuzzy, and mysterious as the first. Axiom Verge feels very much like a different take on NES Metroid, though this is definitely made for a more modern sensibility. While I don't think the Switch version is the game's definitive version, the blend of portable and TV play makes for a fine landing spot.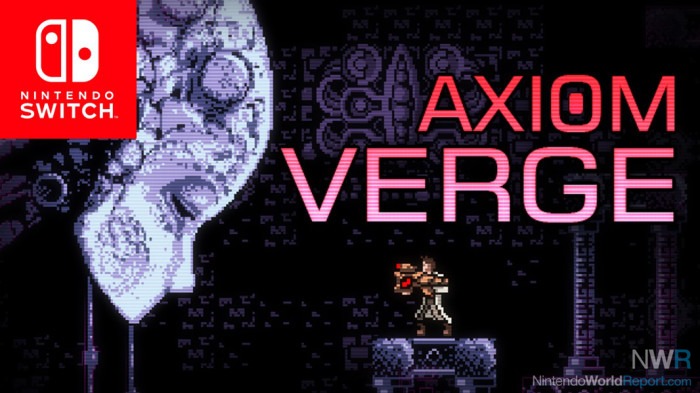 Axiom Verge on Switch is kind of like having old games on Virtual Console. Yes, I'd much rather play Super Metroid on original hardware or with the original controller, but the convenience of having Super Metroid on a system I carry with me or play often generally outweighs that. Personally, I think having a second screen with the map while playing Axiom Verge is the ideal experience, thus making the Wii U my personal "definitive" version. However, let's get real: it's 2017. I'm not touching my Wii U often if at all. My Switch, on the other hand, is a system I play every day. In that respect, it's fantastic to have Axiom Verge on that new system.
If you're not familiar with Axiom Verge, you can check out our Wii U review for some more details. It has the look and feel of an older Metroid game, but the focus is a little more balanced between exploration and gunplay. A lot of the unlockables are weapons that can be used to solve puzzles, defeat enemies, and wage war with the onslaught of the challenging bosses. Some of those fights evoked tense shooters like Contra to me, especially if you're low on health. Outside of the guns, the other hidden items vary between riffing on classic Metroid power-ups or completely reinventing how you approach familiar obstacles and challenges. Of course one of the power-ups is a boosted jump and grappling hook (very Metroid), but some of the earlier ones involve glitching and unglitching enemies and barriers in ways that can completely alter combat. By the end, traversal is fast and fluid in a distinct way thanks to the gear your hero can utilize.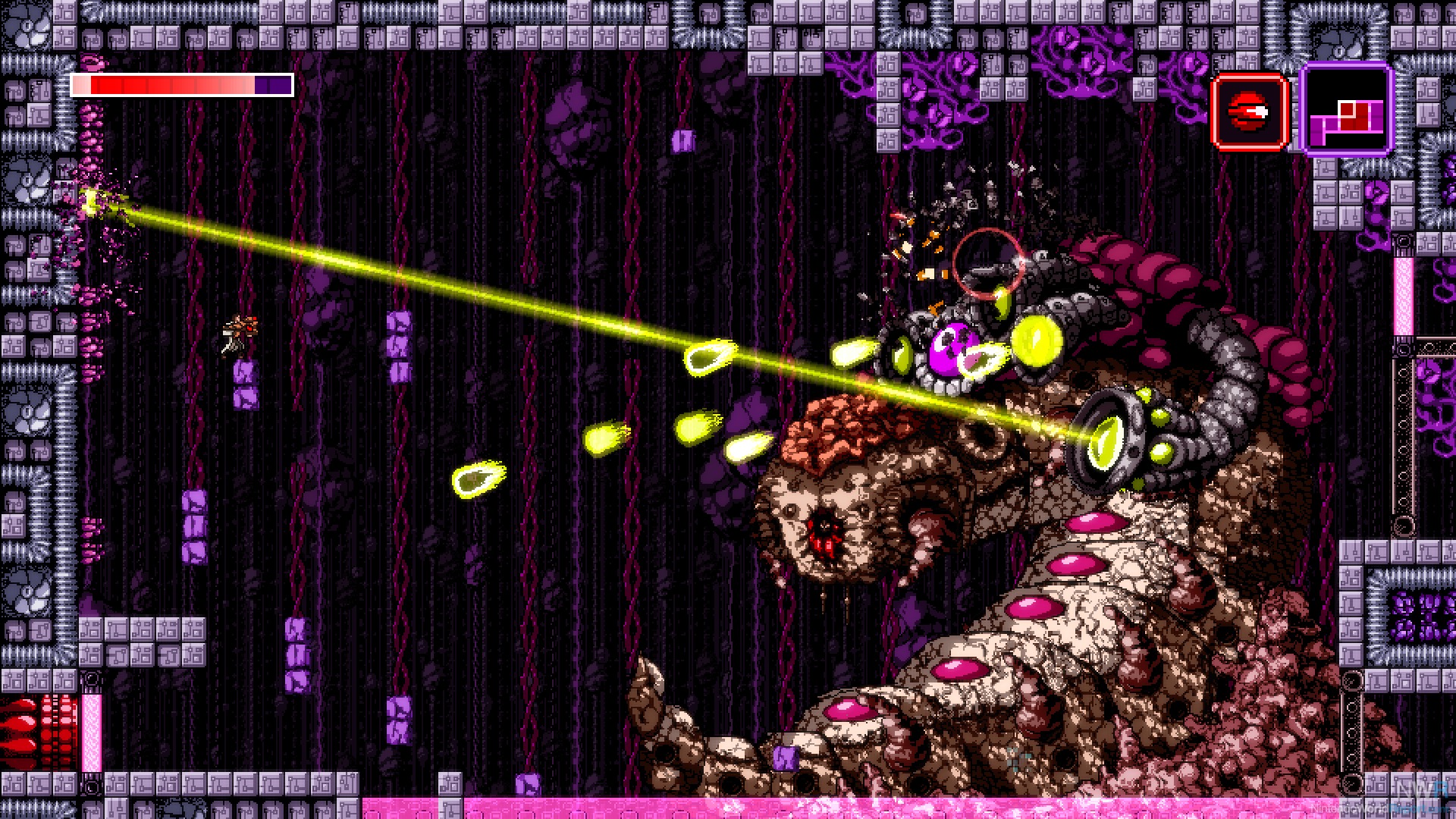 For as much as Axiom Verge gets right - and that includes the tremendous mood-setting soundtrack - the one nagging issue that always gets me is the map. At a base level, it works. You can see where you are in an area and save rooms and doors are displayed. As you likely get lost in different parts of the game, though, the map becomes harder to navigate, especially in the quest for item completion. Some degree of that is that Axiom Verge is a game that doesn't hold your hand, but it can get frustrating, most specifically as you try to traverse all around to collect everything.
But regardless of small blemishes, Axiom Verge is one of the best Metroid-esque games I've played outside of Samus' orbit. It's the rare game that seems to understand exactly what made that series so spectacular, using that understanding to craft original power-ups and concepts that make this more than just a hollow Metroid rip-off. While the Wii U's second screen might be my favorite way to play this game, having it on my fancy new hybrid console is worth the minor sacrifice.