Grab some Monsties and have a fun time in Stories' lush universe.
There is no easy way to introduce the world of Monster Hunter to a new audience. Sure, there are plenty of games that tried to make the series more accessible, but the systems remained mostly intact. Exploring small landscapes, finding your targets and nailing down enemies is enjoyable but not without its share of complications. In a way, it is why I find Monster Hunter Stories such an incredible idea. By giving a different vibe to the proceedings, Capcom created a game that can be enjoyed by a wider public. In the process, they changed what Monster Hunter was and cashed it all in for a colorful role playing game. In the end it certainly was a great choice, even if there are faults to be found.
From the first moment, it is clear that Monster Hunter Stories is a lot more story focused. You are a young Rider from Hakum Village, who is ready to start exploring the world. Riders are people who can jump on the back of monsters and create bonds to save them when needed. These monsters, known as Monsties, are great allies that add a unique quirkiness to the world. Quirky is the best way to describe the game in general. While the NPCs you meet aren't voiced, they have a lot of personality and are a joy to talk to. With multiple towns to visit, Monster Hunter Stories is a treat that never stops giving.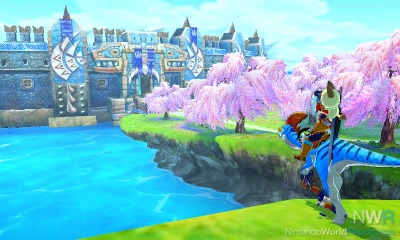 What helps is that the plot of the Monster Hunter Stories is intriguing. A dark power, known as the Black Blight, is taking over the land. While the nuisance was thought to be long gone, it has resurfaced in a major way. The power transformes monsters and makes them attack anyone in their path. You, as the young Rider, will need to find out where the problem originates and how to stop it. To help out, you will meet quite a slew of colorful characters that gladly help you out. The most important one is Navirou, a friendly Felyne who guides your character through the process of becoming the next top Rider. It is all quite enjoyable to witness.
The gameplay is similar to the previous games as you are handed quests to fulfill. This can be finding monster eggs, defeating monsters or collecting certain materials. While the important ones are part of the main story, there are also boards that can be found in the towns. These will give you additional quests to toy around with, extends the fun you'll have with Monster Hunter Stories. Where quests in other games feel like busy work, I was having enough fun in the side quests that I would sometimes put off the main quest.
The side quests are appealing because they encourage exploration of the world.The mainline games have walled off areas and you would jump between them to complete the task at hand. With Stories, there are wide open fields for you to uncover and the feeling is incredible. Once you hop onto your Monstie and start seeing the grassy lands in the opening moments, it instantly feels magical. Riding your ally isn't just for looks though. They have specific skills like crossing gaps, which can be easily activated with the A button. Certain monsters allow you to explore lava, water or even the air which opens up new parts of the map to explore.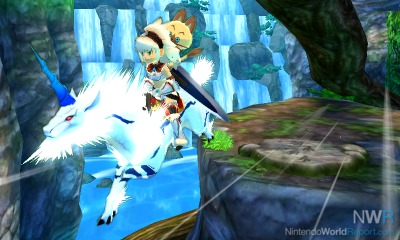 With over 60 monsters to find in the world, there are plenty of fun interactions to uncover. You will need to find those monster eggs first, which isn't a simple task. You will need to travel to a Monster Den and escape with the egg intact. That might sound simple, but you will move slower than usual which leaves you wide open for an attack by monsters that are trying to get it. Luckily, you can protect the egg by winning a battle. Once out of the Den, you will hatch the egg at a stable and add new options to your arsenal. There is a cute minigame where you tap the egg and influence its stats. Another neat thing is that you can mix genes of various monsters together, simply to make them better.
The battle system is the weakest part of Stories. This is not because of its complexity, since it's actually too simple. Battling is pretty much rock-paper-scissors with no fancy way of hiding that fact. You choose either Power, Tech and Speed attacks and just hope that the Rider and Monstie get the job done. Initially, there is something cool about not knowing how your opponent reacts, but I grew indifferent as time went on. The game tries to make it entertaining by throwing super moves and power clashes into the mix, but it adds more fluff than anything. Battles are fun to look at, but more variables would have gone a long way. The rider can find and create new weapons and armor, so there is something to strive for.
Next to the meaty single-player content, there are local and online multiplayer modes for you to tackle. The Rider Arena allows you to complete in matches to showcase your teams. The most important one is the Tournament Mode, which sees you besting others in a knockout format. The rewards that you can get are pretty good, but it all depends on your performance against friends. If your friends aren't with you, you can still fight them in Network Battles. By participating in these, you will net yourself Egg Fragments that you can net you a new egg to hatch. If that isn't enough, the game also supports StreetPass. The function lets you receive party data for you to fight and level up your group of characters.
Monster Hunter Stories has fantastic presentation. The environments are a delight to look at with the colors just popping on the screen. The 3D effects are, in particular, are very impressive and make it stand out even more. There were some frame drops now and then, but I never found them too annoying. The music is pretty much what you expect from a Monster Hunter game. That isn't a bad thing as the atmospheric music adds to the experience. The sharp melodies and orchestral spots are truly Capcom's strong suit.
Monster Hunter Stories was a very enjoyable adventure, but the battle system let it down. With all the improvements made to make the game pop, the battles feel shallow during the campaign. You are asked to make a boring leap of faith in the hopes of finding rewards. Everything else about the game works. Exploring the world hasn't been better than this and the style just pops on the Nintendo 3DS. Newcomers and veterans alike will find a lot to love, but also need to go in with lowered expectations about the combat.