Still great after all these years, but is the Switch version worth it?
It was inevitable, really—Cave Story has already come to pretty much every Nintendo system going back a couple generations now. Heck, I myself reviewed it for WiiWare back in the day. I should note that this will be the first time Cave Story+ is available on physical media. Cave Story 3D is technically a separate game (with fewer features). Read those reviews (as well as our 3DS eShop review) if you've never played Cave Story—the bottom line is that this is a monumental platformer that you should definitely experience if you never have before and maybe even if you have. I'll be going over what makes Cave Story+ unique in this review, but not much else seeing as I've reviewed it already.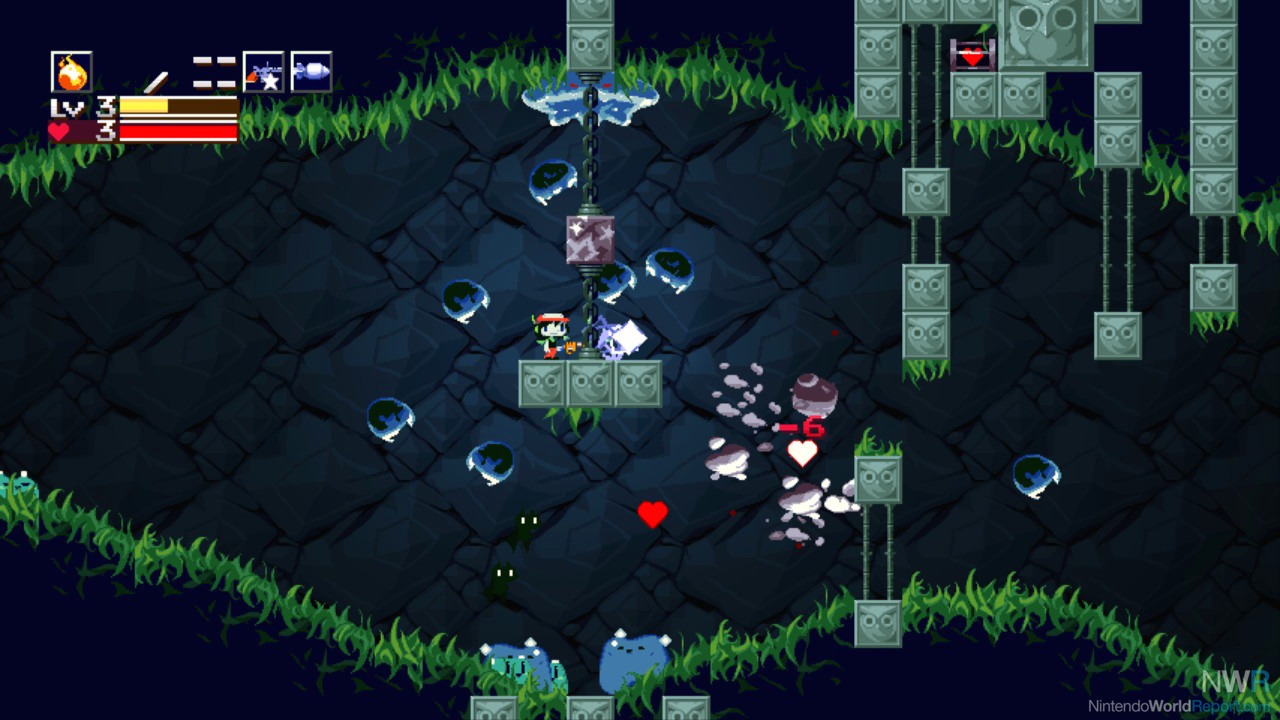 The game uses the WiiWare game's updated graphics, but no option exists to switch between the original and updated styles, something the WiiWare game allowed. I understand this option is also in the Steam version of Cave Story+, so its exclusion here is puzzling. You are, however, able to switch between four different versions of the soundtrack on the main menu. As you experience different musical tunes in the main game, you'll unlock them individually in a "Jukebox," where you can listen to all the music (including all possible versions) on the main menu.
Otherwise, not much new stuff is here. Finding Curly Brace's panties (sigh) unlocks Curley's Story, which plays a little differently than Quote's campaign. As you accomplish different things in the main game, you'll unlock time trials that are…sort of fun if you want a change of pace. I will say that, although this is my fourth or fifth time beating Cave Story, this is the first time I've attempted to earnestly tackle the Blood Stained Sanctuary, a brutal sequence that hides the "final" ending. There are people who speed-run the Blood Stained Sanctuary (in fact, it's a time trial), which seems impossible. That level is masochistic.
Cave Story+ feels great on the Switch, though unsurprisingly, the map feature is nigh-unreadable in Handheld and Tabletop Mode. UPDATE: The game does support the Pro Controller. I thought this was not the case, as the D-pad and face buttons didn't work the first time I tried it (but the Pause button did). However, a second attempt was successful!
Cave Story+ isn't the definitive version of Cave Story—I think that crown still belongs to the WiiWare version, but then again, that version isn't portable. I do miss the ability to switch graphical styles, but it's really the only regrettable absentee. The real takeaway here, though, is Cave Story is great and you should play it.