Row, row, fight the camera.
Falcom is a developer known for their action role-playing games, with Ys Book I & II being ported to everything short of my toaster. Several years ago, they released Gurumin: A Monstrous Adventure on the PlayStation Portable, which swung the pendulum more in the action direction. It's a fun concept, but the technical issues are keeping it from standing out among a sea of RPGs this year.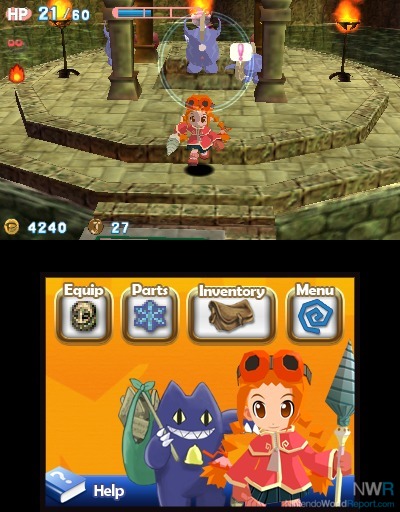 In Gurumin, you play as a young girl named Parin who is out to rebuild a village of monsters that was destroyed by an evil prince. Her key to success is a drill, which can be augmented with elemental powers and special moves used with a combination of X, A and the Circle Pad. Parin moves along a world map from an overhead perspective to find different stages that feature light 3D platforming and combat. Most of the platforming is simple, but the camera felt locked out from vertical movement and there were a few occasions where jumps were missed as a result. There are some hidden areas that can be found by bashing cracked walls, but seeing a lot of them required me to max out the system's brightness.
Gurumin's graphics feel like the product of the PlayStation 1, despite starting out as a PC title. The characters are very blocky, with notable polygons that made me check if this was a PS1 remake. The sound and music is fine, and the cutscenes are fully voiced, but the mouths are clearly moving to the original Japanese text. The music isn't grating, but it's not outstanding either.
The game is extremely fun to play, and doesn't really wear out its welcome – it took about ten hours to roll credits. That's a nice break from this year's heavier turn-based games, especially since I was grinning the whole time I was using the drill. Special moves are easy to pull off, and there were times when I'd stop and just use a move because I could. There are different difficulty options and plenty of upgrades, and when you factor in stage rankings, Gurumin leads to long sessions and a surprisingly high spot in the Activity Log.
It's hard to deny that Gurumin has some technical problems, but there's a lot of charm under the surface. It's fun to rebuild the town piece by piece and see more of the map unlock as the prince's evil mist dissipates. Here's hoping we can drill into some more Falcom games on the 3DS soon.